A preying mantis has moved into the houseplants that live on my deck. It's pretty funny to see her popping up on the huge plants in the corner, or the little ferns low down. It drives me a little nuts because I never know where she is going to be, so I can never water without fully checking each plant thoroughly. It is such a compliment though that she thinks my deck is a suitable place to live.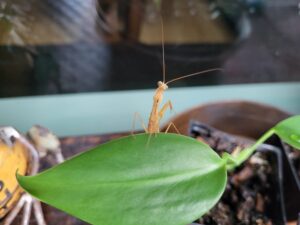 Highland Raven (The Celtic Blood Series Book 1)
by Melanie Karsak


(3,979 Reviews)
Genre: Historical Fiction | Fantasy
FREE for a limited time
Destined to become Queen of Scotland.
Bound by blood to the Celtic gods.
Scotland, 1026–Descendant of the line of MacAlpin, Gruoch should have been born into a life of ease. But fate is fickle. Her father's untimely death, rumored to have been plotted by King Malcolm, leaves her future uncertain and stained by the prophecy that she will avenge her family line.
Escaping to one of the last strongholds of the old Celtic gods, Gruoch becomes an adept in arcane craft. Her encounters with the otherworld, however, suggest that magic runs stronger in Scotland than she ever imagined.
Haunted by dreams of a raven-haired man she's never met, Gruoch soon feels her fate is not her own. She is duty-bound to wed a powerful lord, if not the Prince himself; however, she's not sure she can stop her heart when she meets Banquo, a gallant highlander and druid.
Readers will relish this sweeping Scottish historical fantasy that tells the tale of Gruoch, a woman struggling to escape her fate without blood on her hands. Dive into this thrilling historical scottish fantasy romance by New York Times best-selling author Melanie Karsak.
Click here to get this book for FREE
° ° ° ° ° ° ° ° ° ° ° ° ° °
Midnight Prince: A Romantic Comedy (Fantasy Romance)
by Aisha Urooj


(213 Reviews)
Genre: Teen & Young Adult
FREE for a limited time
A witch's curse. Frog by day. Prince at Midnight.
Milos saves the faerie king from the witch's curse. The upset witch turns him into a frog. Now he needs a kiss from the princess, but she is on the witch's side. Will Milos stay a frog forever?
Click here to get this book for FREE
° ° ° ° ° ° ° ° ° ° ° ° ° °
When Hearts Take Flight
by Kathleen Rouser


(21 Reviews)
Genre: Romance | Contemporary Fiction
FREE for a limited time
Her great-grandmother's journal holds the key to the past — and maybe her future.
Unable to say no when others need her, Talia Sampson took on her deceased aunt's advice column, a worn-out Victorian home, and the care of her special needs niece, Bianca. Jilted by a man who didn't want to share the responsibility of caring for her niece, the last thing Talia needs is a handyman who creates a flutter in her heart.
Enter new veteran, Ben Tanner, who shows up unexpectedly on her doorstep. Lost for many years within the foster system, and broken from the battlefield, he wonders where home truly is. And at the address the Welcome Home veteran's program gave him, a frosty welcome from homeowner, Talia, isn't what he expected. But with his skill set, he just might have something to offer her for a few of nights of lodging.
Talia and Ben search for building materials in the garage attic and discover two Sampson family heirlooms. Talia treasures the story the forgotten journal tells, but she secretly fears the hot-air balloon. Ben is intrigued by the ancient balloon and is intent on restoring it for her. Between a secret that shatters his trust and Talia's self-doubt, it may take more than a leap of faith and going airborne in an antique balloon to overcome what keeps them apart.
Click here to get this book for FREE
° ° ° ° ° ° ° ° ° ° ° ° ° °
The Eye Thief (A DI Erica Swift Thriller Book 1)
by M K Farrar


(2,594 Reviews)
Genre: Mystery | Crime Fiction
FREE for a limited time
Enter the twisted mind of a killer in the heart of London, where victims are left blind and helpless… DI Erica Swift is caught between the demands of her job and the struggles of her personal life, but when a case dubbed 'The Eye Thief' lands on her desk, she can't resist the challenge.
As the number of victims rises, Erica and her team race against time to catch the killer before they strike again.
But when Erica's past collides with her present, the stakes become even higher.
Will she be able to stop the killer before they exact their deadly revenge? Find out in this gripping thriller that will keep you on the edge of your seat until the very end.
Click here to get this book for FREE
° ° ° ° ° ° ° ° ° ° ° ° ° °
Run
by Rich Restucci, J.R. Jackson


(568 Reviews)
Genre: Science Fiction | Horror
FREE for a limited time
The dead have risen, and they are hungry.
Slow and plodding, they are Legion. The undead hunt the living. Stop and they will catch you. Hide and they will find you. If you have a heartbeat you do the only thing you can: You run.
Survivors escape to an island stronghold: A cop and his daughter, a computer nerd, a garbage man with a piece of rebar, and an escapee from a mental hospital with a life-saving secret. After reaching Alcatraz, the ever expanding group of survivors realize that the infected are not the only threat.
Caught between the viciousness of the undead, and the heartlessness of the living, what choice is there? Run.
Click here to get this book for FREE
° ° ° ° ° ° ° ° ° ° ° ° ° °
Pumpkin Spice Scare (Cupcake Crimes Series Book 4)
by Molly Maple


(367 Reviews)
Genre: Mystery
FREE for a limited time
When mischief and mayhem are targeting the staff where Charlotte works, everyone is a suspect.
After Charlotte McKay stumbles upon her coworker's body, theories about who could be targeting the staff at Bill's Diner take on a life of their own. When secret shames are brought to light, it seems anyone could be a suspect in the small town of Sweetwater Falls.
Grudges run high and suspicions even higher when the killer strikes a second time. Forget about finding the criminal — Charlotte is concentrating on making sure she isn't next on the murderer's hit list.
Join Charlotte as she makes new friends and determined enemies in the cozy town of Sweetwater Falls.
"Pumpkin Spice Scare" is filled with layered clues and cozy moments, written by Molly Maple, which is a pen name for a USA Today bestselling author.
Click here to get this book for FREE
° ° ° ° ° ° ° ° ° ° ° ° ° °