Well… if I thought dropping off my sweet pup Rosey at the shelter to get spayed made me feel awful, picking her up made me feel a hundred times worse. I did not get a wiggle greeting with a wagging tale. No…not at all. I got a sad beaten side-eye that could crush even the coldest of hearts. Rosey couldn't even look at me. My baby hates me. She blames all her pain and suffering on me. It could also be the anesthetic. This morning she is more awake, but still very slow and doesn't want to move much at all. It's still morning, so maybe she will feel a little better in a few hours. I hope she perks up soon. I can hear the Sarah McLaclan song, Angel, playing every time I look at her. UGH!!!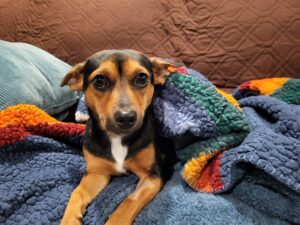 Blood Silence: A compelling crime thriller (McRyan Mystery Series Book 6)
by Roger Stelljes

(7,984 Reviews)
Genre: Thrillers | Crime Fiction
FREE for a limited time
THE NEW YORK TIMES & USA TODAY BESTSELLING MYSTERY & CRIME SERIES WITH OVER 2.7+ MILLION DOWNLOADS, 150,000+ AMAZON AND GOODREADS RATINGS.
After hanging up the phone, Meredith lay in bed in the dark, staring at the ceiling of her lake house. She pushed herself out of bed and slowly walked to the wall to flip the light switch, and… nothing. She rapidly flipped it up and down, over and over… there was no light.
She walked out of her bedroom and along the carpeted catwalk overlooking the foyer and the winding staircase to her right. She could see the streetlight on the parkway still brightly illuminating the street corner to the north.
Then there was a faint but unmistakable creak of a door opening ever so slowly in the back of the house…
How far will they go to buy your silence?
Can McRyan unveil the dangerous truth before someone else pays the ultimate price? This complex and twisted mystery will challenge Mac McRyan to confront his tumultuous past… a past he thought he had put to rest. Blood Silence is a web of unsettling twists, startling turns, and unforeseen redemption with each chapter adding a layer of intrigue that will pull you in further.
Click here to get this book for FREE
° ° ° ° ° ° ° ° ° ° ° ° ° °
The Gabardi Wife (The Gabardis Book 1)
by Maddie Summers

(2 Reviews)
Genre: Literature & Fiction
FREE for a limited time
A classic, emotion-packed romance, sexy but sweet.
The last person Holly Baker expects to see is her husband, Alexi Gabardi. The man she wants to divorce.
But when he shows up on her doorstep, demanding to know why she wants a divorce, she can't tell him why. Holly is holding onto a secret, a secret that concerns Alexi, and she can't risk him knowing the truth. Even though she is still in love with him.
From the moment Alexi saw Holly one day in Hyde Park, she was the one for him. Even though she was nothing like the women a wealthy Gabardi should marry, he did just that. So when he finds out she wants to divorce him? There is no way he can allow that to happen. And so he shows up with one plan in mind: to take her back home to London.
Holly has to think fast about what to do. She has plans to marry her late best friend's husband and be a mum to their young daughter, Samantha. But with Alexi on the scene, and the burden of her secret becoming heavier by the day, she will need to use all her strength and her smarts. Especially when she accepts that one year away from Alexi has done nothing to diminish her feelings for him.
If anything, it is the opposite.
Click here to get this book for FREE
° ° ° ° ° ° ° ° ° ° ° ° ° °
Freedom From Failure: A 10-step guide to actionably transform painful setbacks into life-defining triumphs
by Desmond Devenish


(50 Reviews)
Genre: Religion & Spirituality
FREE for a limited time
CREATE AN UNBREAKABLE RESOLVE TO ACCOMPLISH YOUR DREAMS
To avoid the hurt from life's failures, we end up allowing in more pain by downsizing our beliefs.
You know that you can climb that impossible mountain, yet deny it out of conditioned fear.
To rise to the summit means letting go of dead weight, and reprogramming with relentless courage.
In 10 actionable steps, you will confront false narratives and strip away useless mindsets.
No more feeling stuck without purpose and lack of supreme goal setting.
Limitless visualizing and mental toughness will crush the negative ego.
Mental traps that made you feel small, feeding you inner-doubt and obstacles in the way will crumble.
Your biggest dreams will be honored and personal hardship put to great use.
Now is the time to claim your soul's mission, so begin winning that worthy pursuit.
If you want to defeat procrastination and choose personal power, this is where it starts.
Click here to get this book for FREE
° ° ° ° ° ° ° ° ° ° ° ° ° °
Silver Light: Book 1 of Mothertree
by W.K. Greyling


(82 Reviews)
Genre: Fantasy
FREE for a limited time
Walde has inherited a forbidden power from his father, enabling him to commune with Thara, an enigmatic being that lives deep in the earth. Walde thinks he can keep this power a secret, but one day he slips. His father is blamed and executed, the body placed on a raft and sent down a rushing river. Walde breaks free and goes after him… only to discover that the execution was staged. Very much alive, his father floats off to a mysterious end. During Walde's perilous journey to rescue him, he learns what is truly at stake: not only his father, but also his people's entire way of life.
Click here to get this book for FREE
° ° ° ° ° ° ° ° ° ° ° ° ° °
Elysian Hills: Embracing Life Through Conscious Dying
by Paul Schmidt
Genre: Health, Fitness & Dieting
FREE for a limited time
Paul William Schmidt's stepmother, Mary Lou, intentionally chose to end her life and asked him and his father to stay by her side during her last forty-four days. In this poignant and insightful book, the author takes you on a transformative journey through the depths of loss, grief, and the remarkable power of embracing life in the presence of death and dying.
The experience helped the author uncover the extraordinary lessons hidden within the realms of mortality. With a compassionate voice, he recounts the indelible moments that shaped his own understanding of dying and living, leaving no emotion unexplored.
Elysian Hills invites you to navigate your own path of self-discovery in living with the inevitability of death and healing through the loss of a loved one, and its words will inspire you to embrace the grief and joy that can coexist in the face of dying.
Click here to get this book for FREE
° ° ° ° ° ° ° ° ° ° ° ° ° °
My Man Jeeves: Jeeves & Wooster Series
by P. G. Wodehouse


(3,101 Reviews)
Genre: Humor & Satire | Humor & Entertainment
FREE for a limited time
Jeeves presents the ideal image of the gentleman, being highly competent, dignified, and respectful. Incredibly knowledgeable about topics ranging from horse racing to history, Jeeves has an encyclopedic knowledge of literature and academic subjects. He frequently quotes from Shakespeare and the romantic poets. Well informed about members of the British aristocracy thanks to the club book of the Junior Ganymede Club, he also seems to have a considerable number of useful connections among various servants. Jeeves uses his knowledge and connections to solve problems inconspicuously.
Click here to get this book for FREE
° ° ° ° ° ° ° ° ° ° ° ° ° °
Boer War: A History From Beginning to End (History of South Africa)
by Hourly History


(361 Reviews)
Genre: History | Education & Teaching
FREE for a limited time
This book provides an introductory text to one of the most intriguing wars of modern times — a war that saw several innovations, like the use of heliography and indirect fire, and caused the complete overhaul of the great Imperial British fighting machine in its aftermath. It also tells of the first example of the brilliant use of guerrilla warfare by the people who, to this day, have never been outclassed; the Boer on commando. On the other hand, the Boer War is also an intensely emotional journey cutting to the very core of the horror of war; leaving women and children in a deliberately destroyed landscape, watching their home and all their possessions burn to the ground.
Inside you will read about… The Causes of the War The Commando System Phase One Phase Two Phase Three The Concentration Camps A Gentleman's War And much more! This book sets out to give a broad overview so that the interested reader will be able to find a point of entry to study further. Perhaps more people studying and understanding this subject is the only way to finally know, "When is a war not a war?"
Click here to get this book for FREE
° ° ° ° ° ° ° ° ° ° ° ° ° °