The great deceivers!! Puppies lie to you constantly. They look you right in the eyes and say,"I will be so good today." Then they turn around and eat your sock. They tell you they are just going to play quietly in the corner, but then they poop on the rug. Is it that they are evil? No. They are not evil. They are puppies. They are full of love and fun, and poop… and teeth.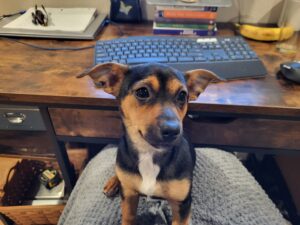 The Girl Under the Flag: Monique – The Story of a Jewish Heroine Who Never Gave Up (WW2 Girls)
by Alex Amit

(1,409 Reviews)
Genre: Historical Fiction
FREE for a limited time
Monique would do anything to live.
Running for her life from the Nazis, Monique, a seventeen-year-old Jewish girl, escapes through the streets of Paris, searching for a place to hide.
In a dark basement deep within the city, Philip, a man of the Resistance, offers her a deal in order to save her life by changing her identity. In return, she needs to provide information about the Germans by becoming acquainted with them.
Torn between her feelings for Philip and her fear of Herr Ernest, a German officer who shows special interest in her, Monique steps deeper and deeper into the jaws of the Nazi beast. But with every day that passes, she knows that it is only a matter of time before she makes a mistake and becomes discovered by the Germans – the price for that being her life.
Through her own eyes, Monique tells of her efforts to survive within occupied Paris, torn between the cafés bustling with people and the poor citizens endlessly waiting in lines, food-ration stubs in hand. But above all, this is a story about a girl who has to fight for her freedom during those dark and dreadful days, fervently refusing to give up, while the German soldiers march through the streets of Paris, stomping the ground with their hobnailed boots.
Click here to get this book for FREE
° ° ° ° ° ° ° ° ° ° ° ° ° °
Foretold: A St. Bastian Institute Novel (Blood Prophecy Book 1)
by L.H. Cosway


(127 Reviews)
Genre: Romance
FREE for a limited time
It was foretold that you would be born for greatness, but now you belong to me.
Darya Cristescu has no idea that a demonic presence has bestowed her with his mark. She's too busy trying to scrape by at St. Bastian's Institute for Magic and the Supernatural.
When her teacher is murdered, Darya must turn to the most talented warlock at school to help her find the killer. She's spent years secretly crushing on Peter Girard, but the bad blood between their families makes asking for his help complicated.
Teaming up with Peter results in an unintended consequence: telepathy. With her crush's voice in her head, it's difficult to focus on discovering who killed her teacher, but the more she learns, the more she realises that the demon who marked her might be the very same murderer she seeks. What does he want with her? And more importantly, what exactly does it mean to possess his mark?
As she and Peter try to discover who the demon is, their unexpected alliance brings about feelings neither of them could've anticipated.
Foretold is book #1 in the Blood Prophecy Series.
Click here to get this book for FREE
° ° ° ° ° ° ° ° ° ° ° ° ° °
Belle Harbor Cozy Mysteries: Books 1 – 3: A Cozy Culinary Mystery (A Belle Harbor Cozy Mystery Collection)
by Sue Hollowell


(1,046 Reviews)
Genre: Mystery
FREE for a limited time
A light, cozy mystery series in a quaint beach town with a fun loving, amateur female sleuth, her quirky uncle, and enough antiques and pastries to fill your home and your belly.
Book 1 – Cupcakes and Catastrophe
Tilly Griffin did everything by the book. Everyone else's book. Now it was her turn to write a new chapter, three thousand miles from her former life. Her dream of opening a bakery like her grandma Luna was now becoming a reality.
No sooner does she arrive in the charming beach town, when she and her quirky uncle are tangled up in a mysterious death. When a kite competition judge is found murdered in the bookstore next to her uncle's Checkered Past Antiques shop, Tilly questions her decision to move to Belle Harbor, and everything about her new life.
As the clues emerge, and the small-town secrets are revealed, Tilly's uncle finds himself smack dab in the middle of the investigation, and surrounded by suspects. Will the murderer be nabbed in time for the bakery's grand opening or will this close the book on Tilly's dreams?
Book 2 – Muffins and Misdeeds
Tilly is settling into her new cottage and life in the quaint beach town of Belle Harbor. With her fledgling bakery partnering with the local coffee shop, she has high hopes that her business will soon take off.
Tilly's new friend Fiona convinces her to rummage through her uncle's antique shop to find decor to fill her sparse home. But instead of the sought after beach treasures, they discover clues to a long ago unsolved mystery in the small town.
Coupled with the recent murder of a distillery owner, their investigation into the ancient family feud reveals shocking lies, sabotage, and the ultimate revenge. As they get deeper into the town's historical secrets, they discover a stink they can't ignore. Can Tilly's budding friendship bloom into a dynamic duo of crime solvers in time to save her new friend from going to jail?
Book 3 – Birthday Cake and Burglary
Tilly Griffin is on top of the world. With her newfound freedom in quaint Belle Harbor she is learning to love life again. Her plans for an epic birthday bash for her cherished and kooky Uncle Jack are almost complete.
Tilly's joy and whimsy soon turn to horror as she discovers the death of Poppy, a beloved local business owner. Rumors swirl about likely culprits that put the coming annual Arts Walk, which brings millions to the town coffers, in jeopardy.
As Tilly collects clues in the suspicious death, she learns of scandalous schemes, petty people, blackmailing busybodies, and snobby store owners, all who have a reason to want Poppy dead. Can Tilly put the pieces together in time to catch the killer and save the Arts Walk or will she be forced to pack up and find a new place to call home?
Click here to get this book for FREE
° ° ° ° ° ° ° ° ° ° ° ° ° °
The Sparkly Bun: A children's book about confidence, self-esteem, individuality, and creativity.
by Keith Stoeckeler, Lana Lee


(12 Reviews)
Genre: Foreign Languages | Children's eBooks
FREE for a limited time
"The Sparkly Bun" is a captivating children's book that encourages imagination, self-esteem, self-expression, and self-discovery. It tells the story of Emme, a girl who loves fashion and has a passion for her favorite item, her sparkly bun.
However, when Emme wears her favorite clothing to school two days in a row, her classmates make fun of her. This causes Emme to question if being different is a good thing. Throughout the book, Emme learns that it takes courage. Still, it's essential to be true to oneself, express one's individuality, and that being different makes us all special and gives us our own identity.
This children's book emphasizes the difference between fitting in and being true to oneself and how creativity and imagination can help children embrace their uniqueness, all through a creative and unique approach — food.
With its charming illustrations and heartwarming story about empowerment and confidence, "The Sparkly Bun" is a must-have for any child's library. It encourages children to embrace their identity, pursue self-expression, and celebrate self-discovery.
Click here to get this book for FREE
° ° ° ° ° ° ° ° ° ° ° ° ° °
Winter Miracle
by Teagan Kade, Sennah Tate


(219 Reviews)
Genre: Holidays | Romance
FREE for a limited time
Being a single mom in a small town isn't easy. I'm about to lose my home, and no one seems to give a damn. Until Dane walks into my life.
He's a bad boy pilot who's been fired for taking too many risks. I accidentally walk in on him while cleaning his hotel room. Right then and there he gives me my first O in the hottest encounter of my life. Come the following morning and I'm forced to take him in when a snowstorm leaves the hotel without power.
Dane sees how the people in town treat me. He even gets close to my son. But he's not used to caring about anyone but himself, and I can see it scares him. When he gets the chance to leave, he takes it.
I know I have self-esteem issues. I know let people use and abuse my trust. But I thought we had something real. Now I'm left wondering if I was just another girl on his list.
Winter miracle is a full length, standalone small town romance sure to steam up your screen. There's no cheating and a guaranteed happily ever after. Grab your copy today.
Click here to get this book for FREE
° ° ° ° ° ° ° ° ° ° ° ° ° °