I have to keep reminding myself that dogs are angels. Gifts from Heaven. Rosey is certainly a handful, and a sassy little thing. I spent all day in the backyard weeding, planting, and telling Rosey not to eat everything. They said she was a dachshund chihuahua mix, but I have a strong suspicion she is all terrier. Terror is more like it. Thank golly for all the nice weather we have had or my house would have been torn to shreds by now. Potty training has been super easy. Poor girl hasn't had a chance to have an accident in the house. Every thirty minutes I am taking her outside. On a totally unrelated note we are all (Including Junebug and Casper) losing weight, and I am getting 30 thousands steps in a day. HAHA. Not really, but it feels like it. My little angel has decided that I need a helper at work in the morning. She keeps my lap warm.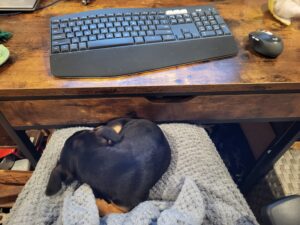 Dead Ground: A Crime Thriller (Dylan Harper Book 1)
by Justin Warren


(882 Reviews)
Genre: Mystery | Action & Adventure
FREE for a limited time
A quiet farmhouse, four dead, one survivor. Dylan Harper thought all his problems died that night. But he was wrong. And now, ten years later, someone is out for revenge.
When Detective Harper is forced to return to the small town, he knows it won't be easy. The memories of that tragic night still haunt him, and the guilt of his actions is something he will never shake. But he has no choice. A case has come up that requires his expertise, and turning it down is not an option.
As soon as he arrives, Dylan feels the tension in the air, and he senses someone is out for revenge. It could be anyone, and he has no idea where to start looking. With the help of his new partner, Dylan begins to investigate, working to piece together the clues that will lead him into dark places. As the danger escalates and the body count rises, Dylan realizes that he must confront his own demons if he hopes to make it out of the town alive.
In this pulse-pounding thriller, author Justin Warren takes readers on a ride through the darkest corners of the human psyche, exploring the nature of vengeance, justice, and redemption. With twists and turns at every corner. DEAD GROUND is sure to keep you on the edge of your seat until the very last page.
Click here to get this book for FREE
° ° ° ° ° ° ° ° ° ° ° ° ° °
Night of the Purple Moon (The Toucan Trilogy, Book 1)
by Scott Cramer


(1,466 Reviews)
Genre: Teen & Young Adult | Science Fiction
FREE for a limited time
The moon turned purple when the earth passed through the comet's tail, but nobody predicted the germs that would attack human sex hormones. Older teens and adults died within hours. On a small Maine island, Abby Leigh helps her brother and sister survive in this new world, but all the while she has a ticking time bomb inside her – adolescence.
Click here to get this book for FREE
° ° ° ° ° ° ° ° ° ° ° ° ° °
Life Travel And The People In Between: A Memoir
by Mike Nixon


(36 Reviews)
Genre: Biographies & Memoirs | Sports & Outdoors | Travel
FREE for a limited time
BookFest Second Place Award for Travel (Spring 2023)
Indies Today Best Memoir Award 2022
Life Travel And The People In Between is not only a memoir of one man's journey to becoming a world traveler, but it's also a love letter to the people, places, and cultures around the world that unite us in the human race. From the breathtaking mountains of Shenandoah to the countryside of Mongolia — travel offers a unique, transformative experience that millions are not only yearning for, but are in desperate need of. Life Travel And The People In Between explores the idea of living a meaningful life and challenges the reader to take stock of theirs.
Click here to get this book for FREE
° ° ° ° ° ° ° ° ° ° ° ° ° °
Safe In A Stranger's Arms: Katherine Bay Series – 2 
by Shirley Wine


(526 Reviews)
Genre: Romance | Literature & Fiction | Foreign Languages
FREE for a limited time
Who dare she trust?
The brother prepared to sell his family out? The neighbor and landlord who wants to evict her and her family? The property developer who arrives on her doorstep-
Haunted by her mother's dying words: "Don't sell the land."Jenna Mullein quickly discovers too many people in Katherine Bay have a vested interest in muddying the truth. As she tries to find answers. her persistent questions stir up murky waters. Danger threatens at every turn, and she fears for her life, her precious babies' lives…
When property developer, Gabe Callahan, arrives on her doorstep and offers his help, she is wary.
Is he genuine or does he see a chance to snatch her family's heritage… Dare she trust a man who is so obviously burdened with secrets of his own.
Together, will they manage to outwit their enemies one more time… or will it cost them everything, even their lives…
Download your copy of Safe In A Stranger's Arms today and uncover the secrets and the lies that simmer beneath the surface of this idyllic small town in Katherine Bay– a playground for the rich and famous.
Click here to get this book for FREE
° ° ° ° ° ° ° ° ° ° ° ° ° °
The Werewolf Bodyguard (Moonbound Wolves Book 1)
by Camryn Rhys, Krystal Shannan


(266 Reviews)
Genre: Romance
FREE for a limited time
After facing a major blow to her ego, werewolf bodyguard Aria LeBlanc decides to drown her sorrows in the delectable tastes of renowned chef, Marco DiSanti. But one little taste is not enough — for either of them. As they begin to sample more and more, Aria uncovers the truth about Marco's past.
As an unbonded and unstable werewolf, Marco worries of getting too close — uncertain of his ability to control himself after shifting. Fearless and courageous, Aria promises to guide him, helping him to confront his past and embrace his future. But can Marco let down his guard and give his body — and soul — to the bodyguard who stole his heart?
Click here to get this book for FREE
° ° ° ° ° ° ° ° ° ° ° ° ° °
The Tenth House (Turn of the Zodiac Book 1)
by Ashley R Scott


(36 Reviews)
Genre: Fantasy | Action & Adventure
FREE for a limited time
What would you do if you watched a Zodiac have your friend murdered and he was coming for you next?
Ciara wants peace from the strange things that going on, but that's not going to happen. Taurus has arrived on Earth, and he's come to end the Guardian line.
That includes Ciara, even if she doesn't know it.
A race for the magical birthstones and the survival of the human race begins as an ancient enemy slips from the shadows to join the fight. Ciara has four days to find Taurus's true birthstone and send him back to Polaris. Or else humanity belongs to him.
Ciara can save the world, but can she stay alive long enough to do it?
The Tenth House is the first book in the urban fantasy series, Turn of the Zodiac. If you like mystery, thrilling action that you can't put down and stepping into a unique world with zodiacs and magic, then this series is for you.
Click here to get this book for FREE
° ° ° ° ° ° ° ° ° ° ° ° ° °
The Red Badge of Courage by Stephen Crane – A Gripping Tale of Courage, Fear, and the Human Experience in the Face of War
by Bluefire Books, Stephen Crane


(3,870 Reviews)
Genre: History
FREE for a limited time
Experience the raw emotions and psychological turmoil of a young soldier in "The Red Badge of Courage" by Stephen Crane, a groundbreaking novel that explores the realities of war and the depths of human courage. Set during the American Civil War, this literary classic offers a captivating glimpse into the internal struggles of a young man coming to terms with fear, bravery, and self-discovery.
Follow the journey of Henry Fleming, a young Union soldier who dreams of the glory of war but soon finds himself grappling with the harsh realities of battle. As he confronts his own fears and insecurities, Henry embarks on a path of personal growth and self-understanding. Through vivid imagery and powerful storytelling, Crane provides an intimate portrayal of the human spirit in the face of conflict.
"The Red Badge of Courage" is a poignant and thought-provoking novel that has captivated readers for generations with its realistic portrayal of the psychological impact of war. Perfect for students, history enthusiasts, and lovers of classic literature, this book is an essential addition to any collection.
Click here to get this book for FREE
° ° ° ° ° ° ° ° ° ° ° ° ° °