Can you believe this? For years I have told my baby bassets that if they saw a dachshund puppy cross the road, to grab it and we will take it home. Well, on Saturday it happened. A dachshund puppy crossed the road, I grabbed her, and she went home with us. Her name is Rosey.  It didn't happen quite like that, but very close. There was an adoption event at my favorite thrift store, and I was there just to window shop. I was by no means going to bring home a puppy. Puppies drive me nuts! The barking, biting, screaming, and worst of all potty training. I had absolutely no desire to deal with that. Unfortunately as soon as I saw her get pulled out of the back of the animal control truck and carried across the parking lot, I fell in love.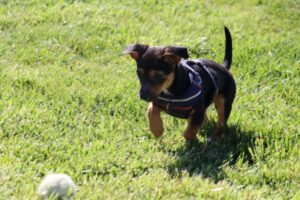 The Hills Be Shaken
by MICHAEL STEWART


(109 Reviews)
Genre: Crime Fiction | Thrillers | Action & Adventure
FREE for a limited time
"The mountains fall away, and THE HILLS BE SHAKEN… " -Isaiah 54:10
Mose Haley was an engineer, but in a few short months, he will have his FBI badge… and his revenge.
Two weeks ago, Mose was designing highway curves that safely carry minivans loaded with three kids and a dog doing 70 miles per hour. Now he is standing next to hot ammunition casings holding a standard issue Glock 23 handgun with the slide locked back and the barrel smoking. Two weeks ago — before the people he loved died — was a lifetime ago.
The attack on Manhattan, Kansas, dubbed Little 9/11 was the first. Officer Sam McGuire was there when it happened, shaken like everyone else on that day. The day he witnessed the collapse of a two-mile dam. Also, the day Sam saw the blonde in the park. The fit woman, jogging with an AR-15 and a pistol. He has questioned her and questioned her again. He has gone to ground zero and rummaged through the debris. Sam is a good cop, but he cannot piece it all together. He needs help. He needs an engineer.
Mose wants to believe he has the grit for the job, but he is a rookie. He has never had to face rooftop gunfire or defuse a bomb in a playground with sweaty hands and a paperclip. Mose Haley has never been tested… until now.
Click here to get this book for FREE
° ° ° ° ° ° ° ° ° ° ° ° ° °
Earth and Beyond: A Space Adventure Origin Story (MedSci Missions Science Fiction Book 1)
by Bjørn-Rune Hanssen, Wendy Gamble, István Szabó ifj


(48 Reviews)
Genre: Science Fiction | Mystery, Thriller & Suspense
FREE for a limited time
The sky is not the limit in this near-future medical mystery.
Earth is at peace… then an alien infection changes things.
An engineer creates a revolutionary engine to launch the world's hope for salvation into distant space.
A crew of Earth's top talent face never-before-seen adversity as they search for a cure for humanity.
Earth had achieved a semi-utopia until aliens destroyed the peace. After a bizarre robot occupation leading to all-out war, humanity was left with a deadly alien pandemic. Their possible salvation lies in a team brought together to search for a solution beyond the stars.
An ambitious Ambassador heads up a mission to cure the medical crisis. A war hero Captain is at her side as they launch a dangerous deep space drive invented by a possibly unstable genius. The revolutionary ship carries mission specialists collected from around the world including an all-star surgeon pushed beyond Earthly skills, a security head with all-too deadly martial arts skills, and a scientist willing to risk it all for a solution.
As their journey into deep space begins, they encounter obstacles and battles of wills as they strive to survive the harsh and not-so empty space on the way to their distant goal. Together, the hand-picked team deals with technical problems, illness, personal issues, and secret elements of Earth's warring bio-tech ideologies as they kick off their mission to save Earth.
Click here to get this book for FREE
° ° ° ° ° ° ° ° ° ° ° ° ° °
There Are No Men: Laugh out loud romantic comedy chick lit (Rom-Com on the Edge Book 2)
by Carol Maloney Scott, Nick Rissmeyer


(1,624 Reviews)
Genre: Women's Fiction | Humor & Satire
FREE for a limited time
Divorced thirty-something Claire doesn't know who's in her dating pool — but she's doing her best to avoid shark infested waters. Leaving her clueless and insensitive husband behind was a smart move after losing her fertility, but now she's riding the wave of flying toupees, strange men in leather thongs and drunken nights in painfully impractical shoes. Claire desperately wanted to be a mother, but now she'll settle for one middle aged man worthy of a second date.
After a long drought, men are flooding her shores and she's drowning in choices. There's Justin, the 25-year-old IT boy-genius with the GQ looks and cougar fetish, who won't take 'no' for an answer. A woman would have to be a blind, lesbian nun not to fall for him, but he reminds Claire of her wasted youth. And then the charming but mysterious Dr. Nathan appears, but he's cheating on her with his medical mistress — a demanding cardiology practice.
To further rock her boat, Claire's 'stable' career in publishing has been tossed about by her floundering company's launch of a new line of trendy, salacious books. Cookbooks aren't selling these days, but erotica is flying off the shelves — and challenging Claire's attitude about sex, work… and her tempestuous new life.
When her best friend convinces her to buddy up to the aspiring writer who just moved in across the street, Claire rejects the idea — he has already caught her in more than one embarrassing and scantily clad situation. Giving in to her friend's nudging, she tries to ignore the details she discovers about him, including his hard rock night gig and his mesmerizing blue eyes, in the hopes his literary talents can pull her publishing house up from the bottom of the ocean.
Claire's dilemma begs the question: Are there NO men or TOO MANY?
Click here to get this book for FREE
° ° ° ° ° ° ° ° ° ° ° ° ° °
Fathomless Pursuit: Patmos Sea Fantasy Adventure Fiction Novel 1
by Eric Kercher


(1 Review)
Genre: Action & Adventure | Fantasy
FREE for a limited time
Crippled and dying, their ship is running out of time. With lives depending on him, can an unwilling Captain make up for his biggest mistake?
Christos Maris was in charge of the submarine Alopias when he is ambushed by Diomedes and his pirate crew. Robbed, starving, and mourning the death of their Captain, the crew thrusts him into leadership against his will. Now the burden of responsibility falls on his shoulders. When confronted with the death of the Alopias, the unthinkable burden pushes him to a breaking point.
With his best friend and crew, he must fight time and the elements, overcoming dangers that lurk in the deep to save the submarine. Together, they chase a mythical treasure that might restore the submarine to its glory. But shipwrecked sailors, unexpected encounters, and unanswered questions stand in his way. Will they reach the treasure in time?
Fathomless Depths is the first book in a gripping fantasy adventure series. If you like fast-paced adventure, dangerous enemies, and hidden treasure, you'll love this book.
Click here to get this book for FREE
° ° ° ° ° ° ° ° ° ° ° ° ° °
Tainted Tree
by Jacquelynn Luben

(347 Reviews)
Genre: Sagas | Historical Fiction
FREE for a limited time
When Addie Russell arrives in the UK from Boston, a failed relationship behind her, she's eager to embark on something new. She's inherited a house in Surrey and hopes to find out about her English family. Addie was adopted at birth, when her mother died, and she knows very little about her mother, who was travelling around the US. Apart from that, there are the grandparents, who wanted nothing to do with her, and the father, about whom she knows nothing at all. Soon, Addie will discover the family secrets, and will also meet more than one man. But will she find true love – and will the family be all that she hoped for?
Click here to get this book for FREE
° ° ° ° ° ° ° ° ° ° ° ° ° °
Yoga in Bed for All Ages
by Lisa Shea


(410 Reviews)
Genre: Health, Fitness & Dieting | Self-Help
FREE for a limited time
Some of us need help waking up. Others have trouble falling asleep. Yet others are bedridden and wish to gently exercise each day. Yoga in Bed for All Ages is the perfect solution.
These poses are specifically designed to be done in a bed. There are both sitting and lying down poses. For those who cannot sit up, alternative suggestions are provided.
Study after study finds that yoga helps with lower back pain, depression, energy levels, balance, post-traumatic stress, focus, sleep, and much more. Whether you need to reset after a busy day or wish to have more joy in your daily life, yoga can help. It nurtures your body and embraces your soul.
Join us to take that first step forward into a healthier, happier you.
Namaste.
This book Yoga in Bed for All Ages is intended to be free on all systems, to help those who are in need of support find a step toward a more contented life. If the system you are currently on requires a charge to download, all author's proceeds will benefit battered women's shelters.
This book is a companion piece to my other two free books – one on full-length yoga routines and the other on a quick ten-minute yoga routine. Each provides a different avenue for including yoga in your daily life.
Click here to get this book for FREE
° ° ° ° ° ° ° ° ° ° ° ° ° °