Good morning fellow book lovers. Now I know it is now officially spring, and the flowers are starting to bloom but humor me for a moment and let's go back to winter. This winter I really got to experience cold weather and live out my best sweater weather days, and it turns out I really like snow. Before I went home for Christmas I went and found some snow and it was pretty magical and yes I did build a snowman! As Elsa  would say "the cold never bothered me anyway!" – The Apprentice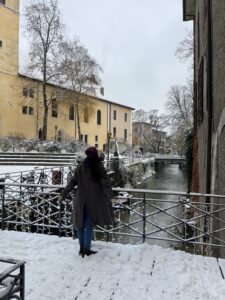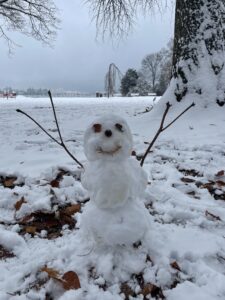 Arcane Mercenaries: Captain
by Mark August


(47 Reviews)
Genre: Fantasy
FREE for a limited time
Magic ignited a war. Grant Gwydian fought to save humanity — and himself.
Grant has been leading his band of mercenaries into the heart of battles for years, thriving on impossible missions for the highest bidder. But there's a secret to his success: Grant is a StarTouched mage, and his band of Arcane Mercenaries comprises some of the most powerful wizards from every nation.
But when a siege threatens to become a deadly clash of arms, Grant's promise to bring his soldiers home faces its ultimate test in the fires of battle. Negotiations falter, and assassination and kidnapping mar the ceasefire. Grant's hand-picked team of Touched warriors races across enemy territory to rescue the royal heiress. Betrayal, political agendas, and ancient enemies dog his frantic quest. Can he overcome the odds and save not only his soldiers but the fate of an empire?
In this epic fantasy adventure, heroism and magic collide in a thrilling tale of war, politics, and sacrifice. If you love fast-paced stories steeped in political intrigue, Arcane Mercenaries: Captain will keep you on the edge of your seat until the very end.
Click here to get this book for FREE
° ° ° ° ° ° ° ° ° ° ° ° ° °
All The Pretty People
by Barbara Freethy


(2,876 Reviews)
Genre: Thrillers | Mystery
FREE for a limited time
Ten years ago, I was seventeen, spending summers with my wealthy family and friends on Hawk Island. One terrible night, I blacked out. The next morning, my best friend, Melanie, was gone — vanished without a trace.
Today, I go back. To the island. To my sister's wedding. To a group of privileged people with whom I've never belonged. To my best friend's brother, a man who hates us all. To secrets that someone will kill to keep.
A storm is coming. A storm that will cut off the island from all hope of help. A storm that could allow a kidnapper to escape or a killer to murder again. A storm that will wash away all the lies and deception and reveal the true faces of All the Pretty People.
Will I be the next one to disappear?
Click here to get this book for FREE
° ° ° ° ° ° ° ° ° ° ° ° ° °
Steeped in Suspicion 
by Eryn Scott


(1,427 Reviews)
Genre: Mystery
FREE for a limited time
Pebble Cove is not the sleepy coastal town Rosemary remembers from her childhood. Ghosts are everywhere, and only she can see them.
When Rosemary Woodmere inherits her estranged grandmother's Victorian teahouse, she doesn't expect to also inherit a ghost named Asher from the 1920s.
Things get weirder for Rosemary.
Her grandma was supposedly murdered. A body washes up on the beach, and the police suspect her of the man's murder. She's trying to navigate her newfound ability to talk to ghosts. And she doesn't even know the first thing about tea.
Rosemary's experience as a librarian hasn't prepared her to solve a murder, but everyone around her is steeped in suspicion, and she has to find the truth before someone else ends up dead.
Click here to get this book for FREE
° ° ° ° ° ° ° ° ° ° ° ° ° °
The Catching Kind 
by Bria Quinlan, Caitie Quinn

(1,063 Reviews)
Genre: Romance
FREE for a limited time
Hailey Tate thought she was worth more than a straight flush. Apparently not. When camera-shy author Hailey Tate's agent loses a bet and brokers a deal, it leaves Hailey in the last place she wants to be: backed into the corner of Publicity and Paparazzi. Now, thanks to her girl-next-door image and role as pretend girlfriend to a womanizing shortstop, she's getting the attention she always managed to avoid.
Connor Ryan is not only America's Sexiest Athlete, he's also the current Bad Boy of Baseball. But when he goes a base too far, management wants to bench him… permanently. One thing he never counted on? Falling for his sweet, fake girlfriend. He's the guy who can catch anything and now she's next on his list…
Click here to get this book for FREE
° ° ° ° ° ° ° ° ° ° ° ° ° °
The Original Bread Machine Cookbook
by Camilla Chandler


(443 Reviews)
Genre: Cookbooks, Food & Wine | Crafts, Hobbies & Home
FREE for a limited time
Making great artisan bread at home has never been so easy, quick and convenient! Welcome to The Original Bread Machine Cookbook, the long awaited recipe book for the modern baker, with the best ideas to create always-perfect artisan bread.
In this volume Chef and professional baker Camilla Chandler presents all her most treasured bread machine recipes, from the classics to the more complex and original loaves: inside The Original Bread Machine Cookbook you will find all the recipes you will ever need.
This is your chance to shortcut your way to that crispy French Baguette you always wanted to try out. Or maybe to make some tasty Cheese Breadsticks, or a good Focaccia.
Click here to get this book for FREE
° ° ° ° ° ° ° ° ° ° ° ° ° °