Did I need the two foot tall temple dogs? No. Did I really really want them because I could get them for a good price. YES!!! Hubby is a little frustrated with me right now. I was bragging about how good I was not going to the thrift shops all week, then on Sunday I see on Facebook Marketplace someone selling two huge temple dogs for cheap. I just couldn't resist a good deal. For now they are on the deck next to my smaller temple dogs. You gotta see my deck, it's looks like a zoo. It looks like the smaller ones are mad at the larger ones. The elephants don't seem to care either way. HA!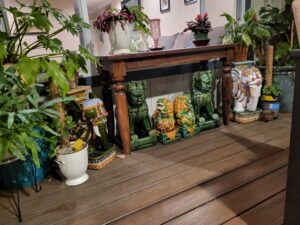 The Bequest (Book One of The Guardians Series): A Romantic Thriller
by Hope Anika


(957 Reviews)
Genre: Contemporary Fiction | Foreign Languages
FREE for a limited time
Book One of The Guardians Series
Finalist, 2016 Daphne Du Maurier Award for Excellence in Mystery/Suspense
Cheyenne Elias has inherited a child. A boy she doesn't know and doesn't particularly want; a boy whose mother was once Cheyenne's most hated person in the world. There are a million reasons to walk away: her anger, her past, her certainty that there is nothing benevolent in this act by a woman who almost killed her. But abandoning the boy to a system she barely survived is not an option.
Will Blackheart has lost everything. His SEAL team, his country, and — upon occasion — his mind. Worse, he's lost something that has the capacity to kill thousands. Left for dead in the Afghan desert, Will has risen solely to regain that which was taken… and to punish those who dared take it.
His only lead is the son of a dead woman. Her only goal is to save a child. As they come together in a clash of anger, mistrust, and potent, unwanted desire, Will and Cheyenne must put aside their differences and navigate the endgame of a woman for whom nothing was taboo…
Don't miss the first installment of this intense, suspenseful romance series!
Click here to get this book for FREE
° ° ° ° ° ° ° ° ° ° ° ° ° °
Gaia Hunted (The Ascended Prophecies Book 1)
by J.R. Walcutt

(33 Reviews)
Genre: Fantasy | Mythology & Folk Tales | Teen & Young Adult
FREE for a limited time
When a Salem psychic tells Mattie Fisher that she's a reincarnated god, she doesn't buy it for a second.
But then she's told that her haunting dreams are memories of past lives, and if she undergoes a ceremony, she will finally understand the truth about herself. She'll finally find peace.
What she doesn't realize is that there's more at stake than an escape from endless nights of Netflix binge-watching.
A god of war is hunting her — forcing her to race from the deity-filled streets of New York to sacred Hindu temples to the lawless Amazon jungle. The only one by her side is Jared Stone, a nerdy but cute guy who is seeking to find redemption from his own shattered life.
If Mattie is to survive and restore balance to the world, she must uncover and accept the powers buried within her. Yet to do so, she'll have to confront an ancient secret, which could either bring her ultimate wisdom or complete madness.
*Gaia Hunted is the first full-length novel in a five book urban fantasy series with elements of reincarnation. This action-filled thriller gives you a complex heroine, a slow-burn romance, and a pancultural weaving of Greek, Roman, Indian, and Chinese mythologies that will keep you reading past your bedtime.
Please Note: This book contains explicit content and darker elements, including mature language, violence, and adult themes.
Click here to get this book for FREE
° ° ° ° ° ° ° ° ° ° ° ° ° °
Anything For Love (The Hunter Brothers Book 1)
by Lola StVil


(2,639 Reviews)
Genre: Romance
FREE for a limited time
Winter
I was at a restaurant, having the worse date of my life, when my ex appeared with his hot new girl. Desperate not to be seen, I did what any other woman would do — I went to the ladies room and jumped out the window. On my way down, I realize this might be a bad idea…
Wyatt
I was seconds away from arresting a drug dealer; when I spot some crazy lady crawling out of a bathroom window and right into the dumpster! The dealer sees her too. He starts shooting. I push her out of the way as bullets fly overhead.
Pissed that the suspect fled, I handcuff her. She's furious and calls me all kinds of names. I'm mad too; mad because I can't stop thinking about her eyes. And the only thing that scares me is the thought of never seeing her again…
Click here to get this book for FREE
° ° ° ° ° ° ° ° ° ° ° ° ° °
An Old Foe comes Calling: A Historical Western Adventure Book
by Ethan Westfield


(290 Reviews)
Genre: Romance | Literature & Fiction | History
FREE for a limited time
Nathanial Teague is a mysterious man full of secrets who has suffered a lot throughout his life. His job as a piano player keeps him busy every day, filling the saloon with his tunes despite only having nine fingers. Due to his reluctance to speak about his past adventures, no one knows what caused him to lose his finger. Except for a dark foe with evil intentions from his past…
How will Nathanial react to the threatening comeback of his former enemy?
As soon as Hank Gregory, a notorious hustler, enters the saloon for the first time in three years, Nathanial knows their confrontation will end in bloodshed. As if Hank's presence wasn't enough to cause chaos, he now appears to be turning his attention to Delfina, the girl who has stolen Nathanial's heart. The moment he sees that, Nathanial realizes it is time to finally bring the vicious criminal to justice for the sake of love.
With his brave face on, he will find himself in the thick of a suspenseful adventure…
Once Hank reveals his true colors, Delfina finds herself in mortal danger and Nathanial is the only one who can save her. What started as a rescue mission, though, soon turns into a living nightmare, filled with blood trails until the very end. Will Nathanial defeat evil when he realizes that there's even more at stake, including the fate of the woman he deeply loves?
An action-packed story, featuring complex and fascinating characters, and twists and turns that will take your breath away. A must-read for fans of Western action and romance.
Click here to get this book for FREE
° ° ° ° ° ° ° ° ° ° ° ° ° °
DEPUTY: 35 YEARS AS A DEPUTY SHERIFF FROM UPSTATE NY TO LA
by Cliff Yates


(382 Reviews)
Genre: Biographies & Memoirs | Law
FREE for a limited time
True street cop stories from retired L.A. Sheriff's Sergeant Cliff Yates
Ride along with a real DEPUTY
Have you ever wondered what it would be like to patrol the streets of south-central LA?
What if you could go behind the scenes and see what life is really like on the Sunset Strip?
"DEPUTY" 35 years as a Deputy Sheriff from upstate NY to LA is the first-hand account of Cliff Yates, a thirty-five-year law enforcement veteran. His story begins in rural upstate New York, then takes a drastic turn that leads him to the mean streets of LA and the surrounding area.
This memoir invites readers into his world and see what he saw, experience what he experienced. Each story is real. Some may be tough to read. Others will make you laugh-out-loud. But all serve as a lesson Cliff will carry with him for the rest of his days.
If you've ever wondered what life is like for men and women in the law enforcement community, this book will answer most of your questions and give you great insight from someone who has been there. Fast, riveting and exciting.
Click here to get this book for FREE
° ° ° ° ° ° ° ° ° ° ° ° ° °