So while I have been here, in Paris, I have been able to do some traveling and see more of the world. Let's play a little game and see if you can guess these three cities. – The Apprentice
P.S. don't worry the answers are below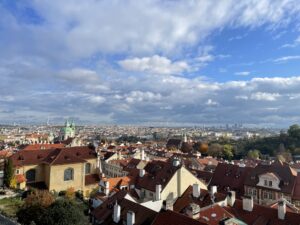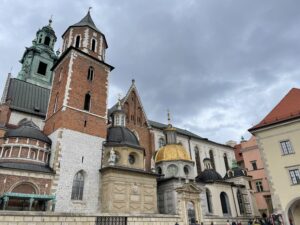 Prague, Czech Republic
Krakow, Poland
Montreux, Switzerland
Tempest in the Tea Leaves 
by Kari Lee Townsend


(2,859 Reviews)
Genre: Romance | Mystery
FREE for a limited time
In the fortune telling business, there are a lot of pretenders, but Sunshine Meadows is the real deal–and her predictions can be lethally accurate…
Leaving the Big Apple for the quaint town of Divinity, New York, Sunny is determined to start anew and make it on her own as a psychic. Setting up shop in an ancient Victorian home, Sunny gets right to work making a name for herself aiding the town's quirky residents.
But when she sits down to do a reading for the local librarian, what she finds at the bottom of the teacup us anything but helpful. And when her visions soon come true, hard-nosed and handsome Detective Mitch Stone is convinced they sound more like incrimination than divination.
Click here to get this book for FREE
° ° ° ° ° ° ° ° ° ° ° ° ° °
Mending His Dream: Wounded Warriors Rescue 
by Kristen Iten


(225 Reviews)
Genre: Literature & Fiction
FREE for a limited time
A veteran who will do anything for those he loves, the ex he never got over, and the rescue dog who needs them both.
Family duty called Sergeant Levi Renner back to the small town where he grew up. With ailing parents depending on him, he'll take any job that will let him stay close to home — even if it means giving up his dream and working with Brooke Larsen, the veterinarian who just moved back to town… his high school sweet heart… the ex he can't seem to get out of his mind.
Brooke never imagined she'd end up living at home again, but that's exactly where she found herself after someone she trusted destroyed her business. Now she's starting over and rebuilding her career somewhere safe — her hometown. Accepting a temporary job as the resident veterinarian at the Wounded Warrior Rescue seems like a great first step until she runs into Levi, the ex she never really got over.
When the lovable town matchmaker pushes them together, the same problems that drove them apart the first time rise to the surface. Despite the feelings they still share, any chance of rekindling their relationship seems out of reach. But when their insistent matchmaker won't take no for an answer, it's like rubbing salt in their wounded hearts. The only way to protect themselves is to fake a relationship until she loses interest and moves on to another couple.
But fake dating an ex you're still in love with, isn't as easy as it sounds.
Click here to get this book for FREE
° ° ° ° ° ° ° ° ° ° ° ° ° °
Rocky Mountain Justice (The Legend of Camel's Hump)
by Jeff Noonan


(204 Reviews)
Genre: Action & Adventure | Westerns
FREE for a limited time
Four teenagers battle for justice and create a legend.
Montana's tall mountains and deep valleys have produced many legends, but this one is more recent than most. The events that created the legend occurred in the summer of 1949.
During World War Two, the sheriff in a remote part of Montana dodged the draft and avoided the war. With the local men fighting overseas, the sheriff built a vicious organization that ruled through fear and intimidation. By the time the war's survivors came home, the sheriff was in firm control of the county and its commerce.
When the teens innocently questioned the sheriff's actions, the retaliation was immediate and brutal. Soon the four teens found themselves fighting for their lives as they tried to rescue innocent women who had been enslaved by the depraved sheriff and his deputies.
Click here to get this book for FREE
° ° ° ° ° ° ° ° ° ° ° ° ° °
All By My Selfie
by Jo Noelle


(141 Reviews)
Genre: Romance
FREE for a limited time
While on vacation at McLeod Castle in Scotland, Gwen Mackenzie has nightly dreams of an ancient warrior bound by a curse.
During the day, she sees Niall, nicknamed #ScottishBoyfriend. She clicks a few selfies with him in the background. Oh, and can that man rock a kilt! As she gets to know him, she realizes that Niall is the warrior from her dreams, cursed to live as a ghost for the past five hundred years, to see life around him but never see, taste, or feel any of it — except Gwen.
Click here to get this book for FREE
° ° ° ° ° ° ° ° ° ° ° ° ° °
Greenhouse Gardening for Beginners
by Michael York


(255 Reviews)
Genre: Crafts, Hobbies & Home
FREE for a limited time
You've probably heard about the benefits of greenhouse gardening — fresh, year-round produce from the comfort of your own home. But you're thinking… "How do I start?"
That's where Greenhouse Gardening Guide for Beginners comes in. If you have little or no experience with building greenhouses or gardening in general, then this book is for you. It will provide you with 200 pages of information and guidelines with everything you need to know about setting up a greenhouse and tending your garden.
Going into detail about planning the greenhouse structure as well as planning, planting, and growing the plants, this book will leave no question left unanswered.
No matter what type of greenhouse you choose or what plants you want to grow, you can use this book as a complete beginner's guide to getting your greenhouse up and running quickly.
Click here to get this book for FREE
° ° ° ° ° ° ° ° ° ° ° ° ° °