This picture really doesn't do justice to the chaos that was happening in front of the police station yesterday. LOOK AT THOSE TURKEY! Turkies..turkeys? LOOK AT THOSE BIRDS!!! I was stopped behind three other cars who couldn't move because a total of ten birds were holding up traffic. All of them puffed up like these guys, playing in the middle of the street with no sense of decency for others around them. For years we have had turkeys roaming downtown without much trouble. Most of the time they used the crosswalk. Very thoughtful birds. This new generation doesn't know how to behave themselves. What on Earth were they trying to prove? LOOK AT ME! LOOK AT ME!!! Rude. Thank golly I wasn't in a hurry. I would say we should bring it up at the next town meeting, but I don't attend those, and we all know what happened last time someone complained about the birds downtown. The chickens at Walgreens, that have been there for decades, disappeared overnight. OH THE HUMANITY!!!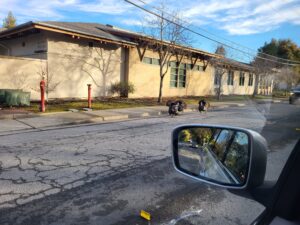 The Sewing Bee
by Megan Musgrove


(53 Reviews)
Genre: Contemporary Fiction
FREE for a limited time
For Jess Crawford, life seems to have come to a grinding halt at twenty-seven.
But after a change in circumstances leads to her moving in with her grandmother, she'll find that a change of scenery, a new hobby and some new friends might be all she needs to get her life back on track.
A tale of friendship built on sewing and Italian cuisine.
Click here to get this book for FREE
° ° ° ° ° ° ° ° ° ° ° ° ° °
ARC (New Earth Book 1)
by Devon C. Ford


(571 Reviews)
Genre: Science Fiction
FREE for a limited time
They say that necessity is the mother of all inventions.
Amir Weatherby has the world in his hands, quite literally. When his company discovers an asteroid on a direct collision course with Earth, they decide to keep the news quiet and find a way to survive the impending apocalypse themselves. Secret projects begin with the intent of preventing the world going the same way as the dinosaurs.
Three top-secret sites are developed, each designed to hold a small pocket of the human race safe until after impact.
It just so happens that one of these sites is in space.
The former ISS is transformed intoa safe haven called the ARC, the Automated Resettlement and Repopulation Cryostation, where some of the world's greatest scientific minds will sleep through the whole show.
But events unfold in ways that couldn't have been predicted, and when they arrive back on Earth there is a whole new disaster waiting for them.
Click here to get this book for FREE
° ° ° ° ° ° ° ° ° ° ° ° ° °
The Family At Fairlyden
by Gwen Kirkwood

(88 Reviews)
Genre: Health, Fitness & Dieting | Romance
FREE for a limited time
Since Beth Jamieson's mother died, Sarah Fairly, Sadie's mother, raised Beth like one of her own.
Sarah tried to bring up Beth and Sadie as sisters but it was more complicated than that; Sadie saw Beth as a servant and Beth was terrified of Sadie.
But as Beth gets older, she grows closer to Sarah's youngest son, Logan.
Sadie, gripped by jealousy, destroys any small bit of happiness in Beth's life.
The closer Beth gets to Logan, the crueller Sadie becomes.
But Everything changes in 1914 – not just for Fairlyden, but for the world.
With the Great War and Logan's 18th birthday fast approaching, Logan is determined to sign up before he's conscripted.
Against her better judgement, Sarah turns a blind eye to the blossoming relationship between Logan and Beth.
Frightened of Sadie's scorn, Beth delays her marriage to Logan until after his return.
But it's too late: Beth is pregnant and Sadie knows it.
When Sadie's actions grow increasingly alarming and her temper flares out of control, things reach a fever pitch.
Will Sarah notice in time to stop it?
Or is she too distracted by her ever growing feelings for Crispin Bradshaw, Logan's secret father?
Will Logan and Beth have their happy ending?
Will Logan ever find out the truth to his parentage?
Family At Fairlyden is the moving and evocative third novel of a quartet of life on the land in nineteenth-century Scotland. It is a romantic but realistic take on life and love during the Great War, set against the Scottish highlands. It follows Mistress of Fairlyden.
Click here to get this book for FREE
° ° ° ° ° ° ° ° ° ° ° ° ° °
You Can Lead a Horse to Murder (Secrets of Sanctuary Cozy Mysteries Book 1)
by Tara Meyers


(167 Reviews)
Genre: Mystery
FREE for a limited time
There's a killer in Sanctuary, and the prime suspect is a horse!
Spirited Ember Burns is led back home to open her own veterinary practice, and her first client lands her in the middle of a murder mystery. When the evidence points to the horse as the cause of death, she vows to protect him.
But horses don't talk and neither do the dead, so Ember has to rely on her intelligence and instinct to get to the truth. A truth buried under layers of small-town secrets. Some that are big enough to get you killed.
Battling a reluctant Sheriff and pushy Mayor, Ember struggles to get her business off the ground while digging deeper. Why would anyone want to kill the local farrier? And who was plotting to stop her? As the town gears up for its centennial celebration, Ember is led from local ranches to the surrounding mountains in her quest. Can she unveil the true culprit before they get away with murder?
Click here to get this book for FREE
° ° ° ° ° ° ° ° ° ° ° ° ° °
A Killing Game (Curtis Westcott Crime Thrillers Book 1)
by Jeff Buick


(544 Reviews)
Genre: Mystery | Suspense
FREE for a limited time
Born into a wealthy and powerful Boston family, Renee Charlebois has it all. Except for one small detail – she's been abducted without a trace. Who took her, and why, is a mystery.
The case gets dropped on Curtis Westcott's desk, but Boston's Chief of Homicide has little to work with. No clues, no body, no motive. Renee had no enemies, no financial skeletons in the closet, and no bitter ex- boyfriends. Curtis and Aislinn Byrne, his go-to detective on tough cases, work the file hard but come up empty. Then Westcott attends a party and overhears a story that catches his attention – he and Aislinn have their first break.
They dig in and unravel a complex series of crimes tied to Renee's disappearance. As they peel back the layers they are convinced Renee is still alive, but that her abductor is on a precise schedule and has every intention of killing her. It's a bizarre and twisted game, and time is quickly running out.
Click here to get this book for FREE
° ° ° ° ° ° ° ° ° ° ° ° ° °
The Dispatch Rider (K Company Book 3)
by Robert Broomall

(307 Reviews)
Genre: Westerns | Action & Adventure
FREE for a limited time
Link Hayward (K Company, Conroy's First Command) is a mean SOB who's been busted in rank more times than he can count. He's also the guy you want next to you when things go bad. While carrying dispatches, Link meets Prudence Wainwright, a pious Eastern woman whose husband has been murdered and whose daughter has been kidnapped by a gang of renegade Jayhawkers. Teaming up reluctantly, Link and Prudence must cross hundreds of miles of hostile territory and recapture Hope before her kidnappers sell her to the Comancheros and she is lost to them forever.
Click here to get this book for FREE
° ° ° ° ° ° ° ° ° ° ° ° ° °
Mountain Man Regret (Mountain Men Book 2)
by Ava Grace


(362 Reviews)
Genre: Contemporary Fiction | Romance
FREE for a limited time
For the past three years, Faith Anderson has regretted the one night stand she had with sexy mountain man Cooper Brown. .Not because Coop had been grieving the death of his on-again-off-again girlfriend, Caroline, at the time, but because that was the moment she fell hopelessly and madly in love with him.
.
Ever since the night that Faith gave Coop her virginity, he's wanted nothing more to do with her and she's had to watch him man-whore his way through every woman in town. .So when she finally makes the decision to try to get over him and start dating again, she and Coop are thrown together by a cruel twist of fate.
Just when she thinks she's found a man she can fall in love with, Coop tells her he wants her to give him another chance.
Should Faith choose the man who would do anything to make her happy or the one who already owns a piece of her soul?
Click here to get this book for FREE
° ° ° ° ° ° ° ° ° ° ° ° ° °
American Sign Language: 2023 Comprehensive Beginners Guide to Learn ASL in 30 Days. 13 Useful Tips Included
by Howard Hudson


(431 Reviews)
Genre: Reference | Foreign Languages | Nonfiction
FREE for a limited time
This guide is a simple way to start learning American Sign Language (ASL). American Sign Language for Beginners gives you all the best techniques to help you sign everywhere.
From alphabet and numbers to basic vocabulary and expressions, this beginner's guide has everything you need to get started with American Sign Language in the real world. Throughout the book, you'll learn essential phrases, get tips on remembering them, practise signing, and learn about deaf culture.
With our book you'll find out:
What is ASL?
Why should you learn ASL?
Basics of signing
Everyday phrases
Best tips to learn ASL
Best apps to learn ASL
Start learning ASL right away!
Click here to get this book for FREE
° ° ° ° ° ° ° ° ° ° ° ° ° °
THE NEW MIND DIET COOKBOOK: 150 Healthy Recipes to Boost Brain Function and Help Prevent Alzheimer's Disease (Includes a Complete Nutrition Guide)
by Lydia Merrill


(97 Reviews)
Genre: Health, Fitness & Dieting | Cookbooks, Food & Wine
FREE for a limited time
Are you ready to take charge of your cognitive well-being and embrace a lifestyle that nourishes your brain while satisfying your taste buds? Discover the key to unlocking a lifetime of mental sharpness and vitality with THE NEW MIND DIET COOKBOOK!
Imagine a cookbook that's more than just a collection of recipes – one that's specifically designed to help you protect your brain and improve cognitive function. THE NEW MIND DIET COOKBOOK is a unique, scientifically-backed guide that combines the power of nutrition with the latest research to deliver 150 delicious, brain-boosting recipes that have been proven to help prevent Alzheimer's disease and other forms of cognitive decline.
By following the easy, tasty recipes and comprehensive nutrition guide, you'll be able to:
Elevate your mental sharpness and focus
Enhance your memory and cognitive abilities
Reduce the risk of Alzheimer's disease and dementia
Enjoy a wide variety of delicious, nutrient-dense meals
Improve your overall health and well-being
Featuring a range of mouth-watering dishes – from vibrant salads and hearty entrees to delectable desserts – every recipe in this book is crafted with ingredients specifically chosen for their brain-protective properties. And with a complete nutrition guide included, you'll have all the tools you need to build a personalized meal plan that caters to your specific dietary preferences and goals.
Click here to get this book for FREE
° ° ° ° ° ° ° ° ° ° ° ° ° °