I found this Wolf Spider living in my garage. I like to think I am a good person, and would leave the good creatures of the Earth alone. BUT… that dude is huge and scaring the heck out of me. I Googled if Wolf Spiders are dangerous and it said no. I'm still not convinced. He looks like he is plotting something. Has he thought of eating my sweet pups? I bet he has. In all fairness I am pretty sure both of my pups have eaten a few spiders themselves, soooo. Might have even eaten a few of his family members. A cousin perhaps? I left him alone for now. Such a big decision needs to be made on a full stomach. Sandwich now, decision on whether or not to relocate spider later.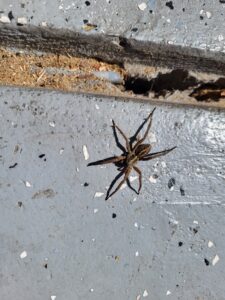 Allen Kent's Unit 1 Series
by Allen Kent

(94 Reviews)
Genre: Thrillers | Action & Adventure | Men's Adventure
FREE for a limited time
From USA Today and Amazon bestselling author, Allen Kent!
Five unforgettable thrillers in one!
The Shield of Darius
The Weavers of Meanchey
The Wager
The Marburg Mutation
Straits of the Between
Follow Kent's covert Unit 1 team as they defuse crises and clean up disasters too hot to handle by America's more visible intelligence community. From the labyrinthine bazaars of Tehran, to the jungle ruins of Cambodia's Angkor Wat, to the monastic palaces of Tibet's Buddhist lamas, the Unit 1 Series takes the reader on a globetrotting, page-turning ride into the darkest corners of the world's most sinister places. A "must read" for thriller enthusiasts.
Click here to get this book for FREE
° ° ° ° ° ° ° ° ° ° ° ° ° °
Luck Be A Chicken: a comic novel
by Jameson Gregg


(60 Reviews)
Genre: Humor & Satire | Humor & Entertainment
FREE for a limited time
Hilarious southern-fried chicken fiction from the Georgia Author of the Year
Butterbean and Ruby Sweat, heads of a comical, fantastically redneck southern family, are trapped in generational poverty and facing a gut-wrenching crisis — how to quickly raise money for their baby daughter's clubfoot operation lest she be a cripple for life.
Memorable characters swarm the pages. Slob extraordinaire Bean – the beer-guzzling, pickup-driving, NASCAR-loving deer hunter – sails through life as trailer park philosopher, clown prince, and champion of his fellow chicken plant workers.
Ruby styles in her leopard leotard as a "kitchen-tician" in her beauty parlor, Ruby's Curl Up 'N Dye, plopped inside an abandoned Airstream trailer now connected to their singlewide. Patrons regale in good-natured gossip swapping, banter, and laughter.
Dark forces loom in the form of Bean's nemesis, Calvin Butler, the unscrupulous and evil chicken plant owner who inherits the reins of the family business. Butler's seedy, drug-clouded world of greed and corruption spins out of control as blackmail becomes a business strategy and weapon of choice. Company funds for modernization and sanitation now pay for Butler's private jet forays and his posh hunting lodge. Tensions with USDA Inspectors escalate and his lawyers fight to hold government hounds at bay.
The flashpoint occurs when Bean suspects a salmonella cover-up then faces the dilemma of a lifetime. Hide the lethal secret and more people could die, or whistle blow and the plant could close and all would lose their jobs.
Southern Baptist forces weave through the Sweat's lives. Bean doubts God's existence but Ruby the Baptist shines the light. Will Butler face justice? Will baby have her operation?
Luck Be A Chicken is hilarious and heartbreaking southern fried chicken fiction; satire flavored with a bit of farce. The Sweat family pathos is tragic, yet comedic. Bean's heroism and viewing life through the lens of humor are their ultimate salvation, at least here on earth.
Click here to get this book for FREE
° ° ° ° ° ° ° ° ° ° ° ° ° °
The After House (A Haunting on Long Island Series Book 3)
by Michael Phillip Cash


(348 Reviews)
Genre: Suspense
FREE for a limited time
Remy Galway and her daughter Olivia are rebuilding their life after a failed marriage in a 300 year old cottage in historic Cold Spring Harbor, Long Island. Little do they know, another occupant is lurking in the haven of their own home. Will the After House be their shelter or their tomb?
Click here to get this book for FREE
° ° ° ° ° ° ° ° ° ° ° ° ° °
Hall of Bones (The Brotherhood of the Eagle Book 1)
by Tim Hardie


(52 Reviews)
Genre: Fantasy | Horror
FREE for a limited time
In the remote land of Laskar the seven ruling clans have vied with each other for power for over a century. The son of the Reavesburg Clan Chief, Rothgar, has been groomed all his life for a role supporting his elder brother, Jorik, in leading their kingdom when their father's time finally comes to an end.
However, the rulers of their greatest rivals, the Vorund Clan, are in the grip of something older and far darker. They have been conquered by evil, a remnant from the time when the gods warred with one another and the world of Amuran collapsed into the Fallen Age.
Everything is about to change…
The first book in The Brotherhood of the Eagle series, Hall of Bones begins a tale of epic fantasy, magic and intrigue.
Click here to get this book for FREE
° ° ° ° ° ° ° ° ° ° ° ° ° °
Saving Worms After the Rain: A Central Pennsylvania Novel of History and Mystery (Aspen Winkleman Mysteries Book 1)
by Paul Nelson


(417 Reviews)
Genre: Mystery | Crime Fiction
FREE for a limited time
Saving Worms After the Rain is a novel of Central Pennsylvania History and Mystery. A young autistic man with psychic powers is called upon to help solve a missing persons case in the small mountain town of Renfro, PA. The story includes gangsters, moonshiners and a touch of autism. The scenery of Central PA also comes into play as a major character, as do the quirky, accurately portrayed, residents.
This book is a quick read, full of concepts to challenge your comfort zone. Great for high school students,ages 15 and up.
Click here to get this book for FREE
° ° ° ° ° ° ° ° ° ° ° ° ° °
101 Quick & Easy Italian Recipes
by Victoria Steele


(127 Reviews)
Genre: Cookbooks, Food & Wine
FREE for a limited time
Do you enjoy the flavor and variety of Italian food?
Have you tried making it at home, but end up sticking to old favorites?
Would you like to try something that is authentic and delicious?
Most of us love the taste of Italian food. The aromas and textures it provides can embrace memories of vacations in warmer climates and hot sultry evenings spent eating outside, with a good bottle of wine to accompany your meal.
Now you can replicate this world-renowned cuisine with 101 Quick & Easy Italian Recipes, which gives you delicious and mouthwatering dishes like:
Italian Sausage Soup
Baked Lasagna
Pizza Calzone
Chicken with Sun Dried Tomatoes
Stuffed Manicotti
Fettuccini and Salmon
Risotto Milanese
And many more…
Bring the taste of Italy to your table any night of the week with this fabulous and complete book of recipes. With dozens of starters, side dishes, breads, sauces and much more, it is the perfect cookbook any time you want to make something different.
Buy 101 Quick & Easy Italian Recipes today and make Italian food that all the family will love!
Click here to get this book for FREE
° ° ° ° ° ° ° ° ° ° ° ° ° °