How on Earth was I not more afraid of the Hamburgler when I was a kid. Look at that guy! OH MY GOLLY!! Who approved this costume design? I honestly think people who grew up in the 70's and 80's are stronger people because we were exposed to messed up characters like this. I can't even!!! OH NO… I just Googled the Hamburgler to see if I could find out what was wrong with the creator of this menace, and I just read that his name was originally, "Lone Jogger". THE PAIN!!! Oh geez. I can't even make this stuff up. I gotta walk away from this. I bet if I do more research on this creature I will find devil worship with a side of fries. Just a whole lotta NOPE for me. I'm out. Darn.. I just read more.. he would also run up to crowds of people, rip open his cape to expose his t-shirt. He was a flasher. There is video evidence. nooooooooooooooooo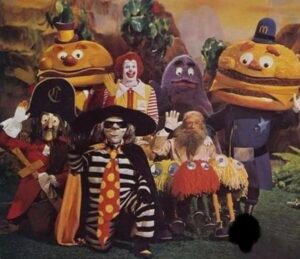 The Redhead
by Aleksandar Miljkovic


(282 Reviews)
Genre: Psychological | Thrillers
FREE for a limited time
Each year, precisely two naturally red-haired women disappear in Vancouver.
Greta Morel was the first victim ten years ago, followed by another nineteen women until today. The mysterious people responsible for their disappearance left no trace while staging every abduction to look like each woman willingly left everything behind.
The lack of evidence of the potential crime had the Vancouver Police prioritizing the other cases.
However, when a piece of information regarding all the missing women gets passed on to Cliff Mason, an old-fashioned Chief of Police is forced to work on it with Buster McRoy, a devious Miami Detective whose celebrity career is built on lies.
But all hope shatters like a glass vase as yet another redhead gets abducted in front of their noses.
Click here to get this book for FREE
° ° ° ° ° ° ° ° ° ° ° ° ° °
No Perfect Fate (Almost Perfect)
by Jackie Weger


(158 Reviews)
Genre: Contemporary Fiction | Women's Fiction
FREE for a limited time
Cleo Anderson's people skills are hesitant and her life broken, yet she is determined to leave her past behind.
Alone is good and she is finding her way. Drawn to a fish camp in the wilds of the Okefenokee Swamp, she parks her Play-Mor where gators yawn, bears slumber, and snakes slither. The camp pace is slow, the owner kind, and the people friendly. Cleo encounters Fletcher Freemont Maitland and his goddaughter, eleven-year-old Katie. Cleo didn't know her life was about to unravel yet again, her heart would shatter, and that Fletcher Maitland would help her mend. But Cleo is about to find these things out the hard way.
Both Fletcher and Katie will change her life, but if Cleo doesn't learn to accept that life is bountiful and fate imperfect, she will lose both forever.
Click here to get this book for FREE
° ° ° ° ° ° ° ° ° ° ° ° ° °
DEAD EYE: Tiger's Eye Mysteries
by Alyssa Day


(1,906 Reviews)
Genre: Mystery
FREE for a limited time
FIRST in a laugh-out-loud funny new paranormal mystery series: It's small town Southern charm with family, heart, magic, and mayhem!
He's a tiger shifter turned private eye. She's a pawnshop owner with a startling gift. Their families are weird and wonderful, and their small town in Florida will become the place you want to make your new home.
Welcome to Dead End!
For Jack Shepherd, tiger shape-shifter and former soldier, life is heading for a dead end. Dead End, Florida, to be exact.
When he learns that he inherited a combination pawn shop/private investigation agency from his favorite uncle, Jack's first job is to solve his uncle's murder.
Tess Callahan can sometimes see how a person will die… from a single touch.
Between the two of them, the criminals don't stand a chance. Because you can't fight fate, and sometimes it takes a tiger's eye to see the truth.
Click here to get this book for FREE
° ° ° ° ° ° ° ° ° ° ° ° ° °
Last Chance For Retaliation: A Historical Western Adventure Book
by Henry McConley


(118 Reviews)
Genre: History | Classics | United States | Westerns | Romance
FREE for a limited time
Sheriff Atticus Stevens is determined to do the job that came with the badge pinned to his chest. Ever since his uncle's sudden death, he's been suspicious of the Comanches but he hasn't had the chance to do anything about it — yet. His plans for revenge are postponed however, when the town is attacked by a Mexican gang. Atticus realizes then that he does not have the manpower to save the town from the face of danger and the clutches of death. If he's going to keep everyone safe, he's going to have to ask the Comanches for help and forget his own need for vengeance. It isn't just his life that depends on this alliance, but everyone living in the region. Can Atticus defeat evil and save the people he's sworn to protect, or will this unending battle cost him his life?
Fate seems determined to put Atticus in an early grave and a disastrous altercation leaves him with a gunshot wound. He barely escapes death thanks to Topsannah, a white woman adopted by the Comanches, who intervenes. Atticus will join forces with her in order to bring their two worlds together while fighting a mutual foe. Even though the journey is fraught with difficulty, he will start fearing for Topsannah's safety and soon, his feelings for her will overwhelm him. Will love flourish between them, or will danger and death overtake the hopefulness of a truce?
Nothing in life is ever simple for a man unwilling to stand aside and let bad things happen to good people… When Atticus faces his greatest threat, he knows it means everything could change for the territory. Will he succeed in protecting Topsannah, the woman he's come to love, or will his battle bring him at the end of his rope?
Click here to get this book for FREE
° ° ° ° ° ° ° ° ° ° ° ° ° °
On the VertiGO: One Sick Man's Journey to Make a Difference
by David Schwier, Steven Schwier


(39 Reviews)
Genre: Biographies & Memoirs | Sports & Outdoors
FREE for a limited time
Two brothers embark on what seems an impossible journey. One has a debilitating disease, the other simply tries to keep him alive. This is the true story of a cross-country bike adventure to raise awareness of and funding for Meniere's Disease research. It's also a story of each of us – as we all battle debilitating obstacles, from within and without, that keep us from living our fullest lives. Raw, real and poignant, this difficult and oftentimes humorous look at one man's struggle to achieve his dream will stay with you long after the last page is turned. A heartfelt reflection on survival, sacrifice and ultimate triumph.
Click here to get this book for FREE
° ° ° ° ° ° ° ° ° ° ° ° ° °