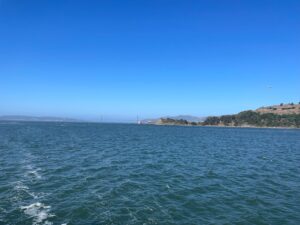 I spy with my little eye a bridge. – The Apprentice
Monroe Doctrine: Volume I
by James Rosone, Miranda Watson


(3,212 Reviews)
Genre: Thrillers
FREE for a limited time
It was called Jade Dragon…and it threatened to destroy the West.
Was an attack on the U.S. imminent?
In a lab deep in the heart of China, a brilliant engineer had a breakthrough. It was the most powerful AI ever created. Ma Young believed the Jade Dragon could solve the world's most dire challenges. There was just one problem…
The president of China had other ideas.
Was this their chance to conquer?
The war began at the speed of light. The entire NATO alliance stood on the brink of destruction. Cyber-attacks, deepfakes, and a wave of social media disinformation wrought fear and desperation across the globe.
The sleeping giant was awake.
Click here to get this book for FREE
° ° ° ° ° ° ° ° ° ° ° ° ° °
Making the Love List
by Barbara DeLeo


(734 Reviews)
Genre: Small Town & Rural | Women's Fiction | Romance
FREE for a limited time
Successful, reserved restaurateur Lane Griffiths is made of loyalty. He owes the Katsalos family big time, so is happy to help with the renovations of their wedding hall — at least until he finds himself stuck working with his best friend's gorgeous, but totally off-limits little sister, Yasmin.
Yasmin Katsalos is done with being a good little Greek girl. Having survived a near-death experience, she's made a list of all the things she was too afraid to do before, and is determinedly checking them off. And it just so happens that her big brother's best friend is the perfect choice for "seducing a tall, dark, and handsome man out of my league."
As Yasmin turns up the heat in her attempts to win Lane, she can't understand the dazzling man's reluctance to give in to their obvious attraction. And though Lane can't get the blossoming young woman out of his head, he knows that giving in to their desire could blow both their worlds apart.??
Click here to get this book for FREE
° ° ° ° ° ° ° ° ° ° ° ° ° °
The Trouble at Turtle Beach
by Carrie Bedford

(691 Reviews)
Genre: British | Suspense
FREE for a limited time
Harried, overworked architect Kate Benedict has no sooner stepped off the ferry to a tiny, remote island in Seychelles, primed to de-stress and celebrate at a destination wedding, than she spots imminent danger – auras spinning above the heads of two people on the dock. One's a stranger, but the other's the groom!
Kate has a gift – or possibly a curse. Unfortunately for her, she can predict death. When she sees the spinning circle of air above someone's head, her heart sinks. She calls it an aura, and unless she can locate the source of danger and intervene, the person is destined to die within a matter of days.
But since the potential victim must be convinced of the danger, usually there's no way to intervene with a stranger. When the second man is found drowned, Kate knows she has to tell her boyfriend Josh that the groom, Josh's close friend from college, has an aura.
It's hard to convince Josh's friends that a murderer is lurking among the gracious islanders, the chill tourists, and serene natural beauty – but with a suspicious fire and a third aura sighting, the evidence is mounting. Until they can find the murderer, Kate and Josh have to keep the groom safe and fend off the worst wedding crasher ever – Death!
Click here to get this book for FREE
° ° ° ° ° ° ° ° ° ° ° ° ° °
A Wicked Revenge Plan
by Ethan Westfield


(154 Reviews)
Genre: History | Romance | Westerns
FREE for a limited time
Jack Larson is a humble farmer with an orange orchard in Los Angeles. The young man is about to marry his sweetheart, Delia, who grew up with him after both of their parents succumbed to illness. On the cusp of finally finding happiness, Delia is abducted by a vicious man on the run and Jack is left feeling hopeless. Jack's only ally is a coarse, old bounty hunter who is pursuing the same man. Unfortunately, those two have a complicated past which might jeopardize their success…
Will Jack's natural shooting skills tip the scales in their favor, or will the man they face claim his terrible prize, and even more?
Delia Windell's simple life as Jack's loving bride-to-be is upturned when she's abducted by a scarred man recently released from prison. He has a wicked plan for revenge, and Delia is his pawn… and perhaps a good deal more. She only has her faith, her wits, and her wiles to stave off disaster and save her own life, Jack's, and countless more.
Click here to get this book for FREE
° ° ° ° ° ° ° ° ° ° ° ° ° °
Burgers
by Michael Thomson


(146 Reviews)
Genre: Cookbooks, Food & Wine
FREE for a limited time
In this book, I give you a few ideas on different takes on a burger and try to push the boundaries of what a burger can be. In these recipes you will a find a variety of meats ranging from brisket to lobster, and of course we have an option for our vegetarian friends.
I am not a chef by any means, but I am very passionate about cooking. I have been grilling with my old man since I was a little boy and I am happy to have carried out this tradition with my children. And as you can imagine, burgers are a staple at our household when it comes to weekend grilling.
Click here to get this book for FREE
° ° ° ° ° ° ° ° ° ° ° ° ° °