Good afternoon book lovers. I hope your Thursday is treating you well. I have spent my day working on a puzzle with my sister. This summer we are determined (as we are every summer) to make the most of each day. So we decided to do this puzzle of the National Parks. Sounds easy? Nope! This bad boy has 1,000 pieces and each logo or print for the parks looks so similar. As seen in the reference picture. It is going to be a beast to complete but we are determined (and slightly addicted to it) so we shall prevail victorious! – The Apprentice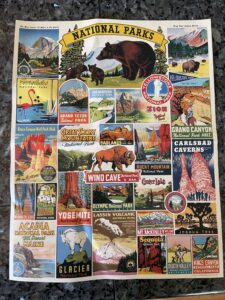 29th Street South: Coming of Age in the Sixties
by Nicholas Rogers

(147 Reviews)
Genre: Sagas | Historical Fiction
FREE for a limited time
It's the sixties: a time of war and revolution.
It is a time of demonstrations and riots.
The nation is tearing it self apart.
Robbie Doyle's life too is in chaos. Robbie's father had died suddenly. He and his mother had moved to Florida and now he was lost in a new school and town.
Then the day Kennedy was shot he would meet people that would define his next years. Samatha (Sam) and Nick both from the wrong side of things. A principal that was not who he seemed to be and a mother and daughter who both would play a large part in his future. Civil rights, Vietnam, and the draft would change them all. The one place he found peace was surfing at 29th Street South. Those days would come to define him and what he was going to do when he graduated from high school. The question that would define his life was does he wait to be drafted or define his own path?
Follow Robbie and his friends Samatha and Nick from the day Kennedy was assissinated when they first meet, through the turmoil of those years and finally the effect Vietnam had on each of their lives.
Click here to get this book for FREE
° ° ° ° ° ° ° ° ° ° ° ° ° °
Steal the Wind (Godstone Saga Book 1)
by Jocelynn Drake

(554 Reviews)
Genre: Action & Adventure | Fantasy
FREE for a limited time
Everything Caelan knows about his world is a lie.
A war is brewing. As the crown prince of Erya, it's only natural that Caelan is sent on a secret diplomatic mission to support one of the kingdom's allies. With his advisor, his bodyguard, and his best friend as traveling companions, what could go wrong?
Everything. Everything goes wrong. Now they are on the run, dodging assassins, setting secret meetings, and even making deals with a sleeping god.
So, this is probably a really bad time to cave to feelings he's been fighting for his best friend. But Drayce has owned his heart for more years than he can count and if he's going to die, shouldn't he have just one kiss?
The fate of the world is on the line, and only Caelan holds the power to save them all.
Click here to get this book for FREE
° ° ° ° ° ° ° ° ° ° ° ° ° °
Better Off Wed 
by Laura Durham


(1,775 Reviews)
Genre: Mystery | Foreign Languages
FREE for a limited time
A guest with an axe to grind. A bridal party full of secrets. This wedding planner is about to turn detective…
Annabelle Archer is a few days away from completing the most elaborate wedding she's ever planned. As she daydreams about the doors her perfect reception could unlock for her business, she stumbles over a dead body at the bottom of the stairs. The planner is horrified to recognize the body lying underfoot as the mother of the bride. When the police determine the victim was poisoned, Annabelle's best friend and caterer becomes the prime suspect.
As she works to clear her best friend's name, Annabelle discovers the bride's mother had more enemies and secrets than she could ever fit on the guest list. To save her business and her friend, D.C.'s premiere wedding planner must find the killer. But will getting too close to the action make this wedding day her last?
Click here to get this book for FREE
° ° ° ° ° ° ° ° ° ° ° ° ° °
The Lighthouse (Five Island Cove Book 1)
by Jessie Newton


(4,585 Reviews)
Genre: Health, Fitness & Dieting | Sea Adventures | Romance
FREE for a limited time
After the death of a childhood loved one, 5 best friends reunite in the small coastal town of Five Island Cove. One doesn't expect to find love with a high school crush. Another isn't prepared to find the strength she needs to take control of her life. And none of them are ready for the secrets they'll uncover at the lighthouse…
Now a USA Today bestseller!
When Joel Shields dies, Robin Grover's only goal is to get her four best friends back to Five Island Cove to celebrate the life of Kristen's husband. She alone has stayed in the cove while everyone else couldn't wait to get away.
Alice Keller comes instantly, because her mansion in the Hamptons and her husband's infidelity is smothering her. Not only that, but Kristen has always been like a mother to her, and she wants to support her.
Eloise Hall comes quickly too, because she's not teaching at the university this summer, and she might as well visit her mother — and the house she secretly bought years ago.
But Kelli Thompson and AJ Proctor are more resistant, and as Robin, Alice, and Eloise uncover secret after secret in the books, journals, and files in Joel's office, Robin becomes more determined to reunite them all.
When Kelli and AJ finally arrive in the cove, the women are embroiled in secrets the lighthouse has hidden for decades. Robin tries to hold them all together, but she too breaks down and admits that her perfect-on-the-outside life isn't so perfect.
As these 5 best friends work together to find the truth, they must learn to let go of what doesn't matter and cling to what does: faith, family, and most of all, friendship.
Click here to get this book for FREE
° ° ° ° ° ° ° ° ° ° ° ° ° °
Make Your Own Essential Oils from Raw Plants
by Amber Richards


(247 Reviews)
Genre: Crafts, Hobbies & Home | Health, Fitness & Dieting
FREE for a limited time
Learn about the health benefits that using essential oils can provide you and your family. By making own from the raw plants and herbs nearby, you can save money, and ensure that your oils are fresh. Discover unique recipes and blends to address a variety of health concerns naturally.
Essential oils, volatile oils, or ethereal oils are concentrated liquids that contain a combination of plant chemicals that are valuable for many uses, which you'll learn more about. They can be utilized for the production of perfumes, soaps, cosmetics, and many other products.
In this e-book, simple ways are revealed to make your own essential oils from raw plants and herbs, along with many recipes to help address these health concerns and many other applications. This guide gives you an overview history of essential oils, and ends showing very simple ways you can distill, combine and use essential oils for many situations. Experience the improved health and energy that using essential oils can provide.
Click here to get this book for FREE
° ° ° ° ° ° ° ° ° ° ° ° ° °