Just a cool plant set up! – The Apprentice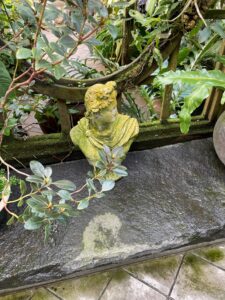 Plain Jane Wanted
by Rose Amberly


(579 Reviews)
Genre: Holidays | Women's Fiction
FREE for a limited time
Unattractive woman wanted to work for a grumpy old man on a small Channel island.
It's the perfect job for heart-broken Millie who just lost everything, including her confidence. With nothing but a little courage, she sails to find a new start. The tiny rustic island – no cars or street lights allowed – is full of wild flowers and welcoming people, welcoming except for her boss and his son.
George is sick and tired of being seen as a catch – it makes him sound like a pile of fish. Is it too much to ask to be wanted for himself? If he's ever to trust a woman, she must be someone who doesn't need his money, his powerful position or his aristocratic title. She must be his social and financial equal.
Not his father's penniless, friendless assistant.
Millie quickly falls in love with the beautiful island which awakens her long-lost dreams of a wild herb café by the sea. She also finds friendships, laughter and maybe, a second chance at love.
But before she can get her happily ever after, she must first find her lost confidence, her self-respect and the strength to be herself.
A story of courage, hope, and healing – guaranteed to tug at the heartstrings.
Click here to get this book for FREE
° ° ° ° ° ° ° ° ° ° ° ° ° °
Overworld
by Rohan M. Vider


(1,512 Reviews)
Genre: Humor & Entertainment | Teen & Young Adult
FREE for a limited time
A magic apocalypse. A new world. Elves, orcs, dragons. And at the center of it all: THE DRAGON MAGE.
Earth is doomed and mankind has been exiled to Overworld, a strange world ruled by the Trials. Jamie Sinclair is a young man with unique gifts, and it falls to him to find a way for humanity to survive Earth's destruction and build a new home in Overworld.
Can Jamie save mankind?
The Trials is no game. Join Jamie as he struggles through its brutal challenges while wrestling with his new magics and Overworld's game-like dynamics.
Click here to get this book for FREE
° ° ° ° ° ° ° ° ° ° ° ° ° °
The Date
by T.B. Markinson


(234 Reviews)
Genre: LGBTQ+ eBooks | Literature & Fiction
FREE for a limited time
What happens when a prickly cat lady runs into the new dog owner next door?
Brittny Parker, an American graduate student, is moving to London with her lovable Boston Terrier, Cooper, in time for the Queen's Diamond Jubilee and the 2012 Olympics. Could life get any better? How about adding a super sexy woman next door? The problem is her snooty neighbor is not a dog person. In fact, she despises Cooper from the moment he knocks her over and sends her groceries spilling all over the ground.
Prin Jones is a native-born Londoner whose most successful relationship is with Francesca, her Persian cat. With a bakery to run and an unpleasant ex-girlfriend to dodge, the last thing Prin needs in her life is an obnoxious American and her poorly trained dog. But it becomes almost impossible not to run into Brit at every turn.
When Francesca and Cooper decide to become balcony friends, and Prin's twin sister takes on the role of enthusiastic matchmaker, Brit and Prin decide to give each other a second chance. All they need is one date to see if there might be something more between them.
It should be easy, right? But somehow everything keeps going hilariously and disastrously wrong.
Click here to get this book for FREE
° ° ° ° ° ° ° ° ° ° ° ° ° °
All of Me 
by Ann Christopher


(93 Reviews)
Genre: Romance
FREE for a limited time
An obnoxious tech genius determined to keep everyone at arm's length. The shy but feisty server who sees right through him. An explosive chemistry…
Genius tech millionaire Isaiah Harper, better known as "Crazy Isaiah," alienates everyone he encounters with his abrasive personality. Not that he cares. Until he meets his match during a run-in with the feisty server at his family's restaurant in small-town Journey's End.
Alyssa Banks knows she needs to make some life changes and stop acting like a doormat. But she never expected her big moment to come while nose-to-nose with intriguing Isaiah Harper, who doesn't strike her as crazy. At all…
Click here to get this book for FREE
° ° ° ° ° ° ° ° ° ° ° ° ° °
21 Keys To Develop A Productivity Plan & A Productive 
by Rob Willis


(138 Reviews)
Genre: Business & Money | Self-Help
FREE for a limited time
Are you tired? Or do you feel stressed? not able to plan your day? You can't manage your time in life or work?
If so, THE 21 KEYS TO DEVELOP A PRODUCTIVITY PLAN & A PRODUCTIVE MINDSET is surely something for you!
Rob Willis will help you step by step on how to increase your personal productivity and achieve your personal goals. Overcome your bad habits to get more good habits, and you will also get tips to master managing your time.
In case you're tired and stressed out from life or your work, grab your copy of 21 KEYS TO DEVELOP A PRODUCTIVITY PLAN & A PRODUCTIVE MINDSET today! Start taking action to overcome your bad habits and improve your time management.
Click here to get this book for FREE
° ° ° ° ° ° ° ° ° ° ° ° ° °