ARDY IS BACK!!!! I spotted Lizzy and Ardy today sunning themselves on their favorite rock. It is so nice to see him back. I also spotted a little fella hanging out on his own smaller rock. Maybe son or daughter?? OHHH… we have to name her/ him. Let's be honest. We will never know if they smaller lizard is a boy or girl. Those little fellas are fast, and even if I caught one, I wouldn't know the first thing about figuring out the sex of a lizard. I will NOT Google it either. We all know the dangers of that.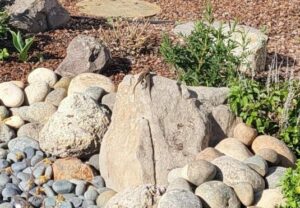 The Fearless Highlander (Highland Defender Book 1)
by Amy Jarecki


(736 Reviews)
Genre: Romance
FREE for a limited time
Heir to the most notorious clan in the Highlands, Hugh MacIain hides his identity while imprisoned in the bowels of Fort William's hell. Aye, this braw warrior has endured horrors that should have seen him dead, though now it appears it's the bloody flux that will send him to Satan's fire.
Optimistic, competent, and captivating, Charlotte Hill takes pity on a fevered prisoner sprawled atop a cot in the fort's surgery. When finally the Highlander opens his eyes, he seizes her heart with a pained stare. Truly, this is no commoner — but in 1692, a warrior loyal to the Jacobite cause and the daughter of a government colonel may as well be worlds apart.
After his escape, Hugh snatches a chance to woo the lass, until disaster strikes. While war and lust for vengeance force Charlotte further from Hugh's arms, the couple's romance seems aimlessly adrift on the open sea. Before they sail too far apart, can the tender love of an English lady coax a determined Highlander from his path of revenge?
Click here to get this book for FREE
° ° ° ° ° ° ° ° ° ° ° ° ° °
I ALWAYS WANTED TO BE A SPY (MAGGIE SLOAN THRILLER SERIES Book 1)
by Judith A. Barrett, Judith Euen Davis


(379 Reviews)
Genre: Literary Fiction | Action & Adventure | Women's Fiction
FREE for a limited time
Only a librarian with the soul of a spy could read the clues to stop a killer
A heart-wrenching murder changes her life forever, and Maggie transforms from prey to predator. Will the librarian with the soul of a spy and the unusual support team stop the desperate kingpin or will she become the latest victim? It all comes down to kill or be killed.
Click here to get this book for FREE
° ° ° ° ° ° ° ° ° ° ° ° ° °
Gray Wolf (Legends of Ansu Book 1)
by J.W. Webb, Susanne Lakin, Roger Garland


(258 Reviews)
Genre: Fantasy
FREE for a limited time
When he sees red, this berserker isn't afraid of blood on his hands. Hopefully, none of it is his.
Corin an Fol has no trouble channeling rage. So the moody teen angrily leaps into action to warn his people when a gang of murderous pirates launches an attack on their town. But when it's too little too late, his veins course with red-hot hatred after he watches in horror as his father dies beneath a raider's axe.
Injured and nursed back to health from the skirmish by a mysterious celestial woman, Corin vows the blackguards that broke his family will pay for their sins. So consumed by revenge and with his sister still missing, the would-be warrior joins an elite regiment… and marches full-tilt into his dark and deadly destiny.
Can the wayward youth save what's left of his kin, or will he be buried along with his wrath?
Gray Wolf is the pulse-pounding first book in the Legends of Ansu fantasy series. If you like a mix of drama and myth, biting humor, and clashing swords, then you'll love J.W. Webb's swashbuckling rescue mission.
Click here to get this book for FREE
° ° ° ° ° ° ° ° ° ° ° ° ° °
Deception in Mariposa Beach (A Mariposa Cafe Mystery Book 3)
by Teresa Michael


(22 Reviews)
Genre: Mystery
FREE for a limited time
Welcome back to Mariposa Beach for the third book in the Mariposa Café Mystery Series, where it's all about fun Florida mysteries featuring fearless, female sleuths.
There's a new, big-time New York City director in town-Jerry Mann-but whether or not he'll live to see opening night of the play he's there to direct isn't a guarantee. With several new crimes to solve that appear to have followed Mr. Mann to Mariposa Beach, Libby Marshall, a former prosecutor, and her super-hot detective boyfriend, Jack Seiler, will need all the help they can get from the quirky crew and patrons of the Mariposa Café.
But, this time, it's more than a little personal for Libby. Her Aunt Julia appears to have a mysterious past with Jerry Mann, and it's looking like a past that will have a major impact on Libby's future.
The Mariposa Café Mysteries are Friends meets Miami Vice.
Click here to get this book for FREE
° ° ° ° ° ° ° ° ° ° ° ° ° °
Cooking with Cast Iron: More Timeless and Delicious Family Recipes
by Louise Davidson


(143 Reviews)
Genre: Cookbooks, Food & Wine
FREE for a limited time
Cooking with cast iron… a timeless and delicious family tradition!
Everything tastes better when it is cooked with cast iron! We all remember when our mothers or grandmothers used to make those memorable meals using those big, heavy, black skillets and saucepans. We can still imagine and almost taste those perfectly spiced dishes. Well, cast iron cookware is still around! They are so durable that they are almost always passed down from one generation to the other, as are the recipes they used. This cookbook holds not only amazing timeless recipes, but also instructions on how to cook with cast iron cookware. You can use them on the stove top, on the grill, and of course, in the oven. You can even bring it along for your next camping trip and make some delicious corn bread, breakfast skillets, hamburgers, and so much more!
Cast iron skillets and saucepans are the most versatile tools in your kitchen. You can cook any food you can think of in it. And it will taste like nothing else, a real taste of home-cooked meal.
Inside this book, you'll find:
Timeless use of cast iron cooking
How to season a new cast iron cookware
The health benefits of using cast iron cookware
The maintenance of cast iron cookware
The versatility of using cast iron and cooking techniques
You'll also find unique recipes to cook with your cask iron skillets and saucepans or Dutch oven. They include:
Mouth-watering chicken recipes like the Crispy Coconut Chicken Tenders with dipping sauces
Irresistible beef dishes like the Simply Delicious Beef Chili
Delicious pork and lamb entrees like the Cherry-Glazed Pork Chops and Green Beans
Light and easy to prepare seafood dishes like the pineapple shrimp stir fry
Delightful vegetarian recipes like our family secret recipe Ooey-Gooey Mac'n Cheese
Heart-warming homemade soups like the Ham and Double cheese Soup
And yes, more desserts to satisfy your sweet tooth with recipes like the Raspberry White Chocolate Dump Cake
Click here to get this book for FREE
° ° ° ° ° ° ° ° ° ° ° ° ° °