I am certainly no photographer, but my Heather is absolutely amazing, and I just can NOT take a bad picture of it.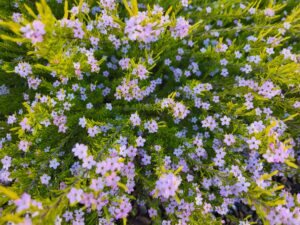 A Body on Fitzgerald's Bluff : Seaview Cottages Cozy Mystery #1
by Anna Celeste Burke, Peggy Hyndman, Ying Cooper


(1,129 Reviews)
Genre: Literary Fiction | Women's Fiction | Action & Adventure | Mystery
FREE for a limited time
Miriam Webster's a woman with a few secrets — can she keep them after she and her spirited Dalmatian, Domino, find a body on Fitzgerald's Bluff?
When Miriam Webster moves into the Seaview Cottages active adult community, the last thing she expects is to find a body on the bluffs nearby. The mystery takes a quick detour when Miriam and her friends return to Fitzgerald's Bluff with the Deputy Sheriff. The dead woman's gone, but not for long. Where the body turns up is only one of the surprising twists the mystery takes for Miriam and her friends.
Tracking Down the Killer
Convinced that the local deputy isn't up to the task of finding a killer on the loose, Miriam and her gang of Grand Old Lady Detectives set out to discover the truth about a body on Fitzgerald's Bluff.
Can they solve the mystery without becoming the killer's next victim?
To find out, grab your copy of book 1 in this new cozy mystery series by USA Today and Wall Street Journal bestselling author, Anna Celeste Burke. Recipes included.
Click here to get this book for FREE
° ° ° ° ° ° ° ° ° ° ° ° ° °
Brewing Love: in Saddleback Ridge
by Milan Watson


(57 Reviews)
Genre: Romance | Small Town & Rural
FREE for a limited time
When Drake secretly began brewing beer, he never knew he'd find the recipe for love.
Of the four Caldwell sons, Drake is the only one who didn't have his dream handed to him when his father began to divide the business aspects of Falcon Falls. Intent on following his own dream he secretly begins to brew beer up at the hunting cabin when he's not out breaking hearts.
Maggie Grayson has followed the rules all her life. She's focused, career-oriented and spends her time researching the past. When an opportunity arises to spend time at a fossil site, Maggie jumps at the opportunity. She's got everything planned out, she'll stay with her aunt and get out of the lab and the classroom for six weeks.
Betty's house has been invaded with termites. When she brings Maggie to stay at the ranch with her, no one is more surprised than Drake. A few weeks ago, he spent a night with a girl he couldn't forget and now she's landed right on his ranch.
Can Maggie allow herself to fall in love with a lady's man? Will Drake be able to change for the right women? Can a recipe for brewing craft beer deliver the perfect recipe for a happy ever after?
In Saddleback Ridge Stetsons are a way of life and not just a fashion statement. Cowboys, romance and small-town charm guaranteed.
Click here to get this book for FREE
° ° ° ° ° ° ° ° ° ° ° ° ° °
Last Stand of the Legion: Rift (Blood War Book 1)
by Rod Carstens


(354 Reviews)
Genre: Science Fiction
FREE for a limited time
He was going on one last, easy mission then he was going to get out. Until the whole of humanity needed saving.
Lieutenant Dasan Sand is about to leave the Legion and become a civilian again — and he couldn't be happier. But on a last mission, he finds himself facing an army of ferocious aliens fighting a religious war against the human race.
Sand no longer wants to leave the Legion; not when he finally understands the meaning of service
The aliens are coming to wipe humanity off the cosmic map, and Sand must put together the band of men and women who will keep them at bay. To do that he must fight the military and civilian bureaucracy to pull together a rag tag group of soldiers to form an elite fighting unit capable of this almost impossible task.
He must win the biggest of all wars if he is to save the human race.
If you like characters who beat the odds, non-stop action, intense combat and high stakes, you'll love The Last Stand of the Legion. #1 in The Blood Wars Series
Click here to get this book for FREE
° ° ° ° ° ° ° ° ° ° ° ° ° °
The Finch Trilogy (Will Finch Mystery Thriller Series)
by D. F. Bailey


(823 Reviews)
Genre: Thrillers | Mystery
FREE for a limited time
One billion dollars.
An ex-cop with nothing to lose.
A reporter working a single lead.
They stand together or die alone.
The Finch Trilogy fuses the unrelenting tension of Stieg Larsson's Millenium Trilogy with the frenzy of "24".
Dear Reader,
If you're like me then you love reading novels by Michael Connelly, Lynda LaPlante, Jeffery Deaver, John Sandford, Philip Kerr, Martin Cruz Smith, Patricia Highsmith, Stieg Larsson, Elmore Leonard, and Mo Hayder. Among many others.
And if you like those writers, then I invite you to have a look at my crime series. You can buy them all on Amazon, or pick up a free novel on my website, dfbailey.com.
Writing crime fiction isn't always easy, but it's always a thrill. When you read my novels I hope you'll share the buzz, the excitement and the adrenaline rush with me.
Like all writers, I love readers who enjoy my books, especially those who are kind enough to leave a review. Hopefully, you will, too.
Happy reading,
D. F. (Don) Bailey
Click here to get this book for FREE
° ° ° ° ° ° ° ° ° ° ° ° ° °
101 Quick & Easy Chicken Recipes
by Victoria Steele


(204 Reviews)
Genre: Cookbooks, Food & Wine
FREE for a limited time
Do you eat a lot of chicken? Are you looking for fresh and exciting chicken recipes?
Chicken is about as versatile an ingredient as you can find. It works well hot or cold, can be used in soups, stews or with an almost endless variety of sauces. It is also reasonably priced and readily available, so you can afford to eat it several times a week.
If you are tired of using the same chicken recipes, 101 Quick & Easy Chicken Recipes, chicken cookbook will blow away some of the cobwebs and give you great new ideas, including:
• Kung Pao Chicken
• Skillet Chicken and Tomatoes
• Chicken Breasts with Bacon
• Honey Baked Chicken Recipe
• Supreme Foil Baked Chicken
• Chicken Tortilla Soup
• Angelic Chicken Recipe
• And many more…
Gone are the days of roasting a chicken on Sunday and using the leftovers for a salad. Now you can bake, grill, slow cook and microwave any day of the week and have perfect results every time.
Buy 101 Quick & Easy Chicken Recipes and start creating something interesting with this chicken cookbook today.
Click here to get this book for FREE
° ° ° ° ° ° ° ° ° ° ° ° ° °