The Passion Vine caterpillars are back! Yesterday I counted seven on one little vine. This morning I went to take a few pictures to show you and I couldn't find that group anymore. I think the birds might have found them and had a tasty feast. I did find this little fat guy though, so all is good. Currently there are two butterflies fluttering about when it warms up. I have to remind myself that it's only February. This is very difficult to do when it feel like Summer. Thankfully the Daffodils are reminding me that Spring still gets it's time to shine, and not to skip past it. I love the picture of this little guy below. I just picture him saying, "You Can't See ME!" Yes I can dude…yes I can.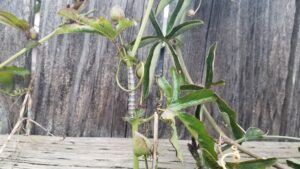 Perilous Trust (A Nonstop Romantic Thriller!) (Off the Grid: FBI Series Book 1)
by Barbara Freethy

(1,933 Reviews)
Genre: Thrillers | Literature & Fiction | Mystery
FREE for a limited time
It was one dark night that brought Damon Wolfe and Sophie Parker together. They were two tortured souls, looking for escape, and they weren't supposed to see each other ever again…
Four years later, Sophie's FBI father, who is also Damon's mentor, is killed in a suspicious car crash after leaving Sophie a cryptic message to trust no one from the agency. When Damon shows up looking for her, she isn't sure if he's friend or enemy, but she knows he could easily rip apart what is left of her heart.
The last thing Damon wants is to get involved with Sophie again. It was hard enough to walk away the first time. But she's in trouble, her father's reputation is under attack, and the lives of his fellow agents are at stake if there's a traitor in their midst.
When someone starts shooting at them, they have no choice but to go on the run and off the grid. Everyone in their world becomes a suspect. They want to uncover the truth, but will it turn out to be the last thing they expect? Proving her father's innocence might just cost them their hearts… and their lives…
Click here to get this book for FREE
° ° ° ° ° ° ° ° ° ° ° ° ° °
The Killer Outdoors : Cozy Mystery (A Southwest Exposure Mystery Book 1)
by Jodi Linton


(93 Reviews)
Genre: Thrillers | Mystery | Women's Fiction
FREE for a limited time
Welcome to Bushwhack, New Mexico: home to tourists, the great outdoors, and murder… Tourist season has hit Bushwhack and Andie Sullivan–owner of Sullivan's Adventure Company–is ready for her town to fill up with city slickers, snotty teens, and the dollars she needs to keep her business afloat. After her messy divorce from Bucky Gunn–local celebrity rafting guide and Sullivan's main competition, she can use all the help she can get. With all her guided tours booked, it finally seems lady luck is on her side.
But then Bucky is found dead. Not great.
And she's the prime murder suspect. Double not great.
Being framed for murder sucks worse than a rabid chipmunk bite. Andie's determined to clear her name, and this time her survival training skills won't be used to fetch an ice pack. But how long can she stay one step ahead of a killer before she becomes the final victim? One click now to start the Southwest Exposure Cozy Mystery series TODAY!
Click here to get this book for FREE
° ° ° ° ° ° ° ° ° ° ° ° ° °
Road to Salvation (Out of Darkness – Amish Connections Book 2)
by Ruth Price

(96 Reviews)
Genre: Religion & Spirituality | Foreign Languages
FREE for a limited time
Two broken souls. Two terrible secrets. One harrowing journey of love, loss and redemption… Since witnessing his father's death in his family's Lancaster County cornfield at age fourteen, Samuel Hershberger has been running from his pain. Now, twenty-one and cast out of his family home for disrespecting the Ordnung, Samuel is faced with a critical decision: turn away from his faith or forgive God and live as an Amish man. And what about Miriam Umble, the beautiful and troubled young Amish woman who Samuel agrees to help return to her home in Elkhart, Indiana? Join Samuel and Miriam on a harrowing journey of love, loss and redemption in this second book of Amish Connections. Road to Salvation is an Amish romance guaranteed to keep you reading well past your bedtime.
If you love Amish romance with a twist, scroll up and click Buy Now to start reading today!
Click here to get this book for FREE
° ° ° ° ° ° ° ° ° ° ° ° ° °
When the Earth Had a Moon (Part 1)
by A.M. Cunning


(69 Reviews)
Genre: Science Fiction
FREE for a limited time
New Science Fiction Space Opera/Thriller
What if the Earth had No Moon?
How could the Earth lose its moon?
The world's first permanent moon base has been established by MoonX Ltd., a joint venture company with American, Chinese, and Russian government shareholders to promote the peaceful use and development of the moon for all. However, political tensions arise and raise the specter of total annihilation.
A young nuclear physicist, Rex, works on the base to create nuclear fusion using helium-3, but personal tragedy draws his mind away from his work. His fiancée, Avery, the captain of the first international mission to Mars launched from the moon, has gone missing.
With the help of his A.I. computer companion, Rex searches for answers to the cause of the loss of the Mars bound ship, but he discovers military secrets instead. In outer space, there is nowhere to run.
Click here to get this book for FREE
° ° ° ° ° ° ° ° ° ° ° ° ° °
Girl On Fire: How to Choose Yourself, Burn the Rule Book, and Blaze Your Own Trail in Life and Business
by Cara Alwill Leyba


(987 Reviews)
Genre: Business & Money
FREE for a limited time
From the bestselling author of Girl Code, Cara Alwill Leyba delivers Girl on Fire — the long-awaited follow up fans have been waiting for.
The self-publishing queen started this conversation four years ago with Girl Code, her ode to women and their power, a book so successful that it has been translated in seven languages and continues to make a major impact on the world. Girl On Fire builds on this concept and shows you how to blaze your own trail immediately. You don't need permission from anyone to live fearlessly and start living your dream.
As an early voice in the female-driven movement, Cara continues to be a leader in the space, liberating women to trust their intuition and create their own opportunities. She empowers her readers to stop waiting for their big break and, instead, to publish their own books, start their own podcasts, host their own panels and design their own clothing lines; whatever their desires are.
From the author:
Who would you be if you stopped following *their* rules? What would you create if you create if you had nothing holding you back?
Now that women entrepreneurs are banding together in sisterhood and realizing the importance of collaboration over competition, it's time to take things to the next level. It's time to rise up, together, and challenge the status quo. It's time to question the way things have been done in the past, to write our own rules, and do life and business OUR way.
The world needs us, as women, to utilize our voices now more than ever. We must step into our power and we must let nothing hold us back.
Business is changing rapidly, and there has never been a better time to choose yourself. Gone are the days of waiting to be chosen by an agent, a record label, a company, or a publisher.
Successful entrepreneurs don't wait for their "big break" — they create it. They don't wait to be featured in a magazine, or picked up by a publisher, or given a chance to speak on a stage. They promote themselves on platforms they create, they self-publish their own books, they launch their own podcasts, they create their own events and build their own stages.
Now is the time to show up for ourselves. We all have the ability to design a life and career beyond our wildest imaginations without permission, selection, or validation. Girl on Fire will show you how to do it.
This book is for every woman who has had a vision that others might not understand. It's for every woman who is sick and tired of playing by the rules. It's for every woman who has known she was meant for more and has waited far too long for someone to give her the permission she thought she needed.
Click here to get this book for FREE
° ° ° ° ° ° ° ° ° ° ° ° ° °