Whats going on in the workshop you ask! Oh.. you didn't ask? Well, I will tell you anyways. Sooo.. I have a new hobby. I love to go treasure hunting in thrift shops and garage sales. Not really a new hobby, but I have been doing it a lot more lately. Last week hubby decided to join me for a quick trip to my favorite thrift store where we found a cake stand dome without the stand. He thought it would be fun to make a stand for it out of some walnut we had laying around. OH BOY! So this is how I am going to recruit my hubby into joining me in my hobby. Up until then he had zero interest. He got to work in the shop right away and this is what he made. LOVELY!!! It is a little small, but it does hold one Costco muffin nicely. Not sure what we are going to do with it..maybe sell it. I went back last Monday to grab another cake stand and dome. Second project will be starting soon.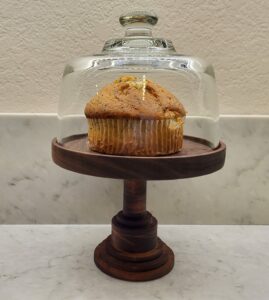 Smoke and Spells (Althuria Chronicles Book 1)
by Ryver Knight


(4 Reviews)
Genre: Teen & Young Adult
FREE for a limited time
An ordinary girl. A rare power. A deadly game.
Lie low.
Don't draw attention to yourself.
Fifteen-year-old Asha Olinger has abided by her sister's rules her entire life. Every day, she works relentlessly as a cleaner to put food on the table, scrambling in the dredges of Althuria. Every day, she wonders about a life where she no longer struggles for a few measly coins.
But after discovering she wields a rare and destructive power, her quiet life is turned upside down. Her older sister gives her a mysterious warning. Lex Sylvester, with his fame, wealth, and stupidly charming looks — that she certainly never, ever noticed — starts flirting with her. And to top it all off, she receives a letter from the famed Luminus Academy, declaring that she got accepted through the lottery system. The terrifying probabilities quickly turn into incredible opportunities, and suddenly controlling her power doesn't sound like a bad idea.
What is this darned ability of hers? Why does everyone keep telling her to stay away from the Queen of Althuria? And more importantly…
Who the heck is murdering girls at the Academy?
If she doesn't find out soon… she might just be next.
Designed to thrill with its magic, mystery, and murder, Smoke and Spells is the first installment in the Althuria Chronicles coming-of-age fantasy series.
Click here to get this book for FREE
° ° ° ° ° ° ° ° ° ° ° ° ° °
The Day We Met: A Sweet Romantic Comedy (The Men of Engine 17 Book 1)
by Ash Keller


(33 Reviews)
Genre: Animals | Humor & Entertainment | Foreign Languages
FREE for a limited time
A meet-cute to remember… for all the wrong reasons.
Chuck:
My whole life has been building to this moment. I've studied. I've trained. I've paid my dues. And as of this morning, I'm Engine 17's newest recruit.
I've been on the clock for two hours… and I'm ready to throw in the towel. What could bring a fully trained firefighter and EMT to the breaking point? Was it a five-alarm blaze? Or a thirty-car pileup on the interstate?
Nope.
It's a silver maple tree, a black-and-white cat with eerie yellow eyes, and a platinum blonde with more curves than a rolled-up firehose. Alli O'Malley. Don't let her angel face fool you. I wouldn't be surprised if she has tiny devil horns hidden beneath her hair.
*An earlier version of this story was published in the Spring into Love charity collection.
Fall in love with the men of Engine 17 one novella at a time! Each standalone rom-com features a different fireman and his quest to find the one woman who will set his soul on fire.
Click here to get this book for FREE
° ° ° ° ° ° ° ° ° ° ° ° ° °
Priestess of Ishana (Tesha Book 1)
by Judith Starkston


(101 Reviews)
Genre: Historical Fiction | Fantasy | Mythology & Folk Tales
FREE for a limited time
What George R.R. Martin's 'Game of Thrones' did for the War of the Roses, Starkston has done for the forgotten Bronze Age Hittite civilization. Mystery, romance, political intrigue, & magic… – Amalia Carosella
A curse, a conspiracy and the clash of kingdoms. A defiant priestess confronts her foes, armed only with ingenuity and forbidden magic.
An award-winning epic fantasy, Priestess of Ishana draws on the true-life of a remarkable but little-known Hittite queen who ruled over one of history's most powerful empires.
A malignant curse from the Underworld threatens Tesha's city with fiery devastation. The young priestess of Ishana, goddess of love and war, must overcome this demonic darkness. Charred remains of an enemy of the Hitolian Empire reveal both treason and evil magic. Into this crisis, King Hattu, the younger brother of the Great King, arrives to make offerings to the goddess Ishana, but he conceals his true mission in the city. As a connection sparks between King Hattu and Tesha, the Grand Votary accuses Hattu of murderous sorcery. Isolated in prison and facing execution, Hattu's only hope lies in Tesha to uncover the conspiracy against him. Unfortunately, the Grand Votary is Tesha's father, a rash, unyielding man, and now her worst enemy. To help Hattu, she must risk destroying her own father.
If you like a rich mixture of murder mystery, imperial scheming, sorcery, love story, and lavish world-building, then immerse yourself in this historical fantasy series. See why readers call the Tesha series "fast-paced," "psychologically riveting," and "not to be missed."
Click here to get this book for FREE
° ° ° ° ° ° ° ° ° ° ° ° ° °
The Silent Speak: A gripping and twisty psychological thriller (An Aoife Walsh Thriller Book 3)
by Val Collins


(72 Reviews)
Genre: Thrillers | Women's Fiction | Mystery
FREE for a limited time
"There's a lunatic out there who butchered five innocent people and nobody is looking for him."
Aoife Walsh has plenty keeping her busy — finalising her divorce from her manipulative husband, settling into her still-new relationship with Detective Conor Moloney, and trying to win the trust of his teenage son. So for the moment, her fledgeling career as a freelance journalist has been put on hold.
Then comes the horrific news that an entire family has been slaughtered in their own home. Aoife is shocked to discover two of the victims were members of her on-again-off-again book club. Even more disturbing is the revelation that the police believe it was a murder-suicide.
That's when Aoife receives a tantalising offer. Lisa, the main suspect's sister, will grant Aoife access to the victims' extended family for an exclusive news story — if Aoife will help find the real killer. Moved by Lisa's unwavering belief in her brother's innocence, Aoife agrees to help.
As she digs into the secrets of her fellow book club members, Aoife discovers potential suspects everywhere: people having affairs, a jealous husband, and a power-hungry business partner who's clearly hiding something.
Aoife keeps pulling at the threads of the story, untangling more and more deception. Is the killer really dead and buried? Is it someone Aoife already knows? Could the lunatic be closer than Aoife ever imagined?
You won't be able to put down this twisty thriller from international bestselling author Val Collins.
The Silent Speak is now a U.S. and International Bestseller. It is Book 3 in the Aoife Walsh Thriller series. All three books are standalone thrillers and can be read in any order
Click here to get this book for FREE
° ° ° ° ° ° ° ° ° ° ° ° ° °
Crawlerz: Book 1: Red Sky in the Morning
by R S Merritt


(541 Reviews)
Genre: Science Fiction
FREE for a limited time
Are you ready for the end?
An ancient tomb is unearthed live on cable TV after months of hype. It's billed as the archeological equivalent of Shark Week. The actual footage takes a turn no one ever expected. Those minutes of footage will be combed over by governments worldwide seeking to understand what horror came out of that tomb.
They watched the news for weeks as an infection spread quickly across the globe. The videos posted online of people ripping into each other like cannibals on PCP were unreal. The support from the authorities was a joke. No one had a plan in place for this. At least not a plan that involved saving everyone…
Join a tight knit family of outcasts who'll do anything for one another as they battle their way through this freak show. A reality where might makes right and the only thing worse than running out of food and water is running out of ammunition.
Click here to get this book for FREE
° ° ° ° ° ° ° ° ° ° ° ° ° °