And so it begins. I have the kitchen counters clear off of anything that is not cookie baking related, and now they are replaced with containers of flour, sugar, and my trusty Kitchen-aid mixer. The oven has been preheated, and my Cappuccino Crinkle Cookie recipe is currently taped to the wall for easy reference. I would really like to nap right now. All that set-up is exhausting. Problem is I already separated the eggs and they are waiting to be used. Okay.. IT'S GO TIME!!!!!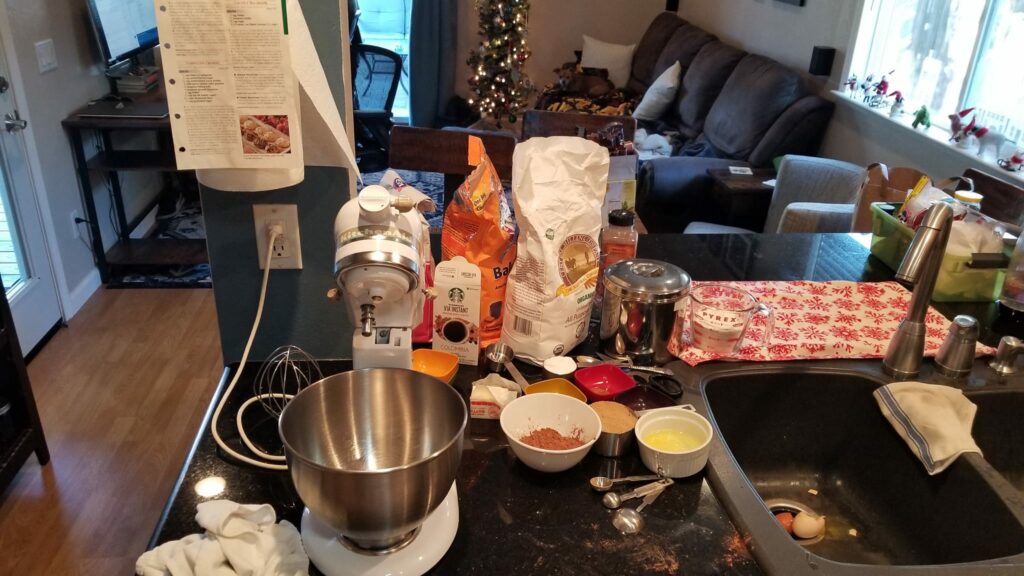 Red Picket Fences: A Pembury Acres Cozy Mystery Book 1 (Pembury Acres Mystery)
by Daphne McLean


(163 Reviews)
Genre: Contemporary Fiction | Literary Fiction | Mystery
FREE for a limited time
When a housefire ravages a home, and claims the lives of the couple living inside, the quiet little town of Pembury Acres is turned upside down.
Jennifer Temple, a true crime aficionado and stay-at-home mom, thinks there is more to the fire than meets the eye. When the local police chief seems more interested in closing the case than finding the perpetrator, Jennifer puts the sleuthing skills she's acquired to good use.
She soon discovers there's a lot more to hunting criminals than her favorite true-crime podcast would have her believe. By poking her nose in where it doesn't belong, she pits herself against the local police chief who doesn't take her seriously, her husband who wants her to stay safe, a toddler who refuses to wear pants, and a killer who wants her out of the way.
The truth is hidden. Will she find it before bath time?
Click here to get this book for FREE
° ° ° ° ° ° ° ° ° ° ° ° ° °
Empire Eternal: Point Gamma
by Philipp Münzer


(25 Reviews)
Genre: Science Fiction
FREE for a limited time
The price to conquer Eloir was steep. Korbin lost a friend and patriarch. And to top it all, Jack has left the humans and the Vorrans with a dire warning. The destruction of the Geneassi vessel will have alerted others. But the alien left a location in Korbin's head. Jack had presented him with the directions to the mysterious Shadowruns. Will they find the tech they need to improve their chances? The crater on Eloir's moon is still fresh. Who has noticed the destruction of the alien vessel? They don't know when the Reavers will arrive. But the timeline of Korbin's past is gone. Too much has changed. They won't have thirty more years, of that they are sure. Maybe they have five years. Maybe seven. At least they have Lias and Lindsay, the young scientists. The formidable duo has already surpassed the tech they had created in the past. Who knows what else they can come up with. But Korbin's hope is to purchase something that can turn the tide. The Shadowruns lures with a hidden note from Jack. Bring cash.
Click here to get this book for FREE
° ° ° ° ° ° ° ° ° ° ° ° ° °
Merry Christmas, Darling: A Darling, VT Holiday Romance
by Donna Alward

(123 Reviews)
Genre: Romance | Holidays
FREE for a limited time
Come home for Christmas in Darling, VT… and the magic of the holiday season!
Hannah Gallagher is a woman who knows how to get things done – and the annual literacy benefit is no exception. There's just one problem: her headlining author has cancelled. Where can she find a celebrity to fill in this close to Christmas? It's just her luck that her brother's best friend and hockey superstar, Cam Collier, is in town for the holidays. It doesn't take long for Hannah to imagine him reading to kids at the local library – and all that money pouring in.
Sidelined with his second concussion, Cam takes the opportunity to spend Christmas with his family. He's barely in town twenty-four hours when Hannah Gallagher hits him up to do a charity event, and Cam knows he must decline. Of course Hannah doesn't understand his reasons… because he's holding onto a secret that he's never shared with anyone. He'll make it up to her, though, by donating an amazing item for the silent auction. And the fact that he gets to spend time with his best friend's hot older sister is a definite perk.
Things are heating up between them, and it looks like this is destined to be a sizzling holiday fling. Especially as Cam's health is improving and he's counting the days until he can rejoin his team. But then feelings get in the way… and fears, too. Can they move past their insecurities to change this Christmas to remember to a Christmas that lasts forever?
Click here to get this book for FREE
° ° ° ° ° ° ° ° ° ° ° ° ° °
Guilty Colts
by Denis Hughes


(11 Reviews)
Genre: Westerns | Action & Adventure
FREE for a limited time
It will be a wipe-out or nothing…
Those were Quinn Benson's words when he planned the biggest hold-up of his career.
And so it proved; but not quite in the way that Benson intended.
He got the gold alright, but with it came a whole heap of trouble.
A heist of this scale will always attract unwanted attention and gold-lust, and it's not long before Benson is unsure who he can trust.
But with a man who has a score to settle and a girl to whom love meant more than vengeance waiting in the wings, will Benson be able to pull it off after all?
Alamo Day is a remorseless, gun-sure cowboy with a grudge.
Despite being hardened by the torture of losing someone at the hand of the wicked Scayne, Alamo's cold facade is gradually broken down by the vibrant and fearless Lindy.
With hope of a new future, will Alamo be able to finally settle the score, put old grudges, and old enemies to bed and start a new life?
Or will the villainy of the badlands crush any hope of vindication and maybe even… love?
Guilty Colts is a ruthless tale of the hardships of the life of outlaws and survival in the badlands, perfect for fans of Zane Grey.
Click here to get this book for FREE
° ° ° ° ° ° ° ° ° ° ° ° ° °
The Fink: A Lance Gedrin Mystery
by Greg Gountanis


(14 Reviews)
Genre: Black & African American | Mystery | Crime Fiction
FREE for a limited time
His comeback fight is in 2 days.
But somebody is killing his cornermen.
Lance Gedrin is back. He's moved on from the havoc in Chicago and is taking in the sun at the Oregon Zoo. Gedrin's comeback fight is in 2 days. Win and he's the number one contender for the heavyweight title. Lose and Sal's gym needs its old janitor back.
As Gedrin tours the zoo, he sees a crowd gathered around one of the exhibits. And they're not taking pictures. Gedrin finds his cutman stabbed. A note by his side.
Two seconds left.
Gedrin gets the message. He knows the boxing lingo. Somebody is mowing down his cornermen (his "seconds") right before the biggest fight of his career. Gedrin wants answers. But he gets in the ring in 48 hours.
If you like the wit and grit of Myron Bolitar, Jack Reacher, and Spenser, then you'll love Gedrin.
Click here to get this book for FREE
° ° ° ° ° ° ° ° ° ° ° ° ° °