I am exhausted! I feel like I ran a 20 mile marathon. I might have gone a bit overboard with the cookies this weekend. I did stay on schedule though and finished the last batch around 6pm on Saturday. Just as I had planned I was on the couch on Sunday eating cookies. Okay, maybe eating just one cookie. I am usually not a fan of anything I cook, even if it is delicious. The best diet plan for me would be to cook all of my meals. I would never eat! That's not going to happen. I do have a favorite new cookie this year and I will be sure to share it later today. Happy Monday!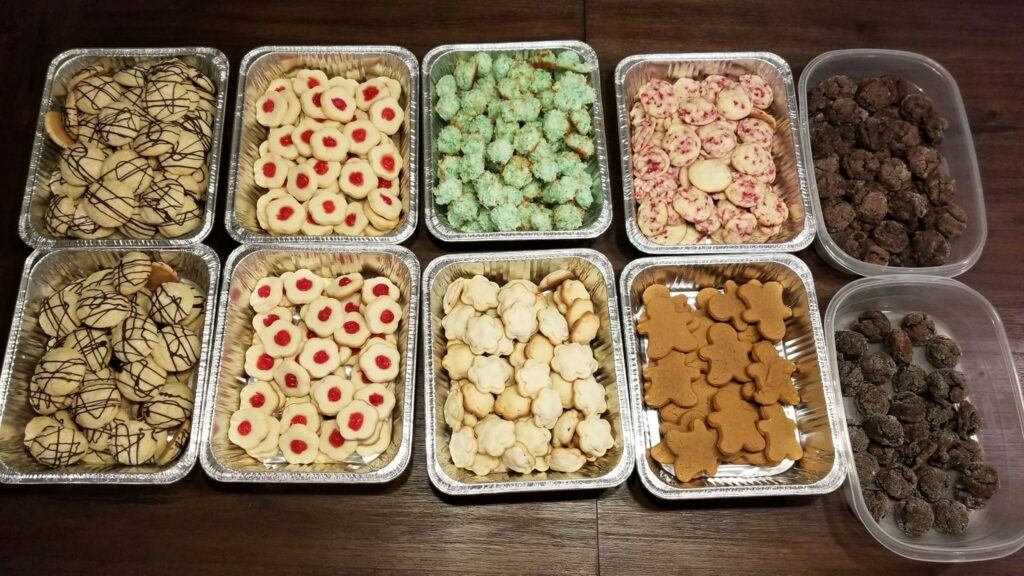 Kidnapped (Mystery Thriller Suspense Standalone Collection Book 13)
by James Kipling


(96 Reviews)
Genre: Teen & Young Adult
FREE for a limited time
A raft of secrets, lies, suspicious characters.
Gripping mystery and suspense novel that will keep you on the edge of your seat!
Olivia Shapiro's case is just the elixir that Detective David Orlando needs to turn his career around. As fate would have it, Olivia's husband, James is a missing person. The key objective is that he must be found. Or so it seems.
Attempting to find out the truth when there are only secrets is a difficult and dangerous task for PI David Orlando. He is working alone this time, attempting to solve the abduction mystery, find the missing person and clear the names of those wrongly accused.
David's partner Emily Valentini is working on her own to solve the case of her godson's abduction, and her emotions are running rampant… for more than one reason.
Will David and Emily succeed in finding the missing persons and solve the abduction mysteries? Are they willing to pay the price for their decisions? Who can they really trust? Follow the story as this mystery thriller unfolds with intrigue and plot twists – and a surprising ending.
If you enjoy gripping crime thrillers full of twists, be sure to check out other books by best-selling author James Kipling.
Click here to get this book for FREE
° ° ° ° ° ° ° ° ° ° ° ° ° °
Flying by the Seat of My Knickers (The Travel Mishaps of Caity Shaw Book 1)
by Eliza Watson


(1,526 Reviews)
Genre: Contemporary Fiction | Women's Fiction | Humor & Satire
FREE for a limited time
Why run from your troubles when you can fly instead?
When Caity Shaw is fired from her first job that doesn't require an elf uniform, her older sister, Rachel, an event planner, hires her to work a meeting in Dublin. Caity jumps at the opportunity to travel abroad and escape her pathetic life. However, even four thousand miles from home, there's no avoiding debt collectors, an overbearing mother, and haunting memories of a controlling ex.
While in Dublin, Caity suffers a series of humiliating mishaps, causing her to lose even more faith in herself. Caity struggles to earn Rachel's respect — and to keep Declan, her hot Irish coworker, at arm's length. Declan repeatedly saves Caity's butt and helps boost her self-confidence, making it difficult to keep her distance from the charming womanizer. When Declan helps her research her Irish grandmother, Caity discovers the mysterious past of the courageous woman she barely knew might hold the answers to her future.
Click here to get this book for FREE
° ° ° ° ° ° ° ° ° ° ° ° ° °
Predator Girl
by S.B. Roozenboom


(68 Reviews)
Genre: Romance | Coming of Age
FREE for a limited time
Born in the deep forests of the Northwest, Ilume is a girl of the woods. And of the night. Ilume might be young, she might be recovering from a broken heart, but above all she's a leader. Her pack has always come first. Then, on a rare visit to the human civilization, she meets Jared.
Jared Ferlyn is a Finder, born with the gift for detecting and tracking paranormal beings. Tagging Otherworlders for the government, he's had his share of keeping fey, nightlings and other creatures from human sight. But when he crosses paths with a strange new girl, Jared is unable to classify her despite his training and experience. While tracking the mysterious newcomer, Jared is pulled far into her territory, into Ilume's territory, a dangerous environment that not even a Finder is prepared for.
Ilume and Jared–born into different worlds, one the predator the other the prey– and neither is prepared for what happens when the sparks fly between them.
Click here to get this book for FREE
° ° ° ° ° ° ° ° ° ° ° ° ° °
Her Patriotic Duty: An emotional and gripping WW2 historical novel (On the Home Front Book 1)
by Rosie Meddon


(490 Reviews)
Genre: Historical Fiction
FREE for a limited time
In a world of secrets, can Esme find the courage to be her true self?
Happily in love, Esme Colborne is about to marry Richard Trevannion, descendant of one of the oldest families in England. But when Esme learns she is adopted – from a working class family – she cannot allow Richard to marry so far beneath his station.
Fleeing the life she knew, a chance encounter leads Esme to work as a 'decoy woman', testing British undercover operatives who may otherwise reveal secrets in a moment of weakness. As dangerous as it is thrilling, she is soon captivated by this world of subterfuge – one wrong move, however, and Esme could lose everything.
With her feelings for Richard as strong as ever, should she go back to him and reveal the truth of her birth? Is she brave enough to risk having her heart broken again?
An enthralling Second World War saga for fans of Rosie Archer and Annie Murray.
Click here to get this book for FREE
° ° ° ° ° ° ° ° ° ° ° ° ° °
Alliance (The United Federation Marine Corps' Grub Wars Book 1)
by Jonathan P. Brazee


(186 Reviews)
Genre: Science Fiction | War
FREE for a limited time
Lance Corporal Hondo McKeever is a peacetime Marine. Humanity is involved in a limited war with the alien Klethos, where gladitorial combat decides the fate of worlds, but that doesn't affect the common Marine or sailor. His career has been training hard but never seeing actual combat.
All of that changes when a new enemy invades the galaxy, one that threatens both humanity and Klethos.
Mankind hasn't fought an all-out war in centuries, but they're about to. McKeever is assigned to a special task force with the mission to find out what makes this new enemy tick, and, if possible, stop them in their tracks before humanity is eliminated like so much insignificant vermin.
Click here to get this book for FREE
° ° ° ° ° ° ° ° ° ° ° ° ° °