I decorated for Christmas over the weekend and it looks amazing, but it wasn't until this morning that I really felt the Christmas spirit. I bought the cutest table wreaths, that you are supposed to put candles in and place on your table, but instead I hung them on the wall. The smell of fresh cut pine filling the room has put me in such a festive mood. It doesn't hurt that I am also sipping a hot cocoa with a mountain of whipped cream. I am busy as all heck, but right now I am stopping for cocoa and smelling the pine.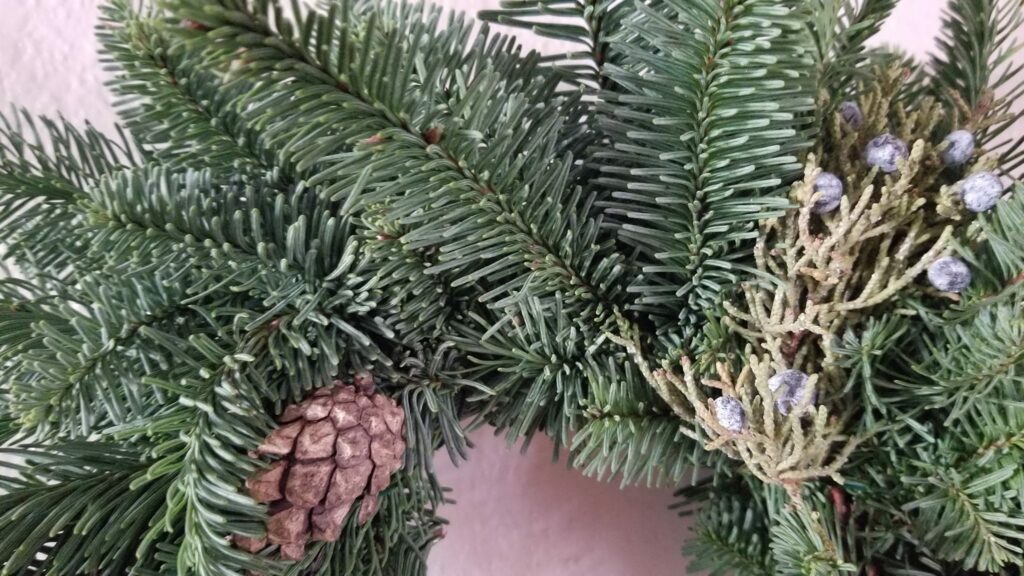 Knitted and Knifed: A Humorous & Heart-warming Cozy Mystery (A Knitty Kitties Mystery Book 1)
by Tracey Drew


(510 Reviews)
Genre: Mystery | Crafts, Hobbies & Home
FREE for a limited time
Wanted: Cat mum to manage a yarn store, corral two curious cats, all the while being tangled up in murderous mayhem and mystery.
Tessa Wakefield is a busy woman. Too busy for murder. Between running her cozy craft store, refereeing family drama, and two handsome men determined to drive her to distraction, the last thing on Tessa's mind is murder.
Until now.
When her brother gets stitched up as a murder suspect, like any good sister, Tessa embraces her inner sleuth, joins forces with her crafty friends, and starts snooping.
Is the killer someone from inside Tessa's tight-knit community? What if they come unravelled and kill again? Can Tessa knit together the clues and uncover the truth before the police charge her brother with murder?
Fancy a trip to New Zealand? The Knitty Kitties series is set in beautiful New Zealand with a host of quirky characters, plenty of hilarious shenanigans, and more cats and knitting than you can shake a needle at!
Click here to get this book for FREE
° ° ° ° ° ° ° ° ° ° ° ° ° °
Take Down (Detective Danny Acuff 1)
by Stan R. Mitchell, Jaime Reyes

(206 Reviews)
Genre: Mystery | Thrillers
FREE for a limited time
One of Tennessee's most talented big-city detectives leaves the tough streets of Memphis and smashes into a small town's deep and dark secret.
This quaint, sleepy, little town appears normal on the surface, but Danny Acuff (a prior Force Recon Marine) senses there's a lot more going on than meets the eye.
Before it's all said and done, there will be dead cops and two former Special Forces soldiers trying to kill Danny. He may have left the warzone of Afghanistan behind him, but Danny Acuff is about to enter a new one.
Click here to get this book for FREE
° ° ° ° ° ° ° ° ° ° ° ° ° °
Christmas at Tiffany's: A Novel
by Karen Swan


(1,030 Reviews)
Genre: Contemporary Fiction | Literary Fiction
FREE for a limited time
What do you do when the man you pledged your life to breaks your heart and shatters your dreams? You pack your bags and travel the big, wide world to find your destiny — and your true love…
Ten years ago, a young and naïve Cassie married her first serious boyfriend, believing he would be with her forever. Now her marriage is in tatters and Cassie has no career or home of her own. Though she feels betrayed and confused, Cassie isn't giving up. She's going to take control of her life. But first she has to find out where she belongs… and who she wants to be.
Over the course of one year, Cassie leaves her sheltered life in rural Scotland to stay with her best friends living in the most glamorous cities in the world: New York, Paris, and London. Exchanging comfort food and mousy hair for a low-carb diet and a gorgeous new look, Cassie tries each city on for size as she searches for the life she's meant to have… and the man she's meant to love.
Click here to get this book for FREE
° ° ° ° ° ° ° ° ° ° ° ° ° °
Gateway (Gateway Military Science Fiction Book 1)
by Brian Dorsey

(96 Reviews)
Genre: Science Fiction
FREE for a limited time
Major Tyler Stone stands at the precipice of greatness. After years of faithful service to the Republic, everything seems to be coming together — a promotion, an engagement to a beautiful (and powerful) woman, and the restoration of his traditional family name promise to restore his family to its long lost place among Alpha Humana's elite. But his world suddenly begins to crumble when deceit and defeat bring him face to face with the enemy — an enemy that turns his perception of the galaxy on its ear, challenging his understanding of his civilization and his own identity.Now Stone must choose between duty and honor as he struggles to understand the nature of the war the Humani have been waging for so many generations.
Click here to get this book for FREE
° ° ° ° ° ° ° ° ° ° ° ° ° °
The Gardner Heist: The True Story of the World's Largest Unsolved Art Theft
by Ulrich Boser


(374 Reviews)
Genre: Arts & Photography | Biographies & Memoirs
FREE for a limited time
One museum, two thieves, and the Boston underworld: the riveting story of the 1990 Gardner Museum robbery, the largest unsolved art theft in history. Perfect for fans of the Netflix series This is a Robbery: The World's Biggest Art Heist!
Shortly after midnight on March 18, 1990, two men broke into the Isabella Stewart Gardner Museum in Boston and committed the largest art heist in history. They stole a dozen masterpieces, including one Vermeer, three Rembrandts, and five Degas. But after thousands of leads, hundreds of interviews, and a $5 million reward, not a single painting has been recovered. Worth as much as $500 million, the missing masterpieces have become the Holy Grail of the art world and their theft one of the nation's most extraordinary unsolved mysteries.
Art detective Harold Smith worked the theft for years, and after his death, reporter Ulrich Boser decided to pick up where he left off. Traveling deep into the art underworld, Boser explores Smith's unfinished leads and comes across a remarkable cast of characters, including a brilliant rock 'n' roll art thief and a golden-boy gangster who professes his innocence in rhyming verse. A tale of art and greed, of obsession and loss, The Gardner Heist is as compelling as the stolen masterpieces themselves.
Click here to get this book for FREE
° ° ° ° ° ° ° ° ° ° ° ° ° °