I found this guy cruising the water pot this morning. He just made me smile. SO CUTE!! I used to really fight the slugs and snails, but have since stopped. When I would get rid of one, another would be there to take it's place. So now I just enjoy their cute little antics, and let whatever predator do with them what they please. I am not overrun with slugs, so something must be in balance.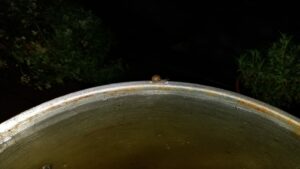 Shadows in the Salon (Sugar Mountain Book 3)
by Kirsten Fullmer


(402 Reviews)
Genre: Mystery
FREE for a limited time
A spooky mystery, a promising romance, and a secret society of scheming women…
The cozy town of Sugar Mountain, NC harbors a secret society of women. The society itself is not secret — it's the devious work of the group that is mysterious.
Michelle owns the Salon, Shear Genius, on Sugar Mountain Main Street, a favorite with the tourists and locals alike. Lately she's dealing with mysterious problems. She's being plagued by spooky and unexplained goings-on. Is it a sign from beyond that she should rethink her life choices?
Matt Hopkins moved to Sugar Mountain after losing his business, but thanks to the lovely and talented Michelle, he is now building an amphitheater in town. It looks like things are finally going his way until Michelle is threatened by an eerie aggressor and the Mayor's involvement spells trouble for his project. Will Matt be able to complete the Amphitheater and help Michelle, or will things with her fall apart as well?
Facing puzzling complications at every turn, The Sugar Mountain Ladies Historical Society go undercover to figure out who is threatening Michelle and the new amphitheater. If they're not careful, the society may fall apart and Michelle and Matt might end a promising romance. Come along for the ride on this zany, enchanting, romantic cozy mystery!
Click here to get this book for FREE
° ° ° ° ° ° ° ° ° ° ° ° ° °
Western Classics – Andy Adams Edition (19 Books in One Volume)
by Andy Adams


(3 Reviews)
Genre: History | Teen & Young Adult
FREE for a limited time
Musaicum Books presents to you this carefully created volume of "Western Classics – Andy Adams Edition (19 Books in One Volume)". This ebook has been designed and formatted to the highest digital standards and adjusted for readability on all devices.
Content:
The Double Trail
Rangering
The Ransom of Don Ramon Mora
Drifting North
Seigerman's Per Cent
"Bad Medicine"
A Winter Round-Up
A College Vagabond
At Comanche Ford
Around The Spade Wagon
The Passing of Peg-Leg
In The Hands of His Friends
A Question of Possession
The Story of a Poker Steer
A Texas Matchmaker
The Outlet
The Wells Brothers: The Young Cattle Kings
The Log of a Cowboy: A Narrative of the Old Trail Days
Reed Anthony, Cowman: An Autobiography
Andy Adams was an American writer of western fiction and was born in Indiana. Since childhood Andy used to help his parents with the cattle and horses on the family farm. Due to this Andy's works have been lauded widely for his first hand and authentic portrayal of the life of a cowboy unlike his contemporaries like Owen Wister who romanticized it.
Click here to get this book for FREE
° ° ° ° ° ° ° ° ° ° ° ° ° °
Back to Reality: Christmas in Sunshine Lake
by Erin Downing


(25 Reviews)
Genre: Romance | Holidays
FREE for a limited time
The perfect holiday romantic comedy, for anyone who needs a fun little break from reality!
Sometimes, taking a step backward is the only way to move forward…
Emilia Rossi never expected to end up on the dating show She's the One!, and she certainly didn't plan to humiliate herself on national TV. But what started as a joke ended with Emilia becoming a reality show punchline. Now, with her New York life and reputation crumbling, she's forced to head home to Sunshine Lake, Minnesota, to figure out her next move.
Emilia spent years trying to get away from Sunshine Lake, and now she's crawling back with her tail between her legs. To make matters worse, everyone in town has seen her embarrassing reality TV debut, including Asher Bergstrom – the high school boyfriend Emilia rambled on (and on, and on… ) about on national TV. But much to her surprise, Asher doesn't seem interested in teasing her; he seems set on rekindling a romance that was obviously never extinguished.
Just when Emilia's starting to get back on her feet and feels her life–in Sunshine Lake, of all places–is finally on the mend, she's offered a chance for redemption. The producers of She's the One! want Emilia to come back to help boost ratings, and she's willing to take any chance to prove she can lead the successful life she's been faking for years.
But to move forward, Emilia must make a decision: trust the reality show that destroyed her to restore her reputation… or give up on her childhood dream to pursue a life with the man she might truly love?
This funny, sweet holiday romance is perfect for fans of Kristan Higgins, The Bachelor, and feel-good romantic comedies.
Click here to get this book for FREE
° ° ° ° ° ° ° ° ° ° ° ° ° °
The Driver: A tale of old San Francisco, murder in broad daylight.
by Steve Bartholomew


(41 Reviews)
Genre: Action & Adventure | Mystery
FREE for a limited time
Sometimes murder happens in broad daylight. In 1877 a man is stabbed on a San Francisco streetcar, but no one sees it happen. How is the driver supposed to clear his name?
Georg Vintner is the Driver. He finds himself suspected of the crime because there's no one else to pin it on. The victim is from a wealthy family, and the DA wants a conviction. The Driver needs to find the killer and prove his own innocence. It's either that or hang.
Genevieve Sutliff is the only other known witness, but she didn't see the killer. The Driver finds himself personally involved with her, to his own surprise and confusion. Mrs. Sutliff, a recent widow, discovers herself equally confused. She will do anything to save her Driver, even if it means telling him some dark secrets.
The Driver must unravel this web of deception and crime before it's too late. His other choices are to run, leaving all behind, or to let them hang him. Now read the tale and travel to a time that haunts us yet today.
Click here to get this book for FREE
° ° ° ° ° ° ° ° ° ° ° ° ° °
The Tomorrow Gene
by Johnny B. Truant, Sean Platt


(191 Reviews)
Genre: Science Fiction | Suspense
FREE for a limited time
From the bestselling authors of the Invasion and Yesterday's Gone series comes The Tomorrow Gene, a disturbing philosophical exploration of the future of genetic engineering and what happens when scientific advancement outpaces our ethics.
What if you could have the one thing that changes everything?
Ephraim Todd has landed in paradise: Eden, the largest artificial archipelago in the world. Eden is home to The Evermore Corporation — a company rumored to have created the Fountain of Youth and offers the ridiculously rich genetic enhancements and modifications the rest of the world can only dream about.
But that's not why Ephraim is on Eden. He's obsessed with finding his brother, who disappeared more than a decade ago. He's sure his brother is on this island.
But Eden doesn't surrender its secrets easily. When Ephraim stumbles upon a disturbing truth, all his evidence mysteriously disappears. He knows they're on to him, but is suddenly unable to trust his own mind. Is the world around him falling apart, or is it just him?
Ephraim believes that he's on a quest to find his brother… but he's really on a journey to discover himself. And what he finds will turn his entire life into a lie.
Click here to get this book for FREE
° ° ° ° ° ° ° ° ° ° ° ° ° °