I was so confused yesterday. There was water falling from the sky. At first I was upset that someone would be so rude as to spray water on me, but then I realized everyone was getting wet. It was the weirdest sight. Something you just don't see in California. We get plenty of fire out here, but not water. It's supposed to be like this all week. Talk about terrible timing. It never rains, except on the days after I release five Monarch Butterflies. They got one or two really nice days to get out there in the world, but then the rain came. I guess they are part of nature and know what to do, so I shouldn't worry about it. GOOD LUCK LITTLE BUTTERFLIES!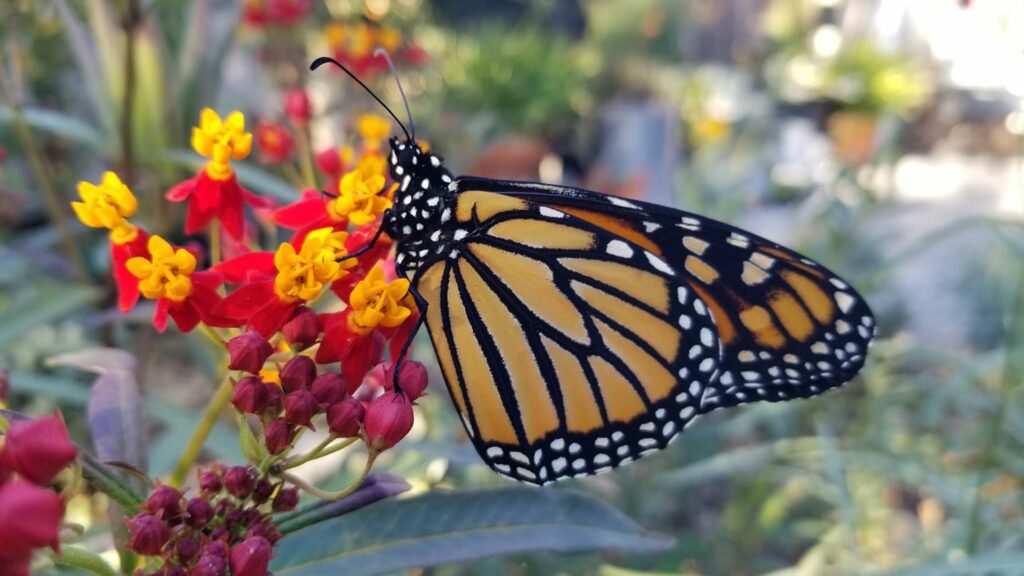 The Dead and the Missing: an Adam Park Thriller
by A. D. Davies


(1,282 Reviews)
Genre: Action & Adventure | Crime Fiction | Men's Adventure
FREE for a limited time
A missing girl. A PI out of his depth. An international criminal network that won't hesitate to kill them both.
Adam Park is a man of contradictions: he hates violence, but he's good at it; he's too sensitive to those in need, yet he'll bury his feelings when danger rises; he's quit the PI game, but – when his old mentor comes calling with a missing person case – he cannot say no.
Returning to his home city, Adam soon learns his mentor's niece made a poor choice of boyfriend, fell under his thieving influence, and both are on the run after crossing a ruthless criminal. So scared, it seems, they fled the UK for Paris, France.
With Adam under threat of death from that same criminal, he must recruit allies to help locate the terrified pair, fight his way through the Parisian underworld and – as he follows the clues and the violence – all the way to Asia.
The Dead and the Missing is an international mystery and crime thriller, featuring a PI who forged his skills in the relative comfort of the corporate world, but must now fall back on his basest instincts and embrace the hard-boiled existence required to get the job done. If he can't, both he and a troubled young woman will meet a grisly end.
If you like tough-guy detectives with a sensitive side, mystery and private investigator crime thrillers, and a violent edge, pick up the first in Adam Park detective series today.
Click here to get this book for FREE
° ° ° ° ° ° ° ° ° ° ° ° ° °
The Other Hotel
by Jack Stroke


(178 Reviews)
Genre: Thrillers | Crime Fiction | World Literature | Humor & Satire
FREE for a limited time
A night to remember in a place to forget.
True* tales from Melbourne's fifth-worst hotel.
(*Well, true-ish. True tales from a post-truth world)
It should have been simple. Go in and steal the cash. But no job is simple when the two guys named Lenny and their buddy Hot Sauce are involved.
Sprinkle in a backpacker who is not what she seems, some cashed-up tourists who don't speak English, a couple enduring the night from hell, not to mention the mysterious Jack the problem solver and you have a night full of sex, drugs and misadventure.
If you love hilarious stories that will keep you laughing and guessing all the way to the end, you'll love Jack Stroke's The Other Hotel.
Get it now.
Click here to get this book for FREE
° ° ° ° ° ° ° ° ° ° ° ° ° °
Heroes of Hastovia Book 1: The First Adventure
by Mark Boutros


(19 Reviews)
Genre: Fantasy | Teen & Young Adult
FREE for a limited time
Will Karl find his true home before he's killed by a crazed Man-Hawk?
Karl's had a rotten week. He lost another job, a tyrant Man-Hawk invaded the only place he ever called home, and to make things worse, a greedy parrot just revealed that Karl isn't who he thinks he is.
Clueless and hopeless, Karl has to find a portal to his real home before he's captured. Luckily he has the help of an Oaf, obsessed with revenge but incapable of killing, and Questions, the last of her kind who can only talk in questions.
And so Karl's adventure begins. He's forced to explore a magical world that terrifies him. He'll make friends, enemies and put his hand in dragon dung. It's an adventure he doesn't want to be on, but one which will change his life… forever.
International Emmy nominated writer, Mark Boutros, brings you a warm, humorous and sometimes dark fantasy about friendship, featuring magic, monsters, morons and more.
Click here to get this book for FREE
° ° ° ° ° ° ° ° ° ° ° ° ° °
Beautiful Storm (Lightning Strikes Book 1)
by Barbara Freethy


(1,559 Reviews)
Genre: Foreign Languages | Romance
FREE for a limited time
In these connected novels, lightning leads to love, danger, and the unraveling of long-buried secrets that will change not only the past but also the future… From #1 NY Times Bestselling Author Barbara Freethy comes the first book in a new romantic suspense trilogy: Lightning Strikes.
When her father's plane mysteriously disappeared in the middle of an electrical storm, Alicia Monroe became obsessed with lightning. Now a news photographer in Miami, Alicia covers local stories by day and chases storms at night. In a flash of lightning, she sees what appears to be a murder, but when she gets to the scene, there is no body, only a military tag belonging to Liliana Valdez, a woman who has been missing for two months.
While the police use the tag to jump-start their stalled investigation, Alicia sets off on her own to find the missing woman. Her search takes her into the heart of Miami's Cuban-American community, where she meets the attractive but brooding Michael Cordero, who has his own demons to vanquish.
Soon Alicia and Michael are not just trying to save Liliana's life but also their own, as someone will do anything to protect a dark secret…
Click here to get this book for FREE
° ° ° ° ° ° ° ° ° ° ° ° ° °
The Art of Active Listening: How to Listen Effectively in 10 Simple Steps to Improve Relationships and Increase Productivity
by Richard Banks
Genre: Parenting & Relationships
FREE for a limited time
Do you want to improve your relationships and productivity, all by simply changing your listening habits? Listening is the forgotten communication skill, but arguably, the most significant. It is a crucial part of our ability to engage and communicate with others. Listening actively, however, takes this skillset up a level. Almost everyone sincerely believes that they listen effectively; however, good listening skills are rare. Most of us have never been taught the habits that would make us effective listeners, so they need to be practiced and developed. As you develop your listening with purpose, understanding and empathy, you will build better trust and stronger relationships.
You already understand the importance of quality communication. But good communication is built not on speaking but on listening. When we learn to actively listen — to listen well — this ability resonates through all our relationships and interactions. Research has found that by listening actively, you will obtain more information, increase others' trust in you, reduce conflict, and better understand the message being delivered.
Eliminate miscommunication and misunderstanding. In 10 easy steps, you can go from being a poor listener to an excellent one. At each step, you'll learn how to navigate the pitfalls of strained communication, transforming your ability to exchange accurate, complete information and deepen emotional understanding and connectedness.
Assess your own areas for growth, and challenge your assumptions and preconceptions about how to best understand those around you. As you remove these barriers, you make room to develop healthy, lifelong habits of effective communication. The chapters of this book will equip you to dramatically improve your listening skills by giving you a more thorough understanding of the processes involved in listening and how to apply them in your own daily life.
This book helpfully breaks down the intricacies of active listening. You'll discover 10 easy-to-learn steps to becoming a better listener, with practical examples of do's and don'ts. These strategies will teach you how to:
• Focus your attention
• Listen with purpose and empathy
• Improve as a leader
• Develop healthier relationships
Discover the psychological processes at work in your communication and the wider ramifications when communication breaks down. Investigate the specific challenges created by the failure to listen, and the reasons people don't listen to you.
Our goal in these pages is to transform your deep listening skills to strengthen your relationships and inspire those around you, with implications for your personal productivity and happiness. Achieve quality results as you learn the significance of:
• Feedback
• Engagement
• Minimizing misunderstanding
• Understanding motives
• Empathy
Each chapter in this book will teach you about a vital component of active listening. While listening sounds simple, it's anything but. Listening well, listening deeply, is an interconnected, complex process. But the result is well worth the effort, equipping you to undo the damage to your relationships inflicted by shallow or dismissive listening.
Be a better leader, friend, and partner by learning to listen well. These 10 simple steps will get you there. Develop new habits of thought and behavior to replace former destructive patterns. Instituting change is challenging and will take time and effort; however, incorporating new habits of deep listening is well worth the effort! You'll see the impact in your life daily — in both personal and professional interactions.
Are you ready to take the leap and completely change your listening? If you're prepared to be amazed by the improvement in your personal productivity and interpersonal relationships, start reading!
Click here to get this book for FREE
° ° ° ° ° ° ° ° ° ° ° ° ° °