Good afternoon y'all. Going off of the theme of some cool sculptures at that same nursery I found this really cool piece! Personally I love upcycling so I think it is really cool! May have to try to recreate it. – The Apprentice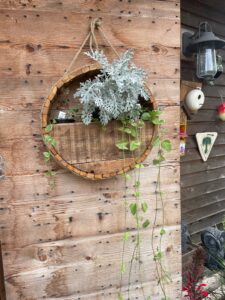 30 Red Dresses
by Johan Twiss

(96 Reviews)
Genre: Thrillers | Suspense
FREE for a limited time
I did not expect to be sold into slavery, especially on my birthday.
While visiting Cambodia, a man stumbles into a human trafficking ring and risks everything to save a young child with a special gift.
(readers 13+)
Click here to get this book for FREE
° ° ° ° ° ° ° ° ° ° ° ° ° °
Mrs Pettigrew Sees a Ghost
by Katherine Hayton


(280 Reviews)
Genre: Suspense | Mystery
FREE for a limited time
Fifty-two-year-old Emily Curtis wants a job so she can rebuild her shattered life. One year ago, a devastating car accident stole her occupation, her home, and half her mind.
Working in the charity shop of a small town in rural New Zealand seems ideal… until she awakens a ghost! Since the annoying spirit won't move on until her murderer is found, Emily sets to work. However, the ethereal Mrs Pettigrew doesn't remember dying, let alone who killed her.
With family remaining close-lipped and old employees keeping secrets, it'll take more than Emily's newfound ability to talk to the dead to solve the crime.
Click here to get this book for FREE
° ° ° ° ° ° ° ° ° ° ° ° ° °
Never Say Goodbye: A True Story
by Robert Gerard Anstey

(240 Reviews)
Genre: History | Romance
FREE for a limited time
16 Million Americans served in World War 2. From every city and every town and every countryside they came. They were ordinary, everyday Americans. The war was won with ordinary Americans, not 16 Million John Waynes, not 16 million seasoned warriors, but the citizen soldiers that set off to free the world because it was the right thing to do. Those shopkeepers, and those truckdrivers, set out as liberators, not as conquerors. They dreamed only of returning home to the life they left behind. The home and the life they loved. They would have never thought of themselves as the greatest generation. To them, the greatest generation was the one they were fighting and dying for, the next generation. This is a true story of some of those ordinary people and of their extraordinary times in the crossroads of history.
Click here to get this book for FREE
° ° ° ° ° ° ° ° ° ° ° ° ° °
Finding Julie 
by Doris Rangel


(73 Reviews)
Genre: Contemporary Fiction | Women's Fiction | Romance
FREE for a limited time
Julie Stuart thought amnesia was something that only happened in fiction — until it happened to her. She doesn't forget everything, though. Just her husband. The doctors say her memory will return one day. But for some reason, she's starting to wonder if she'll like what she learns about her marriage (and herself) when it does…
James Stuart only wanted one thing from Julie — a divorce. Her accident changed everything. Now, she needs his help. She seems… different, too. And he's shocked to realize he likes it. He likes her. But after everything that's happened, trusting love (and Julie) again would be foolish. At least, that's what he keeps telling himself. And yet…
Click here to get this book for FREE
° ° ° ° ° ° ° ° ° ° ° ° ° °
Homemade Organic Bath and Shower Products
by Josephine Simon


(157 Reviews)
Genre: Crafts, Hobbies & Home | Health, Fitness & Dieting
FREE for a limited time
Have you been thinking to yourself that you would really like to try your hand at creating your own all-natural bath and shower products? Have you been approaching the gift giving season looking for ways to bring homemade natural beauty into the lives of your loved ones? If either of these describes you, then this book of all-natural, organic homemade bath and shower products is a dream come true. It is incredibly easy to create your own bath salts, bath teas, bath bombs, shower gels and cleansers, body scrubs, and more.
What makes this even better is that each ingredient in this book is all natural, with no chemical names that you cannot pronounce, let alone really know what they are. The formulas here are luxurious and sophisticated; however, they are so simple to make that even a young child can help. This book is the perfect introduction, or complement, to a lifestyle that focuses on natural health and natural beauty.
Click here to get this book for FREE
° ° ° ° ° ° ° ° ° ° ° ° ° °