Good morning fellow book lovers! I hope you all have a lovely morning. So I think I may have found the smallest strawberry ever! No joke! It is so cute and tiny (you may have to look closely to see it)! – The Apprentice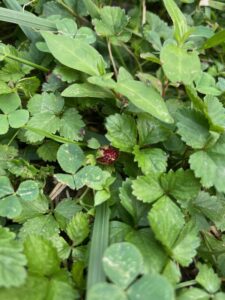 A Rift in Time 
by Clark Graham


(69 Reviews)
Genre: Science Fiction
FREE for a limited time
"What is that sound?" Mary shook Adalwolf Dalton awake.
No sooner had she asked than a light from the outside of the house illuminated the bedroom.
Dalton stood up and grabbed his pistol from the drawer. "It's bad news. It's the time machine."
Senator James has sent the time machine back to rescue Adalwolf Dalton, only, he doesn't want to be rescued. Now, he must figure out how to stop them from building the time machine in the future so they won't irreparably damage the timeline and destroy all their lives.
Click here to get this book for FREE
° ° ° ° ° ° ° ° ° ° ° ° ° °
The Nearness of You 
by Iris Morland


(853 Reviews)
Genre: Contemporary Fiction | Women's Fiction | Romance
FREE for a limited time
Everyone wants to tear them apart. But he's not giving up without a fight.
The last thing Sara Flannigan needs is a man in her life. When she returns to her hometown, she vows to create a happy life for her son and to rebuild her life after a painful divorce. Yet when she meets her son's new doctor, she can't deny the spark of attraction that heats between them.
The problem?
He's Harrison Thornton, the oldest son of the illustrious Thornton family. His family would never accept a woman like Sara, a woman who grew up on the wrong side of the tracks. She tries to ignore the whispers of her past, but she soon realizes secrets can never stay hidden for long.
Click here to get this book for FREE
° ° ° ° ° ° ° ° ° ° ° ° ° °
The Memoirs of Sherlock Holmes
by Arthur Conan Doyle


(2,220 Reviews)
Genre: Mystery | Classics
FREE for a limited time
From his rooms in Baker Street, Sherlock Holmes grapples with forces of deceit, intrigue, and evil in Victorian London.
The Memoirs of Sherlock Holmes inspired The Map of Chaos by New York Times bestselling author Félix J. Palma. As a gift to readers, this ebook edition includes an excerpt from The Map of Chaos.
Click here to get this book for FREE
° ° ° ° ° ° ° ° ° ° ° ° ° °
The Elusive Disease: My Story with Endometriosis & Important insights
by Avivit Zahavi-Binshtok


(15 Reviews)
Genre: Medical eBooks | Health, Fitness & Dieting
FREE for a limited time
A brave and moving book about endometriosis, the elusive disease one in every ten women suffers from.
When death came to her door and just stood there waiting, Avivit Zahavi Binshtok realized she had to move fast and publish the manuscripts she had written and the important information she had gathered about the elusive and difficult to decipher disease – endometriosis.
Through her personal story and ceaseless struggle with the ever-present disease while raising two daughters, Avivit exposes her uncompromising battle for health and hope. She has made it her life's work to raise social and institutional awareness of the disease which affects one in ten women in the world. She aspires to help with the development of a treatment that will prevent the disease from causing so many women pain and to allow them to live a good, normal life.
Click here to get this book for FREE
° ° ° ° ° ° ° ° ° ° ° ° ° °
Feelings Ninja
by Mary Nhin, Jelena Stupar


(30 Reviews)
Genre: Foreign Languages | Children's Nonfiction | Children's eBooks
FREE for a limited time
Does your child struggle with his or her feelings and emotions?
Feelings can change like a roller coaster. An important step in helping children cope with their emotions is to help them recognize and identify them — all of them. Emotions and feelings aren't right or wrong. They just exist. From positivity to frustration and anger, they are all part of the many emotions we experience. When you help your child understand his or her feelings, they are better equipped to manage them effectively.
In this story, Feelings Ninja learns how to recognize, identify, and respond to emotions.
Click here to get this book for FREE
° ° ° ° ° ° ° ° ° ° ° ° ° °