Me: I am not really into house plants.
Also me (and note, this is just one corner):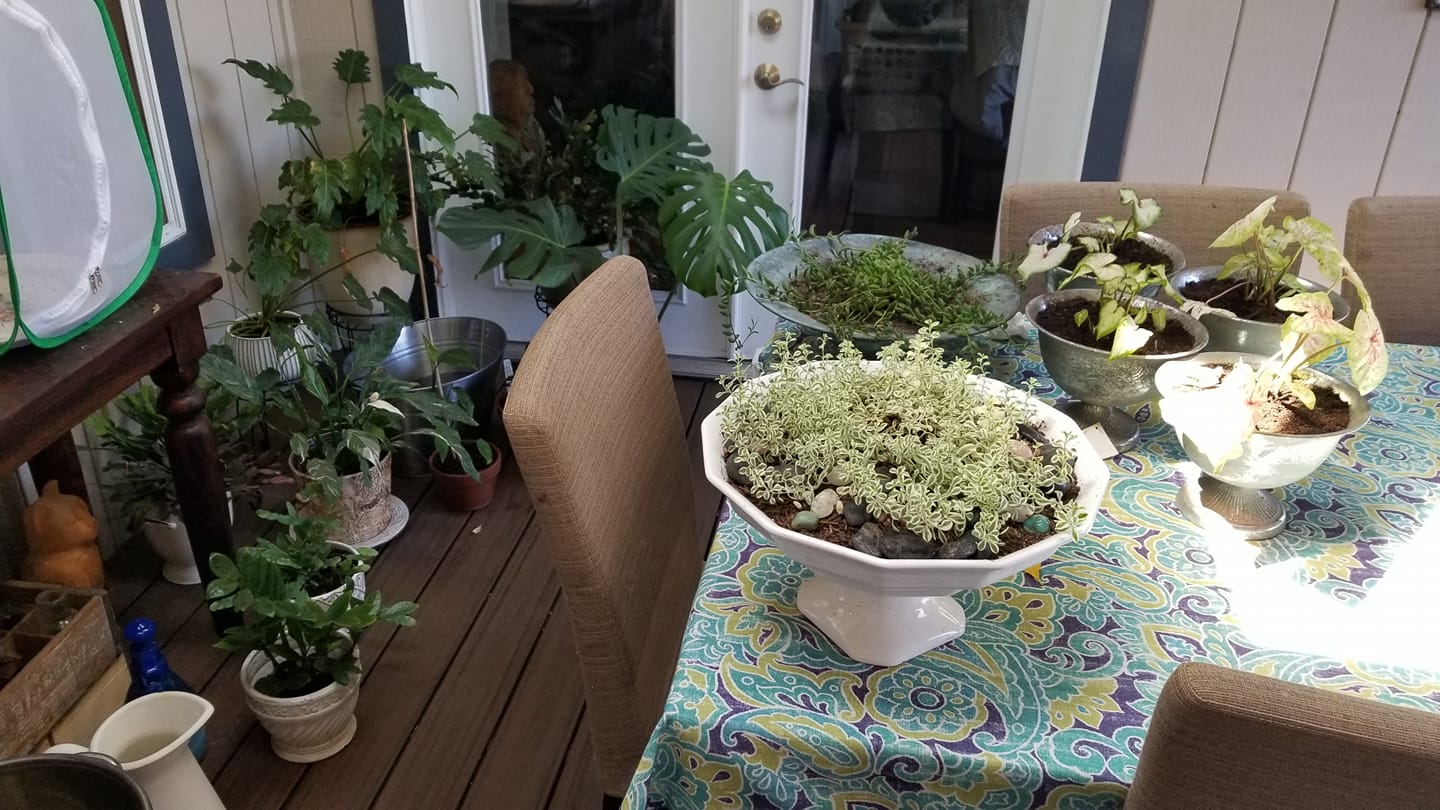 Three Dogs in a Row (Cozy Dog Mysteries, Books 1-3 in the Golden Retriever Mystery series)
by Neil S Plakcy

(261 Reviews)
Genre: Mystery
FREE for a limited time
CAN A DOG REALLY SOLVE A MYSTERY? ROCHESTER CAN!
These are the first three books in the charming, cozy Golden Retriever Mystery Series, set in picturesque Bucks County, PA.
In IN DOG WE TRUST, Steve Levitan has returned to his hometown of Stewart's Crossing, after a bad divorce and a brief prison term for computer hacking. While he's getting his life back together, trying to start a new career in technical writing and reporting regularly to his parole officer, he becomes friendly with his next-door neighbor, Caroline Kelly, and her golden retriever, Rochester.
When Caroline is killed, Steve's high-school pal, the local police detective, asks him to become the dog's temporary guardian. With canine charm and doggy love, Rochester begins to win Steve over, and these two unlikely sleuths work to uncover the mystery behind Caroline's death.
The second book in the series is THE KINGDOM OF DOG. When his mentor, Joe Dagorian, director of admissions at prestigious Eastern College, is murdered during a fund-raising event, Steve Levitan feels obliged to investigate. He and his golden retriever, Rochester, go nose to the ground to dig up clues, including a bloody knife and some curious photographs.
But will Steve's curiosity and Rochester's savvy save them when the killer comes calling?
It's almost time for graduation in book three, DOG HELPS THOSE, and Eastern College is in trouble. A prominent alumna is
dead, and a faulty computer program is jeopardizing student records and financial aid. It's up to Steve and Rochester to dig into the situation and retrieve the culprits!
Rita Gaines wasn't a nice person — but she did love her dogs, and most of her clients respected her financial acumen and her talent in training dogs for agility trials. When she's found dead, there's a long line of potential suspects from Wall Street whiz kids to doting doggie daddies– including one of Steve's former students.
Felae is an art prodigy now studying with Steve's girlfriend, Lili, chair of Eastern's Fine Arts department, and Rita hated his controversial senior project. When she tried to have his scholarship cancelled, he threatened to kill her. But is he the villain behind her death?
In between helping Steve's high school friend Rick track the killer, Rochester practices darting around weave poles and jumping over limbo poles while Steve helps shepherd the college toward the completion of another academic year. It's spring in Stewart's Crossing, and old friends – and their dogs — gather together to investigate and eventually, to celebrate.
Click here to get this book for FREE
° ° ° ° ° ° ° ° ° ° ° ° ° °
Blade Honer, Book One: The Hammer of Greatness (Blade Honer: The Hammer of Greatness 1)
by Maria Kvilhaug


(2 Reviews)
Genre: Historical Fiction | Action & Adventure
FREE for a limited time
In 775 AD, Thorbjörn is the last Thunder Warrior and Thunder priest of an ancient lineage reaching back to the Age of theGreat Stone temples in Götaland has found refuge in the peaceful Baltic River Lands. He knows that he must teach his daughters how to survive and remain free in case of a Viking raid. Little could prepare either seventeen year old Zivah, or seven-year old Thordís for the onslaughts of the Viking Rus, pirates and slavers who were lawless, barbarian men forced into exile in the East. Men eager to profit from the civilizations endless demand for new slaves. Raided and made orphanes, little Thordís embarks on a quest to save her older half sister from rape and slavery while befriending some of the most strange and contrary men to ever exist.
Click here to get this book for FREE
° ° ° ° ° ° ° ° ° ° ° ° ° °
Songs of the Heart: Small Town Sanctuary Series, Book 4 (Crystal Springs Romances 12)
by Mary Jane Morgan


(82 Reviews)
Genre: Family Life | Romance
FREE for a limited time
Jasmine has devoted her life to making her deceased father proud and is now an international photographer with numerous awards. Too busy to build a social life, she certainly has not invested in romantic involvements. When the man she blew off a year ago while photographing a friend's wedding, approaches her at an art exhibit, she is surprised to find herself drawn to him.
When Greg Richardson sees the woman who ignored him at his brother's wedding studying photographs he had been mesmerized by earlier, he approaches her, hoping to make a better impression this go around.
Can a man who loves playing the field and isn't ready to settle down, and a woman who has kept men at a distance her entire life find the courage to turn their lives upside down and take a chance on love?
Click here to get this book for FREE
° ° ° ° ° ° ° ° ° ° ° ° ° °
Operation Sunburn (The Quantum War Campaigns Book 1)
by Jonathan Paul Isaacs


(82 Reviews)
Genre: Science Fiction
FREE for a limited time
Solstice Station. An exclusive resort known for zero-gee swimming pools and fine luxury shopping. Notorious from the stories of the rich and famous, or those who pretend to be.
When a distress call comes in from the famous space station, Lieutenant Wyatt Wills and his platoon mobilize for immediate rescue. Priority one signals were only sent when facing imminent loss of life. And it was the job of RESIT, the Remote Environment Search and Interdiction Teams, to lead the rescue.
But now that they have arrived, everything seems fine. The Solstice crew even denies issuing an emergency.
Hundreds of lives may depend on whether or not Wyatt believes them.
Click here to get this book for FREE
° ° ° ° ° ° ° ° ° ° ° ° ° °
The Danish King's Enemy: England: The Second Viking Age (The Earls of Mercia Book 2)
by M J Porter


(47 Reviews)
Genre: Thrillers | Historical Fiction
FREE for a limited time
Every story has a beginning.
Leofwine has convinced his king to finally face his enemies in battle and won a great victory, but in the meantime, events have spiralled out of control elsewhere.
With the death of Olaf Tryggvason of Norway, England has lost an ally, and Leofwine has gained an enemy. And not just any enemy. Swein is the king of Denmark, and he has powerful resources at his fingertips.
In a unique position with the king, Leofwine is either honoured or disrespected. Yet, it is to Leofwine that the king turns to when an audacious attack is launched against the king's mother and his children. But Leofwine's successes only bring him more under the scrutiny of King Swein of Denmark, and his own enemies at the king's court.
With an increase in Raider attacks, it is to Leofwine that the king turns once more. However, the king has grown impatient with his ealdorman, blaming him for Swein's close scrutiny of the whole of England. Can Leofwine win another victory for his king, or does he risk losing all that he's gained?
The Danish King's Enemy is the second book in the epic Earls of Mercia series charting the last century of Early England, as seen through the eyes of Ealdorman Leofwine, the father of Earl Leofric, later the Earl of Mercia, and ally of Lady Elfrida, England's first queen.
Click here to get this book for FREE
° ° ° ° ° ° ° ° ° ° ° ° ° °
Antichrist, Armageddon, and the Mark of the Beast: Antichrist's Identity Revealed
by Henry Bechthold


(52 Reviews)
Genre: Religion & Spirituality
FREE for a limited time
The Antichrist; who will he be, and where will he come from? Will he arise out of Europe? Will he arise out of America? Will he reign for seven years? What about his "mark", the mark of the beast? Will it be a physical mark, or is it symbolic? And, what about the Battle of Armageddon? Will it be a war between eastern and western nations? Will it be a war against Israel?
All of these questions will be answered in this book. And, all of the answers will come straight from Scripture. The Antichrist's identity will be revealed, as well as where he will come from. Some of the answers will surprise you, because they are not what is being taught by most so-called prophecy experts today. Are you ready for a biblical glimpse into the future? Are you ready for scriptural answers, instead of the opinions of mere men?
Click here to get this book for FREE
° ° ° ° ° ° ° ° ° ° ° ° ° °