Good morning book lovers, happy Friday! It is the weekend! All of this week I have been having to double check my days because my brain is in summer mode, so everyday of the week is just another day. For our last few garden pictures this morning I present to you giant bee! – The Apprentice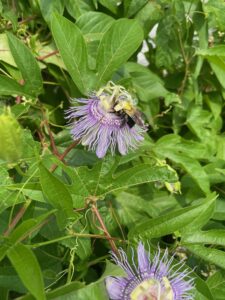 TAGGED BY DEATH: A RILEY MALLOY THRILLER 
by Judith A. Barrett, Judith Euen Davis


(68 Reviews)
Genre: Mystery | Thrillers
FREE for a limited time
Only the dog whisperer can identify a serial killer… Death stalks her.
Riley Malloy has a remarkable talent for understanding her veterinary patients. Unknowingly, she's also the only one who can identify a serial killer. As one murder follows another, the evidence she discovers may lead her to expose the murderer's scheme. When she gets too close, Riley finds herself in the crosshairs of the desperate killer as he escalates to a final murder. Can Riley escape his deadly intentions?
Click here to get this book for FREE
° ° ° ° ° ° ° ° ° ° ° ° ° °
Vampire vs Vatican 
by Gilbert Reid


(3 Reviews)
Genre: Suspense
FREE for a limited time
When massive earthquakes ripple, simultaneously, all over the world, bringing chaos, scientists are puzzled – what is happening?
V, the half-alien ancient vampire goddess, knows.
Cardinal Xavier Ambrosiano, the leader of a secret satanic cult nested deep in the Vatican, has triggered a giant alien device buried deep in North Africa.
Tourists, caught in Rome, flee from dangerous buildings to the open spaces of the Roman Forum, which becomes the stage for a giant bacchanal, celebrating the end of the world. Vesuvius and Yellowstone erupt. Superstorms rage; cities collapse; chaos and terror spread. The end is nigh. At the last moment, just as Earth teeters on the edge of annihilation, just as Rome, the Eternal City, collapses into ruins, V faces off against Cardinal and the Intergalactic Evil Force he has welcomed into our universe. If V fails, humanity's great adventure comes to an end.
Click here to get this book for FREE
° ° ° ° ° ° ° ° ° ° ° ° ° °
The Seven Steps to Closure
by Donna Joy Usher

(1,858 Reviews)
Genre: Literary Fiction | Women's Fiction | Romance
FREE for a limited time
Tara Babcock awakes the morning after her 30th birthday with a hangover that could kill an elephant – and the knowledge she is still no closer to achieving closure on her marriage breakup. Things go from bad to worse when she discovers that, not only is her ex-husband engaged to her cousin – Tash, the woman he left her for – but that Jake is also running for Lord Mayor of Sydney.
Desperate to leave the destructive relationship behind and with nothing to lose, she decides – with encouragement from her three best friends – to follow the dubious advice from a magazine article, Closure in Seven Easy Steps.
Click here to get this book for FREE
° ° ° ° ° ° ° ° ° ° ° ° ° °
My Affair with Mickey
by Tami Casias

(53 Reviews)
Genre: Contemporary Fiction | Women's Fiction | Humor & Satire
FREE for a limited time
Mini discovers her husband is cheating minutes before winning the largest prize in the history of her beloved theme park.
Click here to get this book for FREE
° ° ° ° ° ° ° ° ° ° ° ° ° °
The Adventures of Charlie Marley – Midnight's Moment In Time
by Andrew Luria


(38 Reviews)
Genre: Children's eBooks | Sports & Outdoors
FREE for a limited time
Charlie Marley changed history as we know it. Which is incredible, considering he's the clumsiest kid on God's green earth. All it took was a few wrong turns, a couple accidental slips and one terribly misguided time-traveling golf cart to make it happen. Not to mention the threat of the scariest teacher in the universe, Mrs. Cooper the Pooper Scooper!
Along the way, Charlie and his travel partners meet Babe Ruth, Jackie Robinson, Michael Jordan, Babe Zaharias, John Elway and Mary Lou Retton. They try to dodge the deceptive members of the time travel police. And last–but certainly not least–they witness the most horrifying sight they ever could have imagined.
If they can earn their Time Travel Wings without breaking any of the time travel rules, they just might be able to change the most embarrassing ending in World Series history. But one wrong move, and they'll be sent off to do hard time in a galaxy far, far away. Looking back, perhaps they never should have gotten in that bizarre-looking high-tech golf cart in the first place.
What would you do?!
Click here to get this book for FREE
° ° ° ° ° ° ° ° ° ° ° ° ° °