The picture below looks kinda nice, but I can't stand it! I don't know if I am still in a bad mood from critters eating my fish and tomatoes, or what, but I am looking at my garden and thinking I need to do something drastic. On got on my grubby pants, gloves, and with snippers in hand I am going to take back control of my yard. I know this will in no way keep critters from feasting on my garden, but GOSH DARN IT!!!! This is my domain! Well… there's that and I just can't get to the gate without bees buzzing at my head. CHOPPING TIME!!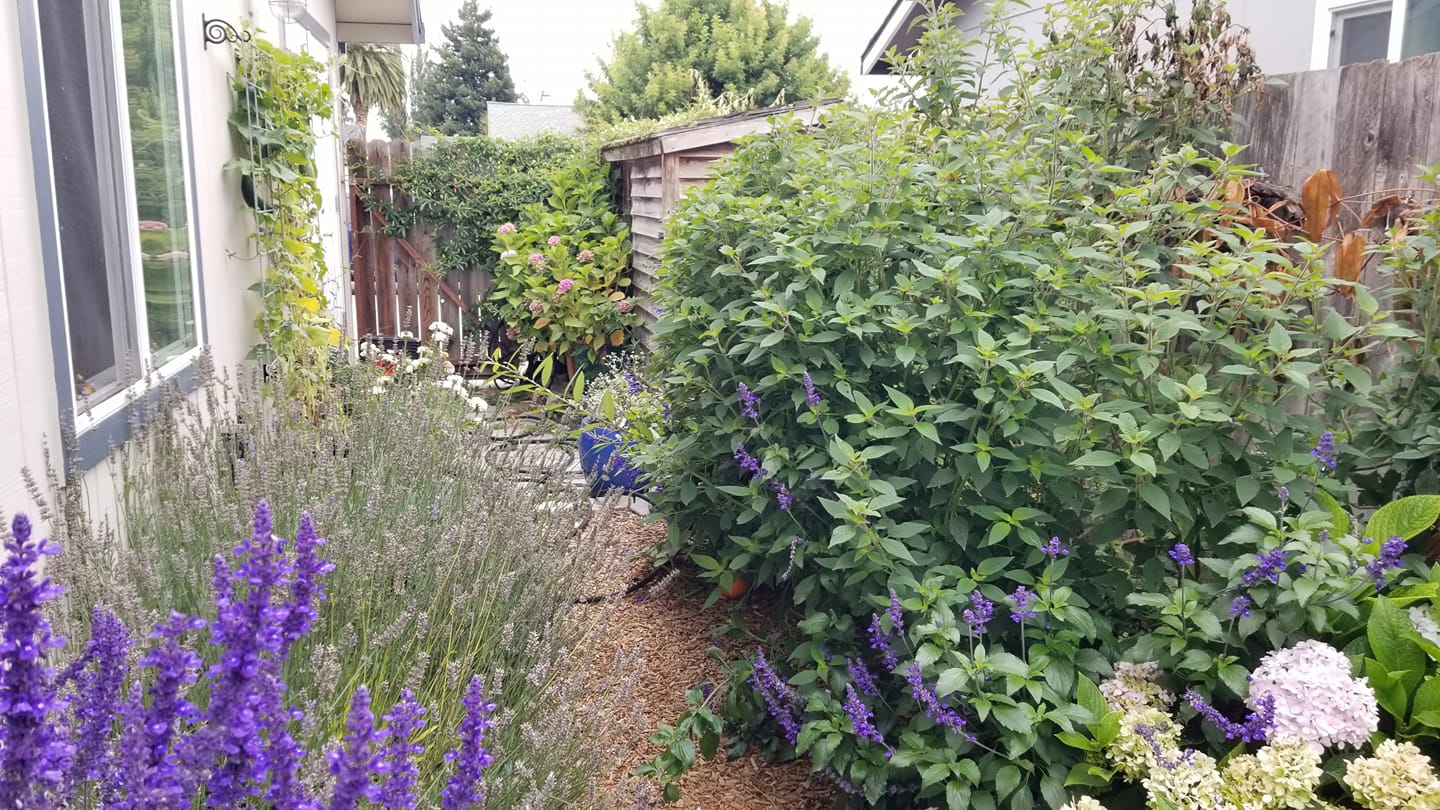 Part of Your World: A Twisted Tale (Twisted Tale, A)
by Liz Braswell


(3,314 Reviews)
Genre: Teen & Young Adult
FREE for a limited time
What if Ariel had never defeated Ursula?
It's been five years since the infamous sea witch defeated the little mermaid… and took King Triton's life in the process. Ariel is now the voiceless queen of Atlantica, while Ursula runs Prince Eric's kingdom on land. But when Ariel discovers that her father might still be alive, she finds herself returning to a world–and a prince–she never imagined she would see again.
Click here to get this book for FREE
° ° ° ° ° ° ° ° ° ° ° ° ° °
The Alchemy of Night
by Nicola Italia


(239 Reviews)
Genre: Romance
FREE for a limited time
Emmeline Bell, the only daughter of a well-known London solicitor, is intelligent, beautiful, and well-loved by her family and friends. Nigel Carey, the second son of Lord Marham, is quiet and reserved yet secretly pines to call Emme his own. When Nigel proposes, Emme accepts it without love knowing the match will give her a comfortable life. She is unaware that Nigel's dark and mysterious older brother, Everett, heir to the earldom, also holds a deep desire for her. Arriving a week early to a mutual friend's annual winter house party, Emme and Everett strike up an unexpected friendship, one that quickly leads to romance. As Everett invokes feelings in her she never thought possible, he urges her to break off her engagement to his brother. However, another young woman who has been scheming to force a marriage with the handsome, wealthy, and titled Everett is found dead in the middle of the winter ball. Suddenly everyone has a motive for murder–even Emme.As the inspector assigned to the case tries to unravel the plot, the list of suspects narrows, and Everett is arrested. Convinced of his innocence, Emme embarks on admission to clear his name. She uncovers overlooked clues and someone suddenly becomes determined to stop her. Emme and Everett must race to unmask the killer before the killer silences Emme forever.
Click here to get this book for FREE
° ° ° ° ° ° ° ° ° ° ° ° ° °
A Spartan's Sorrow: The epic tale of ancient Greece's most formidable Queen (The Grecian Women Series)
by Hannah Lynn


(140 Reviews)
Genre: Historical Fiction | Literary Fiction
FREE for a limited time
All murders must be avenged.
While the rest of Greece mourns for the war that has taken their husbands away, Clytemnestra fears the day it will bring hers back.
When her husband willingly sacrifices their eldest daughter to appease the Gods, Clytemnestra vows to do whatever it takes to protect her remaining children. But in doing so she faces losing them altogether.
A story of love, loss and bitter betrayals, A Spartan's Sorrow shows that sometimes you must risk it all to protect the ones you love.
If you are a fan of vengeful Gods and fierce family rivalries you will love Hannah Lynn's epic tale of ancient Greece's most formidable Queen.
Click here to get this book for FREE
° ° ° ° ° ° ° ° ° ° ° ° ° °
Dessert, Destiny, and Death (Melody Clue Cozy Mystery Book 1)
by Meredith Potts


(60 Reviews)
Genre: Religion & Spirituality
FREE for a limited time
When Melody Clue's life is threatened, her entire world is turned upside down.
For the private investigator, this is a nightmare scenario.
Especially since the threat came from an anonymous source.
Suddenly, Melody finds herself looking over her shoulder, wondering if trouble is just around the next corner.
Rather than taking this terrible situation sitting down, she decides to use her investigative skills to try to uncover where the threat came from.
Will she be successful? Or is she done for?
Click here to get this book for FREE
° ° ° ° ° ° ° ° ° ° ° ° ° °
The Wild Country: A Wild Country Western
by Bobby Underwood


(51 Reviews)
Genre: Westerns | Action & Adventure
FREE for a limited time
As a boy, Wyn Witcomb watches helplessly as his parents are killed during a deadly raid on their homestead. His sister Marly strikes a terrible bargain with the raiders' leader to save him, and he dedicates his life to finding her. Bringing frontier justice to the men who altered the course of his life one by one until he finds their elusive leader, and his sister, he becomes known as the Ghost Rider. Filled with beauty and complexity, with plenty of action for western fans, The Wild Country is a rip-roaring tale in the best tradition of legends told over a campfire. A classic western, painting a deadly but romantic picture of those who tamed a land.
Click here to get this book for FREE
° ° ° ° ° ° ° ° ° ° ° ° ° °