Someone is watching me work very closely…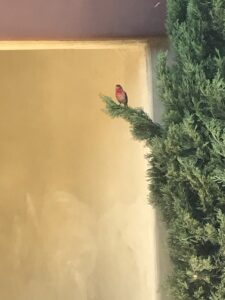 Alaskan Dawn 
by Edie Claire

(748 Reviews)
Genre: Literature & Fiction
FREE for a limited time
Haley knew that carrying her twin sister's baby would be a sacrifice.
She just didn't know how great.
Pregnant, overworked, and driven to the end of her rope by the neediness of the sister and widowed mother who depend on her, a high-powered young attorney seeks refuge with a week's vacation on the Alaskan coast. As overachiever Haley soaks up the serenity of her unexpectedly agreeable surroundings, she finds something else she doesn't expect — deep feelings for the wildlife-loving boat captain who reminds her how to laugh.
With her unborn niece or nephew on the way and thousands of miles of ocean between their lives and careers, Haley and Ben settle for a friendship. But back home in California, the emptiness in Haley's heart begins to fester. When her pregnancy takes a frightening turn, she must examine what really matters — and rediscover the childhood dream she never realized she had lost.
Click here to get this book for FREE
° ° ° ° ° ° ° ° ° ° ° ° ° °
Reluctantly Matched (The Italian Bachelors Book 1)
by Shanna Delaney

(178 Reviews)
Genre: Religion & Spirituality | Religious & Inspirational Fiction | Literary Fiction
FREE for a limited time
She never thought she'd have to take her dream trip alone.
After Samantha dropped out of art school to care for her grandmother, they spent years planning a trip to Florence together… but now her grandmother is dead, and Samantha is left to pick up the pieces of her own life and dreams. She'll start by visiting Florence and studying all the sculptures… and trying not to get distracted by the sculpted jaw of her hosts' son.
Edo has come home to Italy after six years, summoned to take the reins of the family's bed & breakfast — a fate he's dreaded most of his life. He's not even home a day before his mother is pushing him to play tour guide for their current guest, a pretty girl who seems different from the tourists Edo remembers.
As Samantha lets Florence open her heart, Edo lets her open his eyes to the city and home he'd forgotten how to love — but Samantha only has ten days in the country; will ten days be enough to discover what they really want from life?
Click here to get this book for FREE
° ° ° ° ° ° ° ° ° ° ° ° ° °
Murder in Nice
by Susan Kiernan-Lewis


(521 Reviews)
Genre: Mystery
FREE for a limited time
The French Riviera is the ultimate travel destination… unless murder is on the itinerary.
When an old high school friend is murdered on the Côte d'Azur while auditioning for the hit TV travel show "Americans See Europe," Maggie is forced to break away from village life and new motherhood to find the killer. Her sleuthing takes her from the sun-drenched beaches of Saint-Tropez to the cafes and backstreets of Arles, across lavender fields and stunning medieval ruins and straight into the evil hands of her most diabolical adversary yet.
Can Maggie find her friend's killer before an innocent man pays for the crime? And can she do it without paying the ultimate price herself?
Click here to get this book for FREE
° ° ° ° ° ° ° ° ° ° ° ° ° °
Blue Harmony: A Second Chance Romantic Comedy
by Mary Kelly Reed


(157 Reviews)
Genre: World Literature | Humor & Entertainment | Foreign Languages
FREE for a limited time
Amy is tired of sabotaging all of her relationships because of Ethan. He broke her heart years ago, and she let him get away unscathed. It's time for her to confront him and rewrite the past.
Determined to set things right, she flies away with her friends for the blue skies of Santorini to carry out her plan; a plan that begins to collapse as soon as she crosses Ethan's gaze.
Surprise guests and an idyllic romantic setting will further complicate her designs. Is she right to insist, or will stirring up the past prove to be a dangerous game?
Click here to get this book for FREE
° ° ° ° ° ° ° ° ° ° ° ° ° °
No Bake Recipes for Kids 
by Debbie Madson


(79 Reviews)
Genre: Children's eBooks | Children's Nonfiction | Cookbooks, Food & Wine
FREE for a limited time
This No-Bake Cookbook for Kids is a nice choice for kids under ten already interested in cooking. The 50 recipes that don't require an oven or a stovetop; this enables the kids to do most of the work alone -under the supervision of an adult, of course.
It's a starter cookbook for picky eaters and no other cookbook will encourage them to try out new foods with such enthusiasm. All the 50 recipes are straightforward, and each has at least a fun step a kid can perform. You'll also like the fact that the cookbook is packed with plenty of healthy dishes from breakfast to desserts and snacks.
Click here to get this book for FREE
° ° ° ° ° ° ° ° ° ° ° ° ° °