I blinked and my birdhouse gourds and loofah went BONKERS! We had a pretty hot weekend, so that certainly gave them the extra boost they needed to really take off. I haven't posted any pictures or said anything about them because they really hadn't done much of anything. I thought maybe they weren't going to grow at all. Until I went outside this morning and noticed they had grown at least an inch or two just over the weekend. CRAZY! The one on the right wasn't even close to the bottom of the trellis, but as you can see he is touching it now. The birdhouse gourds in the center pot are filling out fast and are almost to the trellis as well. The one on the left is a little slower, but that might be the nasturtiums smothering them a bit. they look so pretty though, I hate to destroy them. Maybe later.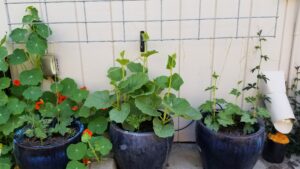 A Season to Dance
by Patricia Beal


(235 Reviews)
Genre: Religion & Spirituality | Religious & Inspirational Fiction | Classics
FREE for a limited time
Everyone has a dream. A passion. You work hard, you get there. Right? But what if you don't get there? Despair? It happens… Then what? Give up? Try harder? What if all this time, you've been going after the wrong dreams? What if the best part of life hasn't even started?
Ana Brassfield tries everything to be happy. An important career. A dream of dancing. A famous boyfriend. A move overseas. But all she experiences is a series of almost successes with a side of heartbreak. Then when she hits rock bottom, a stranger opens an unexpected door. Could she change her whole life? Should she? Or would this be another mistake in a life defined by rushed decisions and wrong turns?
A Season to Dance is a journey. From hard to better. From striving to being.
Click here to get this book for FREE
° ° ° ° ° ° ° ° ° ° ° ° ° °
The Ghosts of Varner Creek
by Michael Weems


(948 Reviews)
Genre: Mystery
FREE for a limited time
From Amazon Bestselling Author Michael Weems, author of The Ghosts of Varner Creek, Border Crossings, and When Emily Went Missing
"That dead woman is standing out in the hall by my door again."
Solomon "Sol" Mayfield did not know he was about to die as he spoke those words of introduction to The Ghosts of Varner Creek. But Sol's death was just the beginning of this tale, for on the other side he was met by the spirit of his sister who, along with Sol's mother, disappeared when Sol was just a child in 1909.
All his life Sol thought he knew what had happened to his mother and sister, but the ghosts of his past had guarded their secrets well, and it is not until Sol is among them that he discovers the complicated and shocking truth.
Click here to get this book for FREE
° ° ° ° ° ° ° ° ° ° ° ° ° °
Unknown Omega (Alpha Elite Series Book 1)
by V.T. Bonds


(124 Reviews)
Genre: Thrillers | Erotica | Action & Adventure
FREE for a limited time
Readers 18+
Alpha Elite Series Book 1
Her
Wretch. Cur. Useless.
These are the things I'm called, for I am nameless.
Overworked. Abused.
This is my life.
My body may be weak, but my will refuses to break.
Yet one glance from a stranger at the market sends my defenses crumbling.
Can I survive him?
Him
Cunning. Fierce. Lethal.
A weapon in human form, there is no task beyond me. No mission I can't complete. No target I cannot annihilate.
As Alpha Elites, my unit is the deadliest on the planet. Our newest mission requires a trip to the most derelict city on the planet.
Finding my Omega lifemate is not part of the plan.
Will she be my first failure?
*This story is not for the faint of heart. It is a dark action-packed Omegaverse story set in a world where violence and sexual situations occur, sometimes together. Scenes are not glossed over. Sensitive readers please abstain.*
Readers 18+
Click here to get this book for FREE
° ° ° ° ° ° ° ° ° ° ° ° ° °
The Warm Machine: An Apocalyptic Dystopian Thriller (Humanity Series Book 1)
by Seth Rain


(168 Reviews)
Genre: Science Fiction
FREE for a limited time
Scott Beck knows the date and month he will die.
What he doesn't know is which year.
Minutes away from surviving another April 22nd, someone knocks at his door…
In a near-dystopian future, Artificial Intelligence has uncovered the clockwork nature of the universe.
And now, because of the intervention of a religious organisation of Watchers, soon everyone on the planet will discover the date, month and year they will die.
Combining dystopian, post-apocalyptic, and cyberpunk fiction, The Warm Machine is the first novel in the haunting five-part Humanity Series, depicting a future in which humanity is on the brink of annihilation.
It's not the end of the world… only humanity.
Begin the adventure before it's too late!
Click here to get this book for FREE
° ° ° ° ° ° ° ° ° ° ° ° ° °
Death in Dalkinchie (Dalkinchie Mysteries Book 1)
by Carly Reid


(154 Reviews)
Genre: Mystery | Contemporary Fiction
FREE for a limited time
It's the annual Dalkinchie Craft Show, and one thing seems certain – Margaret Mustard's orange and whisky marmalade will take top prize, again.
Jessica Greer is settling in to life in a Scottish village, balancing her job as a junior reporter with new friendships and attempting to house-train Willow, her Aunt Reenie's spaniel puppy. When the head judge is poisoned, Jessica's extensive notes, observational skills and ability to be in the wrong place at the right time are put to the test again. Can Jessica narrow down the list of suspects to find the killer before there's another victim?
If you love locked room mysteries, quirky characters, and a Scottish small-town setting, you'll love Death in Dalkinchie.
This is the first full-length novel in the Dalkinchie Mysteries series.
Click here to get this book for FREE
° ° ° ° ° ° ° ° ° ° ° ° ° °