A rose to help you through the rest of Monday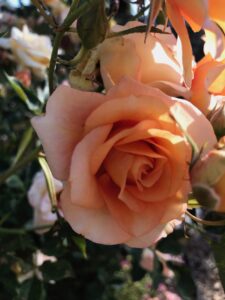 The Moonglow Cafe
by Deborah Garner


(1,691 Reviews)
Genre: Mystery
FREE for a limited time
New York reporter Paige MacKenzie has a hidden motive when she heads to the small town of Timberton, Montana. Assigned to research the area's unique Yogo sapphires for the Manhattan Post, she hopes to reconnect romantically with handsome cowboy Jake Norris. The local gem gallery offers the material needed for the article, but the discovery of an old diary, hidden inside the wall of a historic hotel, soon sends her on a detour into the underworld of art and deception.
Each of the town's residents holds a key to untangling more than one long-buried secret, from the hippie chick owner of a new age café to the mute homeless man in the town park. As the worlds of western art and sapphire mining collide, Paige finds herself juggling research, romance and danger. With stolen sapphires and shady characters thrown into the mix, will Paige escape the consequences of her own curiosity?
Click here to get this book for FREE
° ° ° ° ° ° ° ° ° ° ° ° ° °
Phoebe Deane
by Grace Livingston Hill


(204 Reviews)
Genre: Religion & Spirituality
FREE for a limited time
In this sequel to the previous book, Marcia Schuyler, Phoebe Deane is a story of a simple and kind protagonist who is cornered from all the sides by the prospects of a loveless and violent marriage, a scheming sister-in-law, and her ill-mannered niece. Will Phoebe ever get to find her true love? Or will she be forever stuck in this hopeless situation?
Click here to get this book for FREE
° ° ° ° ° ° ° ° ° ° ° ° ° °
Love At First Kiss 
by Olivia T. Turner

(224 Reviews)
Genre: Contemporary Fiction | Women's Fiction
FREE for a limited time
It was only supposed to be one night. A thousand dollars to pretend to be Nolan Cline's girlfriend. How could I say no to that?
I was probably the only virgin escort on the planet, but Mr. Cline didn't have to know about my lack of experience for the job.
All I had to do was hang onto his arm, smile, and look presentable to the rich CEO billionaire's friends and coworkers.
It was all great until I saw the possessive and territorial look in Nolan's eyes when he first spotted me in my red dress… Then, I knew that there wouldn't be any pretending between us.
Click here to get this book for FREE
° ° ° ° ° ° ° ° ° ° ° ° ° °
Academic Curveball (Braxton Campus Mysteries Book 1)
by James J. Cudney, Nicki Kuzn


(270 Reviews)
Genre: Teen & Young Adult
FREE for a limited time
Who killed Professor Abby Monroe?
When Kellan Ayrwick returns home for his father's retirement, he finds a body in Diamond Hall's stairwell. Unfortunately, Kellan has a connection to the victim, and so do several members of his family.
Soon after, the college's athletic program receives mysterious donations, a nasty blog denounces his father, and someone attempts to change students' grades. Something is amiss on campus, but none of the facts add up.
With the help of his eccentric nana, Kellan tries to stay out of the sheriff's way and solve the mystery. But can they find the killer before he strikes again?
Click here to get this book for FREE
° ° ° ° ° ° ° ° ° ° ° ° ° °
Rainwater Harvesting and Use
by Anthony Zagelow, Gilbert Garden Publishing


(65 Reviews)
Genre:
FREE for a limited time
There is a global water crisis that is growing worse each day and we all need to take action to secure water for our own use. Water security is something we all can learn to do via rainwater harvesting. Water conservation isn't enough so learning the basics of rainwater harvesting is a must. This isn't a challenging task if you understand the basics steps and act now.
This book clearly explains what you need to know about the basics of rainwater harvesting systems.
Click here to get this book for FREE
° ° ° ° ° ° ° ° ° ° ° ° ° °