I know it sounds silly, but I am so excited to give you all a lizard update. As you may remember me saying, I have never seen a lizard in my yard in all the 14 years I have lived in this house. Last year I ripped out the front lawn, put in a dry riverbed, and planted bee, butterfly, and humming bird friendly plants. I was overjoyed when the bugs and birds came, but I was especially thrilled when I lizard decided that my yard was a great place to call home. I thought I had reached the highest level of awesomeness. That is until this weekend when I noticed my little lizard buddy had a new friend! YEEHAW!!! I know… these are the most common lizards in the world, but still. Taking pictures of these guys is extremely hard since they are so fast, but I did get one to show off. Everyone. I am happy to introduce you to….. my front yard lizards. Umm… I don't have names for them yet. Any suggestions?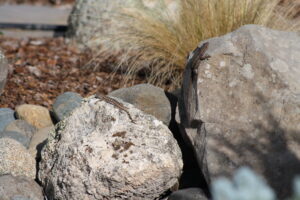 The Side Hustle (The 509 Crime Stories Book 1)
by Colin Conway


(816 Reviews)
Genre: Thrillers | Crime Fiction | Mystery
FREE for a limited time
A financial blogger's death. A detective's shameful secret. Murder binds them together.
A young man is found dead at the bottom of his stairs.
Could it simply have been an accident or was it something more sinister?
That's the question Major Crimes Detective Quinn Delaney must answer. Along with his partner, Detective Marci Burkett, Quinn soon discovers that there are unseen layers when it comes to this case.
Unfortunately, someone's meddling in the investigation — a friend of the deceased hoping to help. He's sticking his nose where it doesn't belong, causing the wrong people to take notice, and creating new problems for the detectives.
Secrets, lies, and double crosses will be exposed as they hunt for the truth.
But Quinn has his own secret he's hiding from both his partner and the department — one which could derail his career.
Can he find the murderer while keeping his secret intact?
The Side Hustle is the first book in The 509 Crime Stories, a series of novels set in Eastern Washington with revolving lead characters. If you like police procedurals with compelling personalities, then you'll love this story.
Click here to get this book for FREE
° ° ° ° ° ° ° ° ° ° ° ° ° °
Uneasy Fortunes
by Mandi Ellsworth

(22 Reviews)
Genre: Historical Fiction | Romance
FREE for a limited time
Battered by his past, Pete knows he has no business falling for anyone. But when time can't heal a wound, love steps in to make it right. Inspired by a true story of the post-Civil War South, this gentle rustic romance will pull you in from the first page and leave you with a renewed hope in the power of real love.
Click here to get this book for FREE
° ° ° ° ° ° ° ° ° ° ° ° ° °
Old Magic – (Sheriff Ben Logan urban fantasy modern western mystery series Book 1)
by Chris Lowry


(24 Reviews)
Genre: Fantasy
FREE for a limited time
OLD MAGIC
Cowboys and magic can't exist.
Can they?
Ben Logan knows the truth.
He's the half magic Sheriff at the edge of a vast Indian Reservation.
A stronghold of old Magic. Capital M.
They're fenced in, regulated.
Trapped.
But a new Chairman has big plans to take back what was lost.
When a body shows up across the border of the Rez, can the Sheriff find the killer before another innocent dies?
Or is he in over his head against a power he couldn't even imagine?
Fans of Longmire and big sky country are going to love this brand new urban fantasy series set in the vast wilderness of the American northwest, where the men and women are as large as the landscape and everything you thought you knew about magic and the old people gets turned on its head.
Click here to get this book for FREE
° ° ° ° ° ° ° ° ° ° ° ° ° °
BED, BREAKFAST, and BONES: A Ravenwood Cove Cozy Mystery (book 1)
by Carolyn L. Dean


(1,948 Reviews)
Genre: Mystery
FREE for a limited time
Amanda Graham inherited a rundown bed and breakfast, a starving cat, and some dead guy who's buried in her garden!
What should've been a simple remodeling project and a new business in a small Oregon beach town winds up with her uncle named as the number one murder suspect, a slew of odd neighbors and problematic townspeople, and Amanda wanting to just sit down and eat her weight in chocolate pie.
Sure, she could pack her bags and travel back to LA… or should she dig in, heal from her failed romance, and find a whole new set of friends and adventures in Ravenwood Cove?
And how could a quiet little coastal village have so many secrets?
Includes the free recipe for Amanda's (and the author's) favorite cinnamon rolls. First novel in the Ravenwood Cove ebook series. Paperback and audiobook (with Whispersync) versions coming soon. Mild PG rating (because hey, there's a dead guy in it).
Click here to get this book for FREE
° ° ° ° ° ° ° ° ° ° ° ° ° °
Noah's Treehouse | If Not You, Then Who? Series | Teaches Young Readers 4-8 How Curiosity, Passion, and Ideas Materialize Into Useful Inventions : Picture Book
by David Pridham, Emberli Pridham


(26 Reviews)
Genre: Children's eBooks
FREE for a limited time
It's finally treehouse day! And seven-year-old Noah Fairley cannot wait to start building. But as Noah, Dad, and Grandpa get to work, they run into one problem after another. Determined to finish the treehouse in time for the meteor shower, Noah looks for inventions that will solve their problems and imagines helpful tools that he could invent.
If you like fun, informative, and factual kid's books like The Magic School Bus, then you'll love the new STEM series If Not You, Then Who?, a recent Amazon bestseller. The books are fun to read for both adults and children and can be read on multiple levels. Younger children will relate to the main storyline, while older children will enjoy diving into the backstory of the inventions. All children will be invited to imagine their own creations. The series aims to show that no dream is too big, and no dreamer is too small to succeed.
Written by David and Emberli Pridham and presented by Dominion Harbor, a leading intellectual property firm, If Not You, Then Who? aims to teach children about the inventions and patents in everyday life, inspiring them to create their own.
Click here to get this book for FREE
° ° ° ° ° ° ° ° ° ° ° ° ° °