I want to thank Judy A. for the awesome name suggestion for the two lizards that have moved into my front yard. I am terrible with naming pets and creatures that move into my yard.  I am even worse at remembering them. Most of the time I name any pairs Bert & Ernie. WHY??? I like the Muppets Bert and Ernie, but not ever pair needs to be named after them. The other pair name I always fall back on is Thelma & Louise. We all know how that ended and I certainly don't want that fate for my sweet lizards. So I needed a name that is both easy to remember and cute. Everyone! My wild and crazy lizards names are… Liz & Ardy! Hahaha… seriously… I really should be able to remember those names.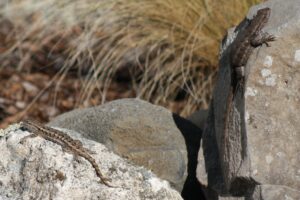 If you would like to know what the latest update is in my garden check out my latest post on Pollen Patch "April In The Garden" by clicking here!
Also… If you want to see my post on Pollen Patch about the amazing place I stayed at in Tucson Arizona click here. It's sure to put a smile on your face. Okay… it starts out kind of a bummer, but trust me… you will be smiling in the end.
The Strongman And The Mermaid (The Donora Story Collection Book 2)
by Kathleen Shoop


(488 Reviews)
Genre: Historical Fiction | Sagas
FREE for a limited time
2019 Donora, Pennsylvania
Ninety-one-year-old Patryk Rusek hides in his attic, hoping the searchers think he's escaped. When Lucy finally bursts in, she discovers her beloved grandfather clutching a fat, hand-illustrated, antique book. In it is the story of Donora, the town that shaped America, its people and Patryk himself. Before long, Lucy and her son Owen lose track of their goal to get Grandpa Patryk somewhere "safe" as they're drawn into the book, back in time, into stories that read like real-life fairytales born of purpose, hard-work, and chance.
1910 Donora, Pennsylvania
In the early dawn of Donora, Pennsylvania, the mills make and shape the steel that builds America. Mary Lancos lives in a home on the hill overlooking town and its mighty Monongahela River. That tiny house bursts with her siblings and boarders. Wind whipping through the walls and windows makes Mary determined to marry well and create a better life.
Shy Pole, Lukasz Musial, arrives in Donora seeking the clear blue skies, green lawns, and better life he'd seen pictured on a postcard. Settled in Donora's Polish community, Lukasz secures a coveted job in the wire mill. Life is set on course to achieve the American Dream. All he needs is a wife who believes in him, in his mighty, quiet, strength.
After a series of casual, friendly meetings, fate brings Mary and Lukasz to the river under a snowy, pink moonlit sky and everything changes. Their attraction is sudden and consuming, turning the pair onto an unexpected path. With mounting disapproval from Mary's parents she and Lukasz must decide if love is enough to risk losing everything else that matters.
Click here to get this book for FREE
° ° ° ° ° ° ° ° ° ° ° ° ° °
Graveyard Guardians Box Set: Books 1-3 Plus Prequel Novella
by Jennifer Malone Wright, Ink Slasher Editing, We Got You Covered


(588 Reviews)
Genre: Fantasy
FREE for a limited time
They protect souls… but forget to protect their own.
*INCLUDES BOOKS 1-3 PLUS PREQUEL NOVELLA*
This series is intended for an 18+ audience
With over 200 five star reviews and over a thousand ratings, find out why readers call this series Romeo and Juliet with a paranormal twist.
Book 1:
When her father died, Lucy Mae Estmond inherited the family business. She has known all of her life that she would be in line to watch over the souls of the recently passed, keeping them safe from the Reapers.
The soul eating Reapers have been a plague upon the Earth, stealing souls and leaving the Keepers as the only thing that stands between Heaven and Hell. The factions despise each other and have warred for generations.
Then Lucy discovers an ancient legend predicting the arrival of the Chosen One, destined to bring forth an end to the Reapers. The surprises continue when she realizes she is that person. For Lucy, being the Chosen One doesn't change much. Fighting Reapers is just another day in the life of a Keeper.
When she meets Jack Walker, they both realize they have an insane, mutual attraction. Too bad that he's been sent to prevent the prophecy from coming true. His only mission: to kill the Chosen One.
Book 2:
The love of her life left her long ago, shattering her heart into a million pieces. It's taken Hannah almost twelve years to push away the hurt and move on with life. That is, until the death of a Reaper brings Detective David Foster back to town and their paths cross once again.
With more and more of the soul-eating Reapers passing through town in search of the Chosen One, who happens to be her sister Lucy, the Estmond family has been busy enough. Now, they rally together in hopes of keeping Hannah out of prison.
With all the trouble lately, being a Keeper, a protector of souls, has never been more difficult for Hannah. Will she forgive David and rekindle their relationship? More importantly, will he find out she is the one responsible for the murder he is investigating?
Book 3:
The Reapers are coming…
The Keepers are ready to fight… to defend their home and the souls, no matter what the cost.
Olivia Estmond is tired of waiting to be attacked. It is time for the Keepers to strike first against the Reaper Empress. Preparing to fight is not a new concept for Liv, but living with a target on your back is not something she has ever dealt with. The Reapers were ordered to take out the entire Estmond family, and unless the Keepers did something about it, they wouldn't stop until their mission was complete.
Not long ago, Aiden was a high-ranking soldier in the Reaper Army, but now he has fallen from grace in the eyes of the Empress. More than that, he wants his best friend back. He grew up with Jack and the two were once like brothers. Now, more than ever, he needed his brother. However, what he didn't expect from becoming a double agent, was the attraction to a sexy red headed Keeper that came with the job.
Summer Hollow – Prequel Novella
Killing Reapers is just another day in the life of a Keeper.
Kat Davenport spends her nights guarding souls and attends high school by day. The Bay Area graveyards are a hot bed for Reaper activity and slow nights are rare. She is good at what she does and loves every minute of it. But when she and her father are suddenly reassigned to the blink and you'll miss it town of Summer Hollow, she is far from happy about the move.
Gregory Estmond has taken over the graveyard in Summer Hollow. His family has guarded this Graveyard for generations and now it was all his, or so he thought. Another Keeper has been sent to help him until he comes of age. Which would be totally fine, but it wasn't just one Keeper, his daughter arrived with him. Kat was loud mouthed, inappropriate at times and fearless. Two out of three of those things were completely the opposite of him.
Click here to get this book for FREE
° ° ° ° ° ° ° ° ° ° ° ° ° °
Captured by the Pirate Laird (Highland Force Book 1)
by Amy Jarecki


(686 Reviews)
Genre: Romance
FREE for a limited time
Wed by proxy to a baron old enough to be her grandfather, Lady Anne trudges up the gangway of a galleon that will deliver her into the arms of a tyrant. Crestfallen, she believes her disastrous life cannot get worse — until she awakes to the blasts of cannon fire.
Facing certain death, Anne trembles in her stateroom while swords clash and the chilling screams of battle rage on the deck above. When a rugged Highlander kicks in her door, she prays for a swift end.
But Laird Calum MacLeod has a reason for plundering the ship — and it's not a stunning English lass. With no other choice, he takes Anne to his crumbling keep on the isle of Raasay and sends a letter of ransom to her husband. In time, Anne grows to understand MacLeod's plight and finds it increasingly difficult to resist Calum's unsettling charm — until the baron sends a reply agreeing to terms.
Ripped from passion that will be forever seared into their souls, will Anne and Calum risk everything for love?
Click here to get this book for FREE
° ° ° ° ° ° ° ° ° ° ° ° ° °
The Rustlers of Pecos County (Western Classic): Wild West Adventure
by Zane Grey


(378 Reviews)
Genre: Westerns | Action & Adventure
FREE for a limited time
This adventure classic follows two Texas rangers. They are sent to small town of Linrock in order to beat the gang of rustlers who are controlling the town. However, they will fall in love with two girls who may be related to the leader of the gang of rustlers…
Zane Grey (1872-1939) was an American author best known for his popular adventure novels and stories that were a basis for the Western genre in literature and the arts. With his veracity and emotional intensity, he connected with millions of readers worldwide, during peacetime and war, and inspired many Western writers who followed him. Grey was a major force in shaping the myths of the Old West; his books and stories were adapted into other media, such as film and TV productions. He was the author of more than 90 books, some published posthumously and/or based on serials originally published in magazines.
Click here to get this book for FREE
° ° ° ° ° ° ° ° ° ° ° ° ° °
A Stoneybrook Mystery Collection: A Cozy Mystery Box Set Books 1-3
by Eryn Scott


(226 Reviews)
Genre: Mystery
FREE for a limited time
Even small towns have secrets…
A Crafty Crime: Book 1
Hadley James is finally living the life she's always wanted: making jam and selling it at the local farmers market. When the local knitting store owner asks her to cat-sit, Hadley doesn't give it a second thought. What could go wrong? A lot, apparently. Suddenly, her simple cat-sitting job has turned into a murder investigation and life no longer seems so perfect.
Her twin brother, a deputy sheriff, is on the case but they've always done everything together and she can't help but get involved. Plus, it's much easier for Hadley to infiltrate the local knitting club than it is for her brother.
Following a trail of crafty clues, the James twins learn that their sleepy town might be harboring more darkness than they could've imagined.
A Fresh Kill: Book 2
There's nothing like the Stoneybrook farmers market in summer. Fresh flowers, organic veggies, delicious jams… and a dead body. When an outsider turns up murdered, all of the evidence points to his rival, Stoneybrook's beloved florist.
Unable to believe a pillar of their community could be guilty of such a heinous crime, Hadley dives head-first into the investigation. Sure, she's busy looking for a new house, running her business, and dealing with her ex–who's back in town–but Hadley is determined to find the truth before the wrong man goes to jail.
A Sweet Death: Book 3
When a local teen goes missing, the town of Stoneybrook fears the worst.
Hadley is sure Miranda's disappearance has nothing to do with the drug dealer who was found dead in Cascade Ridge. The charming, candy-shop cashier is entirely too sweet to get involved in any of that. But when the clues pile up, Hadley can't help but draw parallels.
Suddenly autumn isn't feeling like the cozy season Hadley loves, and the clock is ticking faster than the leaves are falling.
Every moment counts in a missing persons case, but whom do you suspect when the victim is beloved by all?
Or is she?
Each Stoneybrook Mystery comes with two canning recipes from Food in Jars creator, Marisa McClellan! Enjoy!
Click here to get this book for FREE
° ° ° ° ° ° ° ° ° ° ° ° ° °