I know things are finally starting to open up, but I just finished creating my Peep Army, so I am not sure I really want to get out of the house just yet. Can I hit the snooze button and get a few more months?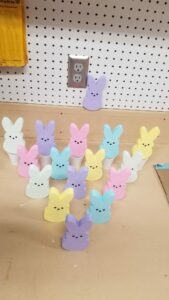 Check out the latest and greatest things that are happening in the garden on my other blog Pollen Patch. My latest post, "March in the Garden" explores my new favorite plant the Nemesia. Also, find out what plant I am not too impressed with and will do everything in my power to show a little patience with. Click here to check it out!
Dirty Little Secrets (J.J. Graves Mysteries Book 1)
by Liliana Hart


(4,970 Reviews)
Genre: Mystery, Thriller & Suspense
FREE for a limited time
From New York Times bestselling author Liliana Hart comes a series that will knock your socks off! A smart blend of J.D. Robb's, Eve Dallas and Bones, J.J. Graves is a character everyone can root for.
J.J. Graves has seen a lot of dead bodies in her line of work…
She's not only in the mortuary business, but she's also the coroner for King George County, Virginia. When a grisly murder is discovered in the small town of Bloody Mary, it's up to J.J. and Detective Jack Lawson, to bring the victim justice.
The murders are piling up…
When a popular mystery writer shows up on J.J.'s doorstep with plans of writing his new book about the Bloody Mary Serial Killer, J.J. has to decide if he might be going above and beyond the call of duty to create the spine tinglers he's so well known for.
Click here to get this book for FREE
° ° ° ° ° ° ° ° ° ° ° ° ° °
The Viking (The Viking Series Book 1)
by Marti Talbott


(1,628 Reviews)
Genre: Romance | Teen & Young Adult
FREE for a limited time
At not quite fifteen, Stefan's father finally let him board the longship Sja Vinna to take part in his first Viking raid. Yet, the battle was not at all what he expected, and he soon found himself alone and stranded in Scotland.
Thirteen-year-old Kannak's problem was just as grave. Her father deserted them and the only way to survive, she decided, was to take a husband over her mother's objections. Suddenly she was helping a hated Viking escape. Could Kannak successfully hide a Viking in the middle of a Scottish Clan? And why was someone plotting to kill the clan's beloved laird?
Click here to get this book for FREE
° ° ° ° ° ° ° ° ° ° ° ° ° °
The Turtle Boy (The Timmy Quinn Series Book 1)
by Kealan Patrick Burke


(1,009 Reviews)
Genre:
FREE for a limited time
Winner of the Bram Stoker Award, and the first book in the Timmy Quinn series.
School is out and summer has begun. For eleven year old Timmy Quinn and his best friend Pete Marshall, the dreary town of Delaware, Ohio becomes a place of magic, hidden treasure and discovery.
But on the day they encounter a strange young boy sitting on the bank of Myers Pond a pond playground rumor says may hide turtles the size of Buicks everything changes.
For it soon becomes apparent that dark secrets abound in the little community, secrets which come cupped in the hands of the dead, and in a heartbeat, Timmy and Pete's summer of wonder becomes a season of terror, betrayal and murder.
(Contains strong language and graphic violence.)
This edition includes an excerpt from THE HIDES, the second book in the Timmy Quinn series, and an interview with the author.
Click here to get this book for FREE
° ° ° ° ° ° ° ° ° ° ° ° ° °
Seven Days of Friday (Women of Greece Book 1)
by Alex A. King


(615 Reviews)
Genre: Women's Fiction | Humor & Satire
FREE for a limited time
Seven Days of Friday opens with Days of the Week underwear and closes with a forty-year-old secret that refuses to stay submerged.
Thirty-four-year-old Vivi Tyler is living her nightmare: gay husband, self-harming teenager, melodramatic mother. They're picking apart her sanity, one stitch at a time. She's crawling along rock bottom when the arrival of a mysterious package opens a new door to a new country.
A desperate Vivi dives headfirst into the quicksand that is Greece–her parents' birthplace. But it's a paradise far from perfect, and instead of the new beginning she covets, Vivi discovers trouble is determined to keep her in its pocket. Soon she's fighting for her daughter's life in a Greek hospital, clashing with her Greek relatives, and cobbling together an inadequate cage around her heart, lest she fall for an unavailable man.
Somewhere between Eat, Pray, Love and My Big Fat Greek Wedding, there's the Women of Greece series.
Click here to get this book for FREE
° ° ° ° ° ° ° ° ° ° ° ° ° °
Minimalism: The Path to an Organized, Stress-free and Decluttered Life
by Gwyneth Snow


(1,065 Reviews)
Genre:
FREE for a limited time
This book will provide you with a brief history of minimalism and its origins. It covers how the minimalist movement evolved over time, what modern day minimalism looks like, and its benefits. It will also provide you with strategies and techniques to declutter, to get more organized, and to be able to live in a stress-free and minimalist home. It will also show you what a minimalist lifestyle could look like – it covers a wide range of topics including minimalism in money, health, relationships, and much more.
The only goal of this book is to empower you to find joy in simplifying and to find happiness in fewer things that truly matter.
You'll get a "Minimalism Toolkit" for free with this book. Enjoy!
Click here to get this book for FREE
° ° ° ° ° ° ° ° ° ° ° ° ° °