I am so excited! Here is a picture of my HUGE loofah harvest. After I finish work, it's off to peel them and see what goodies I find inside. YAY!!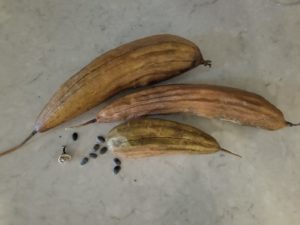 Dead on Demand: Don't bury the hatchet, bury the body instead. (A DCI Morton Crime Novel Book 1)
by Sean Campbell


(1,844 Reviews)
Genre: Thrillers | Mystery
FREE for a limited time
He had the perfect life. Now he'll kill to get it back.
A career man, Edwin Murphy has always put more effort into his work than his family. Everything changes for Edwin when his wife files for divorce. On the brink of losing his home, his job and his daughter, Edwin orchestrates an intricate plan to eliminate his wife and regain his former lifestyle.
The police are baffled when bodies begin to appear all over London with no apparent connection between them. Detective Chief Inspector David Morton must think outside the box as he investigates the deadly web of deceit behind the murders.
Dead on Demand is the first stand-alone crime novel featuring DCI Morton. Start reading the series today.
Click here to get this book for FREE
° ° ° ° ° ° ° ° ° ° ° ° ° °
Last Chance Harbor (A Pelican Pointe Novel Book 6)
by Vickie McKeehan


(143 Reviews)
Genre: Contemporary Fiction | Women's Fiction | Romance
FREE for a limited time
Twenty years ago, a pair of lovers disappear into the night to begin a new life. But is that really what happened?
New principal Julianne Dickinson is overseeing the renovation of the brand-new elementary school when an old wooden box surfaces among the rubble. Curiosity as to how it got there leads her to a disturbing theory about the two, young lovers and their vanishing act so many years earlier. When the mystery becomes too much, and she realizes she's making waves, Julianne looks for help in an unlikely ally.
Ryder McLachlan is happy to be back working in construction again. His attraction to the alluring Julianne makes him uncomfortable, mainly because the two have so little in common. She's classy, educated, and way out of his league. But when he gets pulled into the perplexing riddle of the box, the pair begins digging into what happened the night the lovers went missing. With each clue, the past begins to get uglier. And it might be more than this small town can handle. How many lives will unravel? And will the truth finally bring healing?
Click here to get this book for FREE
° ° ° ° ° ° ° ° ° ° ° ° ° °
The Secret Library: A New Keeper
by J. C. Gilbert


(192 Reviews)
Genre: Teen & Young Adult
FREE for a limited time
A bookish girl. A secret library. A thousand portals to a thousand worlds. One choice: face fear, or let it dominate.
For Alex Reed, the world is an awkward place and books are her only escape. But when she is selected by a mysterious library to be its new Keeper she discovers that some books are not for the faint-hearted.
Now Alex must balance her new adventures through the pages with the incomparable obstacles of being an anxiety-riddled teenager. All this might be completely doable, if only Hank would do as he was told.
Book One of The Secret Library Series.
Click here to get this book for FREE
° ° ° ° ° ° ° ° ° ° ° ° ° °
Madness in the Ruins: A Mason Collins Crime Thriller 1
by John A. Connell


(137 Reviews)
Genre: Thrillers | Historical Fiction | Men's Adventure
FREE for a limited time
A mutilated body. No witnesses. The only clue, a message, "Those who I have made suffer will become saints and they shall lift me up from hell."
Winter, 1945. Munich is in ruins, and a savage killer is stalking the city.
U.S. Army investigator Mason Collins enforces the law in the American Zone of Occupation. This post is his last chance to do what he loves most — being a homicide detective.
But he gets more than he's bargained for when the bodies start piling up, the city devolves into panic, and the army brass start breathing down his neck.
Then the murderer makes him a target. Now it's a high-stakes duel, and to win it Mason must bring into deadly play all that he values: his partner, his career — even his life.
Click here to get this book for FREE
° ° ° ° ° ° ° ° ° ° ° ° ° °
Vintage Dessert Recipes: Timeless and Memorable Old-Fashioned Sweet Recipes from Our Grandmothers (Lost Recipes Vintage Cookbooks)
by Louise Davidson


(75 Reviews)
Genre: Cookbooks, Food & Wine
FREE for a limited time
Love the desserts and sweets your Grandma used to make when you were a child? Longed for that special treat Mom used to make? Look no further! This collection of authentic vintage dessert recipes will bring you back in time with favorite old-fashioned dessert we all enjoy!
Download FREE with Kindle Unlimited
In this cookbook, we've collected an assortment of 80 vintage dessert recipes ranging from as far back as the 1800s all the way up to the 1970s. Some are wholesome comfort foods, like the potato doughnuts and the upside-down pineapple cake, and others are kitschy and eclectic, like the Green Angel Lime Cake and the Orange Raisin Gems, while others are still made by even today like the Never Fail Devil Food Cake and the fudge squares.
With this collection, we wanted to tweak your memory and your senses a little, and hopefully bring to mind some things you know and love from your childhood. Inside you will also find useful information on vintage baking, temperature conversions, and lots of tips and ideas on how to preserve family recipes.
This illustrated cookbook will show you the way our great grandmothers, grandmothers, and mothers used to bake dessert for their loved ones.
The recipes included here are from our family recipe boxes handwritten on cards and that have been passed down from one generation to the next. The dishes are heartwarming and made every time with lots of love! Desserts recipes from our lost recipes collection include pies, cakes and cupcakes, custards, puddings, and pastries, cookies, squares, and doughnuts, sweet loaves, and muffins.
Inside, you'll find 80 delicious retro recipes including:
Peanut Butter Tandy Cake
Burnt Caramel Pie
Fudge Squares
Chess Pie
Date and Nut Squares
Cherry-Peach Pandowdy
Jam Roly Poly with Custard
Vintage Plum Pudding
Strawberry Kisses
My Mom's Vintage Rhubarb Pie
Flapper Pie
Old-Fashioned Plum Pudding
Pineapple Cheesecake Squares
Banana Rum Fruit Bread
Lazy Daisy Cake
Magic Caramel Pudding
Divinity Cookies
Pineapple Upside-Down Cake
Lemony Cupcakes
Amish Applesauce Cake
Lemon Chess Pie with Sweet Berry Sauce
Steamed Chocolate Pudding
Raspberry Custard Kuchen
Cheesy Strawberry Shortcakes
Jefferson Davis Pie
WWII Carrot Cookies
Whole Wheat Bran Muffins
Old Fashioned Apple Loaf
Each recipe comes with a beautiful image, a short description of its origins, the number of servings, the step-by-step preparation instructions, and the cooking and preparation times.
Come down memory lane and prepare delicious vintage dessert recipes your family members or friends will discover for the first time or spark pure joy from the wholesome flavors of their childhood!
Click here to get this book for FREE
° ° ° ° ° ° ° ° ° ° ° ° ° °