I shouldn't feel so guilty, but I do. I feel HORRIBLE! I took my sweet little pup Junebug to the vet yesterday to get a dental. Her breath is so bad that I was sure she had teeth rotting in her mouth. We have been using a water additive the was supposed to help with breath and mouth health, but it really hadn't worked. So I took her to the vet to get a thorough exam and a dental. When I picked her up at the vets, they said her teeth were just fine and only had a little bit of tarter. No issues. So what am I feeling so guilty about? My poor pup looks like poop. I picked her up last night and she could barely walk. This morning she has perked up a bit, but looks hungover as all heck. I put her through all that misery, just to find out it was not necessary. She is all curled up in her blanket on the couch giving me, "Look what you did to me" eyes.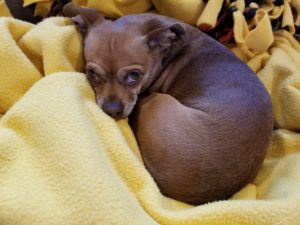 Kittyzen's Arrest: Cozy Mystery (Country Cottage Mysteries Book 1)
by Addison Moore, Bellamy Bloom


(280 Reviews)
Genre: Mystery
FREE for a limited time
An innkeeper who reads minds. An ornery detective. And a trail of bodies. Cider Cove is the premiere destination for murder.
***Kittyzen's Arrest is a USA TODAY bestselling novel!***
My name is Bizzy Baker, and I can read minds — not every mind, not every time but most of the time, and believe me when I say it's not all it's cracked up to be.
***Includes RECIPE***
Bizzy Baker runs the Country Cottage Inn, has the ability to pry into the darkest recesses of both the human and animal mind, and has just stumbled upon a body. With the help of her kitten, Fish, a mutt named Sherlock Bones and an ornery yet dangerously good looking homicide detective, Bizzy is determined to find the killer.
*Cider Cove, Maine is the premiere destination for fun and relaxation. But when a body turns up, it's the premiere destination for murder.
The Country Cottage Inn is known for its hospitality. Leaving can be murder.
A laugh out loud cozy mystery by New York Times Bestseller Addison Moore and her partner in cozy crime, USA TODAY bestselling author Bellamy Bloom.
Click here to get this book for FREE
° ° ° ° ° ° ° ° ° ° ° ° ° °
What Happens in the Highlands
by Kelsey McKnight


(204 Reviews)
Genre: Romance
FREE for a limited time
Match made in heaven or maid of dishonor?
Tight-laced Rose Hensel arrives in Scotland for her best friend's wedding with a plan — to be the greatest maid of honor ever, let loose for the first time in years, and find out what Scottish guys really wear under their kilts. After meeting the best man, she thinks she found the man who checks all the boxes for a no-strings-attached romp among the heather.
Lachlan Calder-Mackinnon knows how to show a girl a good time. Gourmet dinners in castle ruins, picnics among rolling hills, and a seaside escape create some unforgettable dates. But as the fling begins to morph into something more, an unexpected wedding guest threatens to ruin Rose and Lachlan's new romance.
With a plane ticket in one hand and her broken heart in the other, Rose prepares to head home to reality. However, she's about to learn that what happens in the Highlands doesn't always stay there.
Click here to get this book for FREE
° ° ° ° ° ° ° ° ° ° ° ° ° °
Ezaara: Riders of Fire, Book One – A Dragons' Realm novel
by Eileen Mueller


(151 Reviews)
Genre: Teen & Young Adult
FREE for a limited time
A dragonet's past murder throws Ezaara into a war between dragons and the monsters enslaving Dragons' Realm. A fast-paced award-winning epic-fantasy series by multi-award-winning author Eileen Mueller.
In Lush Valley, it's a crime to even talk about dragons…
When Ezaara meets Zaarusha the Dragon Queen, she's swept up in a blaze of color and they imprint, forming a deep bond. She must give up her home and family to become the new Queen's Rider. Ignorant and unprepared, how can she possibly succeed?
Luckily, she has a dragon master — although rumors say she might be better off with the enemy.
Plunged into a world of cutthroat politics and traitors in every shadow, who can Ezaara trust as Commander Zens and his army of bestial tharuks march closer, razing villages and enslaving the people of Dragons' Realm?
What personal price must Ezaara and her Dragon Master pay to save their people?
Click here to get this book for FREE
° ° ° ° ° ° ° ° ° ° ° ° ° °
Bounty Hunter: Gunfighter of the Wastelands
by Rachel Aukes


(109 Reviews)
Genre: Science Fiction
FREE for a limited time
Being a bounty hunter in the wastelands isn't easy, and it's about to get a lot harder.
The world went down the crapper a long time ago. Now, ten years after the revolution , things are even worse. With no government, corrupt factions have come forth to stake claim to the territories.
The bounty hunters' guild is the closest thing to law enforcement in the lawless wastelands. But when bounty hunters become the hunted, any semblance of peace crumbles. We need a gunfighter who isn't afraid to stand against impossible odds. The problem is that all the heroes died in the revolution… which means we'll have to settle for "Havoc" Joe Ballast.
Ballast is no stranger to bad luck, but when the sinister Sloan brothers corner him, they'll soon learn that you should never underestimate the Bounty Hunter.
Click here to get this book for FREE
° ° ° ° ° ° ° ° ° ° ° ° ° °
How Not To Run A B&B
by Bobby Hutchinson


(278 Reviews)
Genre: Biographies & Memoirs
FREE for a limited time
HOW HARD CAN IT BE?? A HUMOROUS MEMOIR
Bobby Hutchinson, a best selling Harlequin romance writer, decides to open a B&B in Vancouver, B.C.
Despite never having stayed in a B&B and knowing absolutely nothing about running one, she jumps right in. Strange people from nearby and halfway around the world arrive at her home with their stories and struggles, not to mention their baggage, psychological and otherwise.
In explaining why she opened a B&B, she says, "I was far too old for prostitution, the only other job I could think of which might net enough to pay the mortgage."
HUMOR, A LITTLE TRAGEDY AND MANY LIFE LESSONS. (But mostly humor.)
What does a hostess do when a dog rips the bathroom apart? Or gerbils reproduce in the attic?
Make wonderful breakfasts and keep on keeping on.
SURE FIRE BREAKFAST RECIPES
Lots of other recipes as well, guaranteed to turn out. And some advice that may or may not work, but what can you lose by trying?
Book 2 in the How Not To series is HOW NOT TO VANAGON.
Click here to get this book for FREE
° ° ° ° ° ° ° ° ° ° ° ° ° °