Did you know that you can buy a life-sized Hippo couch for the low low price of $95,000? Something to think about.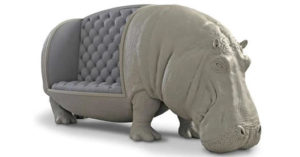 Riversong (River Valley Book 1)
by Tess Thompson


(802 Reviews)
Genre: Literary Fiction
FREE for a limited time
In an effort to survive an unthinkable predicament, a city girl returns to her small-town roots in this suspense-filled, tissues-required romance by USA Today bestselling author Tess Thompson.
In the wake of her husband's tragic death, Lee is pregnant and one million dollars in debt to a dangerous loan shark willing to do anything to collect. Out of money and options, Lee seeks refuge in the small Oregon town where her mother's dilapidated home sits vacant, as desperate for a fresh start as Lee herself.
With a baby on the way and a living to make, Lee opens a restaurant and begins to rebuild her life. But just as she catches her breath, and the eye of a local musician offering a second chance at love, she finds herself right back in the clutches of the debt collector with more to lose than ever.
Click here to get this book for FREE
° ° ° ° ° ° ° ° ° ° ° ° ° °
Lost Legacy: The Crystal Skull Chronicles (The Skull Chronicles Book 1)
by D K Henderson


(31 Reviews)
Genre: Metaphysical | Religious & Inspirational Fiction | Fantasy
FREE for a limited time
A beautiful young woman is entombed alive as a sacrifice to angry gods…
A young priest embarks upon a desperate flight across a hostile landscape deep in the heart of Atlantis…
In the possession of each, a sacred crystal skull.
Over 250,000 years ago, 13 crystal skulls were brought to Earth from the distant star systems of our galaxy. Their purpose? To watch over the evolution of human consciousness. Today they lie hidden and forgotten, scattered across our world. Waiting for the time when they will be brought together again to lead humankind into a new golden age.
2012; England. With her life falling to pieces around her, Gemma Mason's sleep is increasingly disturbed by vivid dreams of crystal skulls, extraterrestrial beings and the ancient temples of Atlantis. Dreams that tell stories of adventure, heartbreak and danger. Of courage, loss, sacrifice and love where the future of the human race itself is at stake. Dreams that contain vital messages for us at this point in our history. As they unfold, Gemma realises she has been chosen to share a secret that will have repercussions for the whole of humankind.
Reluctantly she accepts her destiny and finds herself plunged into the forgotten history of an unknown world where myth and legend suddenly become irrefutably real. It is a journey that calls into question everything Gemma has ever believed to be true and demands that she faces her own deepest fears. For she is being asked to share with the world the shocking secret of our forgotten past, a secret that will change forever the way we look at ourselves and our place in the universe. But are we ready to hear such a truth?
In Lost Legacy, Gemma relates the history of two of these sacred crystal skulls as her own story unfolds. Travelling from the dense humidity of the rainforest to the desert lands of North America, from frozen Arctic wastelands to the cities and mountain ranges of Atlantis, past and present are seamlessly woven together in a rollercoaster ride of emotion and adventure.
Lost Legacy is the first book in The Skull Chronicles series, a global adventure of epic proportions. Also available, Book II: The Red Skull of Aldebaran, and Book III, Daughter of the Gods.
Click here to get this book for FREE
° ° ° ° ° ° ° ° ° ° ° ° ° °
Danger at the Dive Shack: Book 1 Dive Shack Mysteries
by Donna Amis Davis


(61 Reviews)
Genre: Mystery | Friendship | Women's Fiction
FREE for a limited time
A scruffy dog, a fluffy cat, and characters who feel like friends.
Shelby and Jesse are back on the island they love, living at a dive resort while Jesse delves into research for his dissertation. Shelby's life gets interesting after the quirky and colorful resort baker takes her under her wing, a scruffy beach dog moves onto her porch, and she adopts an adorable kitten.
When a disagreeable tourist dies, suspicion is cast on Shelby's new friends and acquaintances. Wanting to clear their names, she dives into tracking down the real killer. But it may be perilous for Shelby!
Danger at the Dive Shack, the first book in the Dive Shack Mysteries series, is a clean, cozy mystery novella with a tropical twist. It can be read as a standalone, but you will enjoy reading the continuing series.
Recipes included!
Don't wait to see what happens next! Click and purchase your copy of Danger at the Dive Shack. Enjoy!
Click here to get this book for FREE
° ° ° ° ° ° ° ° ° ° ° ° ° °
Just Another Race Horse
by Marion N. Seidel

(48 Reviews)
Genre: Sports & Outdoors | Crafts, Hobbies & Home
FREE for a limited time
It's how you start out and how you end up… but never about getting off track, just how fast you get back on!
Sonny is JUST ANOTHER RACE HORSE with a story to tell that will open a well of emotion in your soul and melt your heart as you read each endearing page of his young life! Sonny's first memory is of being born and seeing the warmth and love in his mother's eyes as she sees her newborn son for the first time. In the beginning, life is good. Sonny grows into a handsome, sleek thoroughbred, wrapped in a blanket of love and approval — trusting the good of the world that surrounds him. It isn't long, however, before he realizes life is about to throw him moldy carrots!
The day he was taken from his home, from his mother, is the scariest day of his life. Everyone and everything is new. Herded into a huge horse trailer with other horses, he's taken to a strange place. Everyone makes sure he's fed well and groomed well, but for the first time in his life he's yelled at for being playful, then sold at auction into the new and dangerous world of thoroughbred racing!
JUST ANOTHER RACE HORSE is the poignant story of a thoroughbred raised all his young life to be a race horse — complete with all the brutality of his training while immersed in the seedy side of horse racing! Through it all, Sonny keeps his positive attitude, but how can he ever know that winning has a very nasty side… losing — and you're only as good as your next race!
Get your copy today and join Sonny in this winning memoir that stamps him as a king among princes and not JUST ANOTHER RACE HORSE!
Click here to get this book for FREE
° ° ° ° ° ° ° ° ° ° ° ° ° °
The Easy Dutch Oven Cookbook: 250 Quick and Easy Homemade Recipes for Your One-Pot Dutch Oven
by Harlanti Morris


(34 Reviews)
Genre: Cookbooks, Food & Wine
FREE for a limited time
The ultimate secret weapon for simple meals with your Dutch Oven, all in The Easy Dutch Oven Cookbook
Have you ever imagined the cooking could be made even simpler?
Have you ever thought you also can cook elegant serving pieces by using the Dutch Oven?
The Easy Dutch Oven Cookbook delivers an easy way to mouth-watering meals.
The Dutch oven is the most versatile pot in your kitchen: a soup pot, a deep fryer, a braiser, a roaster, an enclosed bread oven, and the perfect vessel for one-dish meals, waiting for you to explore different cooking methods.
There are 250 homemade recipes in this cookbook:
•
Practical but Fun Meals: All of the recipes had been kitchen-tested for several times, it is worth trying.
•
One-Pot Meals: Turning out each wonderful meal made entirely in one pot, no more clean-up stress, easy and relaxed.
•
Easy-to-Find Ingredients: With fresh, flavorful and easy to prepared ingredients, you shall have a more pleasant grocery shopping at your local place.
This great cookbook has helped thousands and thousands of cookers as well as housewife to serve up simple but tasty cuisines every day.
Click here to get this book for FREE
° ° ° ° ° ° ° ° ° ° ° ° ° °