I definitely need to work on my photography skills, but I wanted to show everyone my front yard. You all know how hard I worked on redoing the whole thing, so I wanted to show off my Christmas lights. I can't believe it took me this long to show you. We packed up the whole family in the minivan the other night and took a drive around town to see other peoples front yard Christmas Light displays, and the town did not disappoint! I do not remember there being so many elaborate displays in the past years. It really put me in the Christmas spirit.  I would love to see pictures of your displays as well. Email pictures to help@bookbasset.com or post them on Facebook! Show off those fantastic lights!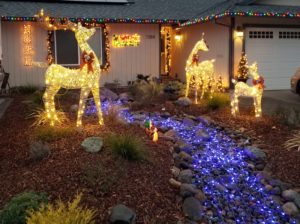 Game of Shadows: A Sean Wyatt Archaeological Thriller (Sean Wyatt Adventure Book 6)
by Ernest Dempsey

(394 Reviews)
Genre:
FREE for a limited time
Someone has discovered a Nazi weapon of incredible power. And their intentions aren't good.
In the final days of World War II, a mysterious German U-boat was seen by a United States naval vessel in the Atlantic Ocean, just north of South America.
Before the ship could fire upon the sub, it vanished.
History tells us that, after the war, the German high command scattered across world hoping to evade punishment for their crimes.
What it doesn't tell us is what they took with them.
Priceless paintings?
Rare sculptures?
Vast treasures?
Many of these things have been discovered but there is one that remains hidden. It was one of the most well-hidden, secretive experiments the Nazis carried out during the war and now someone is trying to unearth it.
If they succeed, it could bring civilization to its knees.
Not if Sean Wyatt can help it.
Sean Wyatt quit working for the United States government years ago but after recent events, he's come to realize his particular set of skills might still be needed to keep the world a little safer.
With an evil mastermind behind a twisted plot, Sean is on the clock with less than 72 hours to find a Nazi device known as die glocke before a for-profit terrorist cell known as The Black Ring executes an innocent woman.
Worse, if they get what they want, the terrorists will wreak havoc across the planet.
Click here to get this book for FREE
° ° ° ° ° ° ° ° ° ° ° ° ° °
Who She Is
by Diane Byington

(85 Reviews)
Genre: Literary Fiction | Literature & Fiction | Historical Fiction
FREE for a limited time
2018 Royal Palm Literary Award Winner: First Place – Historical Fiction
2018 FAPA President's Book Awards Gold Medalist
In the fall of 1967, Faye Smith's family moves to Florida to work in the orange groves, and she has to start a new school… again. She tries out for the track team, knowing her mother would never approve because of Faye's epilepsy.
When Faye discovers she has a talent for distance running, she and her friend Francie decide to enter the Boston Marathon, even though women aren't allowed to compete. Desperate to climb out of the rut of poverty, Faye is determined to take part and win a college scholarship.
After the school bully tries to run her down with his car, a strange memory surfaces — a scene Faye doesn't recognize. Her parents insist that it's a symptom of her epilepsy, but Faye thinks they might be lying, especially when it keeps happening. To get her life on the right path, she'll need to figure out what her parents are hiding and never lose sight of the finish line.
Click here to get this book for FREE
° ° ° ° ° ° ° ° ° ° ° ° ° °
Lucky Justice: Lucky's Marines | Book Seven
by Joshua James


(74 Reviews)
Genre: Science Fiction & Fantasy
FREE for a limited time
A simple mission gone impossibly wrong.
Ambushed by an enemy that shouldn't exist, Lucky and his Marines must overcome powerful forces with limitless resources – and a princess with limitless ego.
But Sergeant Lucky Savage has a powerful weapon of his own. Whether he can manage to control it is an open question.
As time runs out, and the stakes rise to inconceivable levels, Lucky realizes that even if he wins, humanity stands to lose everything.
Don't ask Lucky. Just give him a weapon and get out of the way.
Click here to get this book for FREE
° ° ° ° ° ° ° ° ° ° ° ° ° °
Snow Angel (A Hope Falls Novel Book 5)
by Melanie Shawn


(676 Reviews)
Genre: Literature & Fiction
FREE for a limited time
He is looking towards the future…
Newly appointed Chief of Police Eric Maguire is sexy, single, and not ready to mingle. Tired of casual hook-ups and meaningless affairs, Eric is ready for something real. When a mysterious dark-haired beauty moves in next door, Eric knows he's found exactly what he's been missing.
She is running from her past…
Lily Sotelo just got the break of a lifetime choreographing for pop star Karina Black's winter tour. As important as it is that she does an amazing job, it's equally as important that she remains anonymous. Which shouldn't be a problem. She's spent the last ten years on the move, never letting anyone get too close. Until now. Her new neighbor is as persistent as he is sexy and is making Lily want things she knows she can't have.
Click here to get this book for FREE
° ° ° ° ° ° ° ° ° ° ° ° ° °
March Street Murder (March Street Cozy Mysteries Book 1)
by Estelle Richards


(255 Reviews)
Genre: Mystery, Thriller & Suspense
FREE for a limited time
Welcome to the March Street Cafe. My name's Kelly, and I'll be your server today.
I think I've said those words a hundred times. But I'm more than just a server.
I'm a painter. In fact, a few of my paintings hang on the wall in the March Street Cafe.
I'm a dog-lover. I walk Buddy the bulldog every morning and every night, even though he never obeys my commands.
I'm a granddaughter. I live with my Grandma Iris, taking care of her and Buddy after she had a fall.
And now, I'm a woman trying to solve a murder.
March Street Murder is a new short cozy mystery by Estelle Richards, author of the Lisa Chance Cozy Mysteries. It has no sex, no gore, and no swearing. It's a short read, perfect for giving yourself a little treat in between tasks in your busy day.
Click here to get this book for FREE
° ° ° ° ° ° ° ° ° ° ° ° ° °