NOPE NOPE NOPE NOPE! I am not sure exactly what I am saying NOPE to. I mean, I know what I am saying NOPE to, but it's not like someone asked me a question. I just read a headline that said, "Bull Shark Spotted Swimming Near Man's Back Yard During Flash Floods". There were flash floods in Queensland, Australia. Australia is a bit too much for me. I knew there are massive Great White sharks that jumped out of the water, but at least they stayed in the ocean. Now I find out that some of those man eaters like to travel to the suburbs and look for a snack. NOPE! WILL SOMEONE PLEASE YELL JUMAMJI SO WE CAN GET OUT OF THIS CRAZY GAME??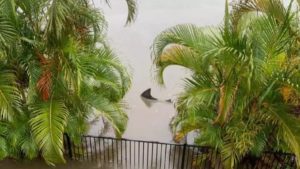 Forgotten Scars (Scars of Days Forgotten Series Book 1)
by Natalie J. Reddy


(20 Reviews)
Genre: Romance
FREE for a limited time
This urban fantasy adventure is perfect for fans of Jennifer L. Armentrout and Cassandra Clare.
Humanity is not alone.
Supernatural beings are hiding among us. The Psi have remained secluded from humans for far too long, and there's a faction that is conspiring to break the veil and use their powers to take their rightful place among humans – as our rulers and conquerors.
Wren is a college student who didn't think her life could get much worse. That is until she's kidnapped by the Psi and questioned about her closest friend. But the Psi offer her something no one else can – the truth about who she is.
But can she trust the Psi? Can she trust her feelings towards her irritatingly charming captor? Or is she just a pawn in a very dangerous game?
Step into the supernatural conspiracy surrounding Wren and uncover her fate by clicking Buy Now today!
Click here to get this book for FREE
° ° ° ° ° ° ° ° ° ° ° ° ° °
Dreaming of Christmas: An enthralling feel-good romance in the high Alps
by T.A. Williams


(137 Reviews)
Genre: Literature & Fiction
FREE for a limited time
It's the dream Christmas: snow, mountains… and, er, an ex-boyfriend. But can Zoe still find love in the Alps?
Dumped on Christmas Eve by her long-term boyfriend, it's been a rough year for Zoe Lumsley. But then she gets an invitation she can't refuse: an all expenses paid skiing holiday with old university friends.
The bad news: her ex, Grant, will be there with his new girlfriend. But so will her former flatmate Billy, the organiser, and in the meantime he's done rather well for himself. As Christmas in the Alps approaches, it'll be great to see the old gang. Some more than others…
Click here to get this book for FREE
° ° ° ° ° ° ° ° ° ° ° ° ° °
Moon Base One
by Patrick Rivers


(7 Reviews)
Genre: Science Fiction & Fantasy
FREE for a limited time
Trapped in a maximum-security prison on the moon, Zeek Star knows his life is in danger and plans to escape with a group of fellow prisoners. He soon learns that escaping is not without its own perils. In order to succeed he must first defeat a sadistic AI, befriend a strange alien with psychic powers, overcome his own addiction to exotic drugs, and find ways to survive inside a deadly virtual reality game. When Zeek and his companions reach their destination, the Colony of Mars, they quickly find that their troubles are only beginning, and that to survive the dangers ahead they must tap into abilities they didn't realize they had.
Click here to get this book for FREE
° ° ° ° ° ° ° ° ° ° ° ° ° °
Evil Elves (Cozy Corgi Mysteries Book 15)
by Mildred Abbott


(245 Reviews)
Genre: Mystery, Thriller & Suspense
FREE for a limited time
Christmas ushers in snowstorms, fruitcake, and a horde of Santa's naughty elves…
No place is more perfect for the winter holidays than the charming mountain town of Estes Park. As the Cozy Corgi Bookshop and Bakery glistens with lights and garlands, Winifred Page allows the seasonal merriment to brush away all worry and fear. Watson, her grumpy corgi, is about as far from stressed as possible — after all, with the holiday baking, delectable crumbs are everywhere.
Estes Park's new Christmas store is chosen to receive exclusive rights to sell a much-coveted collection of tiny elf figurines, but not everyone is thrilled, especially not the owner of the original Christmas shop. Bickering between local merchants is nothing new and doesn't dampen the Christmas cheer or holiday glee. However, when nightly break-ins begin to occur, Santa himself is caught in the act, Fred and Watson are pulled away from the bookshop to investigate the holiday mayhem.
Unfortunately, while Santa keeps a list of nice and naughty children, he's allowed his elves to have free rein, and there's nothing nice about them…
(This culinary cozy mystery includes a recipe for honestly delicious fruitcake.)
Click here to get this book for FREE
° ° ° ° ° ° ° ° ° ° ° ° ° °
The Lion at Sea (The Captain Kelly Maguire Trilogy Book 1)
by Max Hennessy


(465 Reviews)
Genre:
FREE for a limited time
A young recruit. A legendary battle. A cataclysmic war. A baptism by fire…
Kelly Maguire knew from a young age that he could accomplish great things. As World War I begins, Kelly enlists in the Royal Navy, hoping to win both the war and glory.
But from the barbarous battles of Gallipoli to the nightmarish action of Antwerp, Kelly learns the trials a soldier must face: trials that will forge him into a man. As the epic battle of Jutland approaches, everything is at stake.
From acclaimed novelist Max Hennessy comes a gritty naval adventure, full of blood, guts and heroism in the face of danger.
Click here to get this book for FREE
° ° ° ° ° ° ° ° ° ° ° ° ° °