I pretty much knew things weren't going to work out for me and my cake after the first layer. I baked the orange and purple cakes mixes first, and instead of splitting the mixes into two pans as the instructions said to, I made one cake out of each color. I wanted four large layers instead of eight smaller ones. After the cakes finished baking is when my woes began. I was having a devil of a time getting them out of the pans, despite the oil and flower I had coated the pans with beforehand. There was some breakage. The next two mixes I changed up my game and added parchment paper to the oil and flower coating and that seemed to work okay, but they baked a little differently and were a different shape. My dreams of a pretty cake were fading fast. I thought for sure I would bounce back with the frosting. Looking back I understand that I put too much faith in the frosting. I made my base out of the  mostly broken orange cake, then added a full batch of frosting to fill in the gaps. At this point I was still a bit hopeful I could pull this cake off. I added the second, purple layer and things seemed to be going okay. Not Great, but okay. I then added another batch of the frosting, and gently placed the green cake on top. It was clear at this point I wasn't going to win any awards, but I was already too far in, and there was no going back. I used only half a batch of frosting and topped it off with the black cake, using the last of the frosting to cover the top. No. Just no. Just to be clear, the base is orange, then purple, green, and the top is black. Again… no.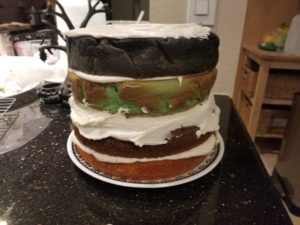 Disaster Inc (McGarry Stateside Book 1)
by Caimh McDonnell


(550 Reviews)
Genre: Humor & Satire | Literature & Fiction | Thrillers
FREE for a limited time
Some people will stop at nothing to make a killing.
You know how they're always telling us to pay attention to our pensions? Well, some ex-employees of the US government are really taking that advice to heart by using their mayhem-creating abilities to maximise their investments. When one of their fund managers has a momentary crisis of conscience and confesses all to a woman he hardly knows, they will stop at nothing to deal with the problem.
All Bunny McGarry wants is a spot of breakfast and a decent cup of tea. So imagine how annoyed he gets when two masked men attempt to rob the New York diner he is in? Unfortunately, dealing with that problem just leads to a whole lot more. One of the other customers isn't who she appears to be, and without his help, the odds aren't great that she will live to see another breakfast.
Amy Daniels is in big trouble and the only thing keeping her alive is a man who is supposed to be dead.
Disaster Inc is the first book in a new series featuring Bunny McGarry, beloved by those who enjoyed the critically-acclaimed Dublin Trilogy of books. It melds high-octane action with a distinctly Irish acerbic wit.
Click here to get this book for FREE
° ° ° ° ° ° ° ° ° ° ° ° ° °
Happily Ever His: A fake relationship/in love with the wrong sister romantic comedy (Singletree Book 1)
by Delancey Stewart


(86 Reviews)
Genre: Humor & Entertainment | Literature & Fiction | Humor & Satire
FREE for a limited time
Tess was used to being in the shadows. But when movie star Ryan McDonnell pulls her into the spotlight, her whole world is threatened. Can a relationship that starts as a secret fantasy ever survive in the real world?
My sister Juliet has always gotten everything she wants. It's fine though. I never wanted the spotlight. That was my sister's domain. And now that she's America's most popular starlet? She can have it.
But when Gran — the feisty woman who raised us, and who I cannot seem to wean off video games, an afternoon doobie, or her daily Manhattan — has a huge party to celebrate her 90th birthday, Juliet brings the Hollywood madness straight to Maryland.
In the form of my ultimate movie-star crush, Ryan McDonnell. I can barely form a sentence around the guy (at least I don't still have a poster of him on my wall). And I definitely can't get over the fact that he's Juliet's new boyfriend.
I just need to get through the weekend with them — and with the magazine people who are covering them and the party for a feature. I just need to stay away from Ryan and his warm curious eyes, his perfectly chiseled arms, and the impossibly sexy things that come out of his mouth when we're alone together.
It's only one weekend, and I just need to remember that Ryan is an actor. A good one. Because I almost believe him when he tells me we have a chance together.
If you're looking for a snort-laugh-inspiring romcom with lovesick housechickens, video game-playing grannies, and hot swoony heroes, you're in luck! Grab the first book in this series today! (All books are full-length standalones with happily ever afters and no cliffhangers!)
Click here to get this book for FREE
° ° ° ° ° ° ° ° ° ° ° ° ° °
The Nightmare Room (The Messy Man Series Book 1)
by Chris Sorensen


(236 Reviews)
Genre: Religion & Spirituality | Horror
FREE for a limited time
New York audiobook narrator Peter Larson and his wife Hannah head to his hometown of Maple City to help Peter's ailing father and to put a recent tragedy behind them. Though the small, Midwestern town seems the idyllic place to start afresh, Peter and Hannah will soon learn that evil currents flow beneath its surface.
They move into an old farmhouse on the outskirts of town — a house purchased by Peter's father at auction and kept secret until now — and start to settle into their new life.
But as Peter sets up his recording studio in a small basement room, disturbing things begin to occur — mysterious voices haunt audio tracks, malevolent shadows creep about the house. And when an insidious presence emerges from the woodwork, Peter must face old demons in order to save his family and himself.
Click here to get this book for FREE
° ° ° ° ° ° ° ° ° ° ° ° ° °
Murder's a Witch: A Beechwood Harbor Magic Mystery (Beechwood Harbor Magic Mysteries Book 1)
by Danielle Garrett

(403 Reviews)
Genre: Mystery, Thriller & Suspense | Mystery | Fantasy
FREE for a limited time
Holly Boldt has a secret
Well, technically, she has lots of them. After a scandal uproots her entire life, she is forced to relocate to a halfway house for displaced paranormals. It's her last shot for a fresh start. But keeping secrets isn't easy in a town that goes through gossip faster than tissue paper, even for a powerful witch.
When a grisly murder rocks the small town of Beechwood Harbor, Holly finds herself unwillingly entangled in the investigation. With everyone watching, Holly must solve the case before she's forced to abandon her new-found home. But with a paranormal investigator tailing her every move, a civil war brewing between her vampire and shifter roommates, and her ghostly landlord on the edge of a breakdown, she can barely think in complete sentences. How is she supposed to track down a murderer?
Holly has to make it work, or risk losing everything… again.
Click here to get this book for FREE
° ° ° ° ° ° ° ° ° ° ° ° ° °
A Voice in the Wilderness
by Grace Livingston Hill

(241 Reviews)
Genre: Religion & Spirituality | Teen & Young Adult | Westerns
FREE for a limited time
Margaret Earle, a young school teacher accidently gets down on a wrong platform and finds herself lost in the wilderness of Arizona. Alone and helpless, she pins her hope on a man to help her but it soon backfires and Margaret finds herself running away in sheer desperation. But what will happen when her path will cross with Lance Gardley, the handsome cowboy?
Grace Livingston Hill (1865-1947) was an early 20th-century novelist and wrote both under her real name and the pseudonym Marcia Macdonald. Hill's messages in her works are simple in nature: good versus evil. As Hill believed that the Bible was very clear about what was good and evil in life and had firm faith God's ability to restore everything, the same belief was also reflected in her own works. Hill's novels are widely read and appreciated for their romance and their inspiring life lessons.
Click here to get this book for FREE
° ° ° ° ° ° ° ° ° ° ° ° ° °