I spent the entire weekend exhausted from the hike and really just too sore to do much, so I spent a lot of time relaxing watching Hallmark Original Christmas movies. CHRISTMAS IN JULY! I love it. It put me in quite a festive and crafty mood. I knew it would probably be really bad if I started making Christmas decorations, so I did the next best thing. Halloween decorations! Since I have a new front yard I need a few new pieces of spooky decor. The dry riverbed was the place to start. So I got to work making fish skeletons of course! I think they came out pretty cute! I still feel sore and crafty, so I am trying to think of what else I can make. Currently I have a witch, three cats, a haunted house, and now fish skeletons. Hmmmm… what to make..what to make.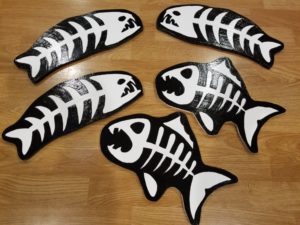 A Hopeless Murder (A Hope Walker Mystery Book 1)
by Daniel Carson


(406 Reviews)
Genre: Mystery | Mystery, Thriller & Suspense
FREE for a limited time
A funny cozy mystery series full of bold women, a quirky and lovable town, and one seriously hopeless romance.
It's been one helluva morning…
And Hope hasn't even found the body.
At least not yet.
After a twelve year absence, investigative reporter Hope Walker is back home.
In Hopeless, Idaho.
And it's not going well.
It seems the town and its citizens haven't changed much.
Still weird. Still nosy. And a few of them?
Downright hateful.
And now Hope has a serious problem.
Because one of the hateful is dead.
And she's the prime suspect.
Click here to get this book for FREE
° ° ° ° ° ° ° ° ° ° ° ° ° °
The Day of the Beast (Unabridged): Historical Novel – First World War
by Zane Grey


(5 Reviews)
Genre: Literature & Fiction | War | Classics | Psychological
FREE for a limited time
This carefully crafted ebook: "The Day of the Beast (Unabridged)" is formatted for your eReader with a functional and detailed table of contents.
The Day of the Beast is a historical novel, the story of Daren Lane, who returns from the battlefields of World War I to a society tired of hearing about the war and declining morals. It is set in Middletown USA. It is set on the Victorian era's side in the culture conflict with the Roaring Twenties.
"Herein is embodied my tribute to the American men who gave themselves to the service in the great war, and my sleepless and eternal gratitude for what they did for me." – Zane Grey, Dedication
Zane Grey (1872-1939) was an American author best known for his popular adventure novels and stories that were a basis for the Western genre in literature and the arts. With his veracity and emotional intensity, he connected with millions of readers worldwide, during peacetime and war, and inspired many Western writers who followed him. Grey was a major force in shaping the myths of the Old West; his books and stories were adapted into other media, such as film and TV productions. He was the author of more than 90 books, some published posthumously and/or based on serials originally published in magazines.
Click here to get this book for FREE
° ° ° ° ° ° ° ° ° ° ° ° ° °
Montana Mistletoe
by Kim Law

(211 Reviews)
Genre: Literature & Fiction | Holidays | Romance
FREE for a limited time
She has the chance to create the future she wants… but first she'll have to face her past.
Young, vibrant, and willing to confront any obstacle in her path, Bree Yarbrough has spent the last few years traveling the world and learning from the great artists. Only, her work has yet to strike a lasting chord. When her hometown mentor reaches out with an opportunity that will set her on the path to success, she knows she can't say no. But once back in Silver Creek, she discovers she isn't the only one who's returned home. Justin Cory has as well — and he's living next door. She may have made a fool of herself over him before, but Bree isn't the kind of girl to let past mortification stand in the way of something she wants.
The last ten years of Justin Cory's life has been driven by one focus: go to school, get his physical therapy degree, and return home so he can be there for his mom. But now that he's back, he can't stop thinking about the night that changed his life forever — and the guilt he can't escape. Fun, irresistible, and once-best-friend Bree seems like the perfect distraction. She isn't sticking around past the holidays, so he doesn't have to worry she'll expect more than he can give. But as they spend the season together, stolen mistletoe kisses start to feel all too right. However, with the future uncertain and the past hanging over them, it may take more than mistletoe to get from Christmas to forever.
Click here to get this book for FREE
° ° ° ° ° ° ° ° ° ° ° ° ° °
The Snowman of Zanzibar (A Brutal International Crime Thriller. Jason Green Series)
by Gordon Wallis


(45 Reviews)
Genre: Literature & Fiction | Mystery | Men's Adventure | Action & Adventure
FREE for a limited time
Note : The books in the Jason Green series are stand alone novels and can be read in any order.
The azure waters of a serene tropical paradise hide a sinister and murderous criminal undercurrent. A dark secret exposed leads to appalling bloodshed and chaos. How did it all go so dreadfully wrong?
Ex soldier Jason Green was depressed and had been drinking far too much. The endless London winter had been bitterly cold. The freelance insurance fraud work was mundane, but this changes early on a frozen February morning.
The wealthy client was desperate.
Just how was his high flying young son making so much money?
It sounded like a dream assignment. An escape from the city and a bit of travel.
And for a while it was.
But on an idyllic island utopia, someone is watching, and a dangerous criminal cartel operates quietly in the shadows.
As Green digs deeper he uncovers the truth, but a series of unfortunate events occur. Events far beyond his control. Events that result in unspeakable violence and horror.
The cartel must be stopped, but who will be the next to die?
The action builds to a frenzy in this gripping 1st in series page turner, and the profoundly shocking finale will stay in your mind for a long time.
A very, very long time…
Click here to get this book for FREE
° ° ° ° ° ° ° ° ° ° ° ° ° °
Toby Fisher and the Arc Light – Book 1
by Ian McFarlane


(28 Reviews)
Genre: Action & Adventure | Literature & Fiction
FREE for a limited time
Book 1 in the King Arthur series.
London has been a haven for Toby's secrets for thirteen years and it is a burden that the Professor has carried for centuries. But nothing stays in the past forever and when an old adversary called the General nearly snatches Toby from safety the professor is forced to send him to the one refuge he believes his nephew will be safe: King Arthur's ancient Tintagel castle.
But it seems that even the ruins of the great king can't protect him as the General brutally uproots the young lad who then has no choice but to seek guidance from a ghost embedded in England's turbulent and violent past. But his discovery fills him with despair for it is his uncle that holds the key that could destroy everything.
Ghosts, gold, a sunken pirate ship, a city far removed from the surface world and a brutal trial driven by a blood thirsty prince with nothing but revenge on his mind.
If Toby is to survive he must trust his life to an old man who has forgotten how to live and succumb to a dreadful and impossible ordeal where his innocence can only be proven with his death.
Get Toby Fisher and the Arc Light and follow his turbulent journey to a world where innocence is a distant memory and another's life is nothing more than a stepping-stone towards ambition.
Click here to get this book for FREE
° ° ° ° ° ° ° ° ° ° ° ° ° °