IT'S THE MOST WONDERFUL TIME OF THE YEAR!!!!! That's right everyone! CHRISTMAS IN JULY!!!! If you were to show me a Hallmark Original Christmas movie in June, I would kick you to the curb. But show me one of those wonderful heartwarming gems in July, and I am grabbing the popcorn and settling in under a warm fuzzy blanket (even though it's hot out). I watched four Hallmark Original movies this weekend and it felt great. Yes, I have seen them already at least two times, but they are still fun to watch. I couldn't help but have a calming weekend. I spent most of it trimming the lavender in my garden, a total of  twenty plants, that's a very pleasant chore for sure. I picked up a new variety yesterday called Meerlo. It's from the Sunset Garden collection, and it has yellow and light green variegated leaves. CRAZY!! WHO ARE YOU?? I have no idea were to put it. I might have to find a spot for it in the front yard. My FINISHED front yard!!! When the sun comes out, I will take pictures and post them for you. In the meantime, here is a picture of Meerlo.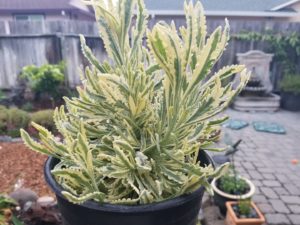 The Last Visit to Berlin: A Historical Family Saga Based On A True Story
by Ruvik Rosenthal


(19 Reviews)
Genre: Biographies & Memoirs | Historical Fiction
FREE for a limited time
One woman's decision. The fate of an entire family…
Berlin, 1933. Erich, a Jew, and Hilde, a Christian, are a young couple, the parents of Yvonne, and owners of a small book publishing firm. With Hitler's rise to power and the persecution of Jews, their lives are destroyed in an instant.
The Nazis burn their books and, fearing for their lives, the family is forced to escape to Holland.
The many hardships, however, tear the family apart when Hilde chooses to return to Germany together with Yvonne, leaving Erich, who immigrates to Palestine. Will he ever see his family again?
The Last Visit to Berlin is a saga that spreads over one hundred years in the lives of the members of the Freyer family. The novel follows the most difficult moments the family went through. It tells the story of the tragic destiny suffered by generation after generation in Germany and in the Land of Israel, reliving their shattered beliefs and documenting their stubborn insistence on living a good life under the shadow of memories and loss.
Click here to get this book for FREE
° ° ° ° ° ° ° ° ° ° ° ° ° °
The Prison Stone: An Epic Fantasy Steampunk Cthulu Space Opera (The Red Horn Saga Book 1)
by J.R. Mabry, Mickey Asteriou

(11 Reviews)
Genre: Science Fiction | Science Fiction & Fantasy | Fantasy
FREE for a limited time
Only one thing keeps an ancient evil at bay. And now that thing is gone…
Through the power of the Prison Stone, the summoners succeeded in banishing the Dark Lord from the Universe. Lost for a thousand years, the Stone has once more been found…
The life of a gentle haffolk is thrown into chaos when he is chosen to carry the Stone from one dwarf world to another. But when the Stone is stolen, his every hope is dashed…
An angry prince, humiliated by this father the king, raises his hammer over the Stone, intent on releasing the ultimate power — a power that will prove his father wrong, a power that will raise him to the place of honor he deserves, a power that will mean the doom of every living thing…
The Prison Stone is the first book in the Red Horn Saga, an epic fantasy that skillfully blends high fantasy, steampunk, Cthulu, and space opera. The magic is unpredictable, the spaceships run on coal, and no power known to dwarf, elf, or man can stop the carnage. Only a hero small enough can save us now.
Click here to get this book for FREE
° ° ° ° ° ° ° ° ° ° ° ° ° °
Mystic Falls (A Coyote Wells Mystery Book 1)
by Vickie McKeehan

(257 Reviews)
Genre: Mystery | Mystery, Thriller & Suspense
FREE for a limited time
Cozy mystery with a side of chocolate.
Emotionally reeling after the death of her grandmother, Gemma Channing is settling into Coyote Wells, the hometown where she grew up, after a ten-year absence. While coming to terms with the loss of her Gram, disturbing things begin to happen. Women are disappearing. Just when she begins to realize Coyote Wells has changed — and not for the better — she's forced to bump heads with Lando Bonner, her ex, a man who still carries around a grudge. But since she's digging for answers trying to explain exactly how her grandmother died, she needs his help. It won't be easy. Lando has never forgiven her for leaving him. Tensions flair between the two as a killer grips the town in fear. Is it kill or be killed? Who will the killer target next? And when will it all end?
Click here to get this book for FREE
° ° ° ° ° ° ° ° ° ° ° ° ° °
The Extra (The Extra Series Book 1)
by Janci Patterson, Megan Walker


(198 Reviews)
Genre: Humor & Satire | Literature & Fiction | Women's Fiction
FREE for a limited time
Gabby Mays wishes she had her future figured out, like her gorgeous roommate Anna-Marie, who has just landed a role on the hit soap opera Passion Medical. Gabby would give anything to find a career she's half as passionate about as Anna-Marie is about acting — and a love life that isn't comprised of nights with a party-sized bag of Doritos and her Netflix account.
When Gabby becomes a recurring extra on Passion Medical, she finds a job she's surprisingly great at. Even better, her old crush and ex-boss — the sexy, sweet Will Bowen — is writing the scripts, allowing Gabby lots of quality flirting time at the craft services table.
But between feuding divas, fake Emmys, and Gabby's growing concern that Will might not see her as anything more than a friend, her life on set is quickly becoming a drama worthy of the soaps.
The Extra is a full-length, standalone romantic comedy with PG-13 rated content , no cliffhanger, and a swoon-worthy happily-ever-after.
Click here to get this book for FREE
° ° ° ° ° ° ° ° ° ° ° ° ° °
International Cookbook: Around the world in 80 dishes
by Kyleigh Jackson


(7 Reviews)
Genre: Cookbooks, Food & Wine
FREE for a limited time
A unique cookbook featuring recipes from 80 different countries. Explore the world from the comfort of your own kitchen!
Click here to get this book for FREE
° ° ° ° ° ° ° ° ° ° ° ° ° °