It looks flat. I was hoping to show you all a great picture of my front yard and all the progress I have made, and it looks flat and unremarkable. In real life you can see the different levels, and it has a lot of levels. So many levels. In this picture you can't see any of that. I shoveled three yards of fill dirt and two yards of soil all by myself and I wanted to show off the levels. You know who is eyeballing my many leveled dirt mounds? The four cats across the street. Unfortunately they love my piles of fresh fluffy soil. I keep chasing them off, but they are not scared. They are patient little critters, and they know I can't catch them, so they wait until the time is right. Then they pounce on my fresh dirt and poop on it. My beautiful fresh dirt!! Back in Sinny's younger days, his 20 pounds of intimidating cat was all I needed to keep the neighborhood cats from pooping in my yard. Now he he is retired and they have taken over. Sinny worked hard all the years, but now it's his time to rest. My only option at this point is coyote urine. That stuff is so stinky! I am going to have a beautiful front yard that smells like coyote pee pee. Fine!! I'm FINE! FINE!!!!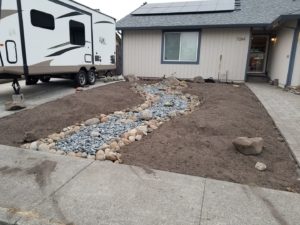 Seriously Mum, Where's that Donkey?
by Alan Parks

(387 Reviews)
Genre: Biographies & Memoirs | Travel
FREE for a limited time
**THE AMAZON #1 BESTSELLER IN TRAVEL & ANIMAL BOOKS**
SERIOUSLY MUM, WHERE'S THAT DONKEY?
Could you give up everything you have worked for and do something completely different?
Would you give up and go home if it all went wrong?
"Seriously Mum, Where's that Donkey?" is Alan Parks' follow-up book to "Seriously Mum, What's an Alpaca?" This book continues the story of Alan and Lorna's induction into Andalucian life and fills in some of the blanks.
In this book, Alan and Lorna discover that their local town is not quite as sleepy as they had first imagined and that the local ladies will stand by you once their friendship is won.
Alan and Lorna make some great new friends and have a few more unexpected adventures along the way. Add an appearance on Canadian TV into the mix, plus the trials and tribulations of alpaca farming, and this sequel will bring you bang up to date with the lives of two British expats in rural Spain.
Click here to get this book for FREE
° ° ° ° ° ° ° ° ° ° ° ° ° °
Leine Basso Thrillers, Vol. 1: (Serial Date, Bad Traffick, and The Body Market) (Leine Basso Thriller Boxset)
by D.V. Berkom

(149 Reviews)
Genre: Thrillers | Literature & Fiction | Action & Adventure
FREE for a limited time
This compilation includes three novels in the page-turning, "unputdownable" Leine Basso Thriller Series: Serial Date, Bad Traffick, and The Body Market.
Serial Date:
When a former assassin's daughter is abducted, she's drawn into the twisted game of a serial killer who may be a grisly remnant from her past. (***Warning***Contains adult language and situations.)
What happens when a reality show turns deadly?
Determined to leave her old life behind, retired assassin Leine Basso accepts a job working security at one of television's most popular reality shows, Serial Date. When a contestant is found dead in the prop closet, it appears the killer is one of the 'bachelors' on the show- an ex-con billed as a serial killer- but the detective in charge of the case isn't so sure.
When Leine's estranged daughter is abducted by a man claiming to be the real killer, she's forced to rely on old skills to find her, and must come to terms with who she really is. She soon realizes the murderer may be a grisly remnant from her past and she'll need to use all of her cunning to stop him… … and rescue her daughter.
Bad Traffick:
Dangerous obsessions take center stage when a former assassin and a homicide detective race against the clock to find a missing girl before she's sold to the highest bidder.
Identified as a person of interest in three cold case murders she didn't commit, retired assassin Leine Basso accepts a temporary position as a security specialist for A-list actor Miles Fournier. Soon, a woman contacts Miles, claiming to be his long-lost sister. But, there's a problem: her twelve-year-old daughter, Mara, has been abducted and she's desperate to get her back.
Leine learns from a contact that Mara escaped, but the traffickers are determined to track her down and deliver her to their powerful client. Running out of time, Leine must find Mara before they do, or she will be lost forever.
The Body Market:
A retired assassin is called in when a celebration south of the border turns into a nightmare.
Everything's for sale…
Former assassin Leine Basso is hired by a wealthy Beverly Hills power couple to find their missing daughter, Elise, last seen partying with her boyfriend at a club in Tijuana. At first, police believe the two teenagers are the victims of a carjacking. But when Leine finds their missing vehicle with a mutilated body inside, and the local cartel warns her away, she knows if Elise isn't already dead, she will be soon, or worse.
In the lethal world of organized crime, there's always a worse.
As Leine races to uncover the reason behind Elise Bennett's disappearance, she must also battle the powerful interests fighting to keep her from the truth.
Click here to get this book for FREE
° ° ° ° ° ° ° ° ° ° ° ° ° °
Scythian Dawn: Book 1
by P.K. Lentz

(69 Reviews)
Genre: Science Fiction | Science Fiction & Fantasy | Fantasy
FREE for a limited time
An alternate Earth trapped in a perpetual Iron Age.
An alien ship on the way to destroy all cities.
One war band with the will to resist.
Whenever the Lesser Race called humanity dares to build cities, an alien apocalypse descends from the skies. It has happened before, leaving only ruins and legends to tell the tale.
Unaware of the threat, the once nomadic Scythians have settled and built a capital. Arixa, leader of a war band called the Dawn, ranges the steppe in the city's defense. When a fateful encounter leaves her with knowledge that an alien race called the Jir will soon attack, there is no question of whether to resist. She must. The only question is how, when Earth's most advanced weapons are blades of iron?
Arixa's will is also iron. The men and women who follow her are unafraid and eager to take Jir heads. Potential allies await who know something of advanced technology. Scythia will not fade quietly. Axes will split alien skulls, and beings on far-flung worlds will learn the name Arixa.
The Dark Age must end. A new Dawn will rise.
Click here to get this book for FREE
° ° ° ° ° ° ° ° ° ° ° ° ° °
The Cafe Of Broken Hearts (Broken Hearts Sweet Romance Series Book 2)
by Zanna Mackenzie


(26 Reviews)
Genre: Literature & Fiction | Contemporary Fiction | Romance | British
FREE for a limited time
Is the past about to destroy the future for Faith when she discovers her new love and her first love are in business together…
Cafe owner Faith's love life has been non-existent for years. Nobody has swept her off her feet the way her first love did. Things didn't end well on that front though and since then she's been careful who she gets involved with.
Then Zane Ferguson arrives in town as the new owner of the local outdoor extreme sports business. Faith doesn't want to get involved with another adrenaline junkie no matter how gorgeous he is — been there, done that, got the broken heart to prove it.
Reluctantly won over by Zane's charms, Faith decides to risk a date with him. Before she knows it, her heart is ruling her head, and she's falling for him. But Zane is keeping secrets as Faith soon starts to realize.
When Zane's new business partner turns out to be Faith's ex, she knows she has a difficult choice to make.
Should she forgive, forget and attempt a second chance romance with her first love? Or should she stay involved with the mysterious but delicious Zane Ferguson?
Will she ever find her Mr. Right?
Click here to get this book for FREE
° ° ° ° ° ° ° ° ° ° ° ° ° °
The Mushroom Mystery (A Whitewood Witches Murder Mystery Book 1)
by Agnes Lester Brown


(37 Reviews)
Genre: Mystery
FREE for a limited time
Fennelmoore is in deep trouble. Mayor Riley has hatched a hare-brained scheme to turn the tranquil, picturesque village into an garish theme park, much to the disgust of the Whitewood Witches. Fortunately the Mushroom Convention arrives in town, buying them time to stop their crazy mayor. But then a famous mushroom expert is murdered at the convention, and it's up to feisty Lori Whitewood and her inventive family of witches to use all their magic potion prowess to catch a dangerous, unpredictable killer and save Fennelmoore from imminent destruction. In between Lori has trouble coping with the advances of the handsome but enigmatic Matt. What does he know about the murder that he's not sharing with her? Will she solve the mystery before the killer escapes from Fennelmoore?
Click here to get this book for FREE
° ° ° ° ° ° ° ° ° ° ° ° ° °