Maybe it's because we are all quarantined, but little things are making me very excited. I have always wanted a foxglove garden, but I have never had the space. Last year when I ripped out the lawn in the backyard and changed it into a flower garden, I finally had the room. I planted the seeds, sat back, and watched them grow. Unfortunately, I was unaware that they do not bloom the first year. NOOO!!! I had to wait a full year before I would see any blooms. Well guess what.. it's now a year later and there is a little foxglove garden that is about to explode with blooms!!! I hated waiting, but the time is finally here. As soon as it blooms I am posting pictures. We are only days away!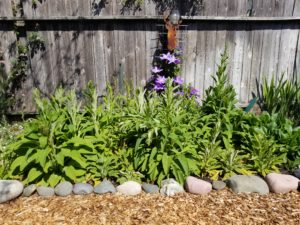 Power in the Blood (John Jordan Mysteries Book 1)
by Michael Lister, Michael Connelly


(480 Reviews)
Genre: Mystery | Mystery, Thriller & Suspense | Thrillers
FREE for a limited time
A missing mom and a suspicious death force a reluctant detective out of self-imposed exile in this fast-paced mystery thriller.
Detective John Jordan thought he had put murder investigation behind him for good — his own good. Leaving Atlanta, he returns to Florida in search of the serenity that has so long eluded him.
Until he witnesses the shocking and bizarre death of an inmate in state prison custody and is asked to find a missing mom by her young children. John realizes he can't run from his true calling any longer. Now he must determine if the suspicious death he witnessed is murder, accident, or suicide and what really happened to Candace Miles on the night she vanished off the face of the earth — even if it costs him his life to do so.
Start reading this exciting, stand-alone whodunit today and see why millions of readers adore John Jordan.
Click here to get this book for FREE
° ° ° ° ° ° ° ° ° ° ° ° ° °
The Wedding Gift (Four Weddings and Fiasco Series, Book 1) (Four Weddings and a Fiasco)
by Bella Andre, Lucy Kevin


(567 Reviews)
Genre: Literature & Fiction | Romance | Contemporary Fiction | Women's Fiction
FREE for a limited time
"Sweet and enchanting, a joy to read. I absolutely LOVED this story!" ~ 5 stars
After Julie Delgado's restaurant closes, she temporarily takes over the catering position at the Rose Chalet, a full-service San Francisco wedding venue. She plans to dazzle the bride and groom so the Chalet's owner will keep her around, but fate has other plans for her when the bride's brother shows up for the first food tasting.
Andrew Kyle is not only the Cuisine Channel's Edgy Eats host and chef, but his recent review of Julie's restaurant was the final nail in its coffin. Once he meets Julie at the Rose Chalet, he's certain she's playing it safe. And he wants nothing more than to be the one to break her guarded passions loose.
But despite the undeniable sparks between Julie and Andrew-and the fact that he seems to believe in her when no one else does-can she afford to be taking risks with her cooking, with her career… or with her heart?
Lucy Kevin is the sweet pen-name of New York Times and USA Today bestselling author Bella Andre (who writes the #1 bestselling series about The Sullivans). Lucy Kevin books are fun, flirty and romantic, without the steamy scenes.
Click here to get this book for FREE
° ° ° ° ° ° ° ° ° ° ° ° ° °
The Mahogany Ship (Sam Reilly Book 2)
by Christopher Cartwright


(115 Reviews)
Genre: Literature & Fiction | Thrillers | Sea Adventures
FREE for a limited time
An ancient shipwreck.
A pyramid half a mile below the sea.
And a puzzle that must be solved before it destroys humanity.
More than 200 years ago, the Emily Rose became shipwrecked on the southern coast of Australia. The survivors were forced to walk nearly a thousand miles through the unexplored land to reach the only established settlement, Sydney Cove.
Hundreds of miles into their journey they discovered something strange. Something that couldn't possibly exist.
In present day, Sam Reilly and his team of ocean investigators are exploring the unknown cause of the widespread death of sea life within the Gulf of Mexico.
The two mysteries may just be entangled, and failure to solve them both will result in the greatest threat to ever face the human race.
Click here to get this book for FREE
° ° ° ° ° ° ° ° ° ° ° ° ° °
The Walls of Lucca
by Steve Physioc


(220 Reviews)
Genre: Historical Fiction | Literature & Fiction | Romance
FREE for a limited time
When Franco, a weary Italian soldier who's seen some of the worst of World War I, stumbles onto the Martellino vineyard, he's looking for work — not love. But he finds that and much more with Isabella, the feisty young woman who works there.
Franco pours himself into the vineyard, trying to create a wine that will save it from financial ruin and rescue him from his dark memories of war. But it's not easy when Mussolini's evil shadow continues to loom over all of Italy. It's even harder when Susanna, the vineyard's matriarch, invites that shadow to the vineyard with her involvement in Fascist politics — and one very sinister political operative.
Influenced by the teachings of A Course In Miracles, The Walls of Lucca is historical fiction that shows readers the power of love and forgiveness in the face of evil. Compelling, colorful characters populate an authentic, inspiring story of friendship, faith, love and loss in a tumultuous time in European history.
Winner of the 2019 Reader Views Historical Fiction Award
Winner of the 2019 Tyler R. Tichelaar Award for Best Historical Fiction
Click here to get this book for FREE
° ° ° ° ° ° ° ° ° ° ° ° ° °
A Body on Fitzgerald's Bluff : Seaview Cottages Cozy Mystery #1
by Anna Celeste Burke, Peggy Hyndman, Ying Cooper


(106 Reviews)
Genre: Mystery, Thriller & Suspense | Women's Fiction | Literary Fiction | Mystery
FREE for a limited time
Miriam Webster's a woman with a few secrets — can she keep them after she and her spirited Dalmatian, Domino, find a body on Fitzgerald's Bluff?
When Miriam Webster moves into the Seaview Cottages active adult community, the last thing she expects is to find a body on the bluffs nearby. The mystery takes a quick detour when Miriam and her friends return to Fitzgerald's Bluff with the Deputy Sheriff. The dead woman's gone, but not for long. Where the body turns up is only one of the surprising twists the mystery takes for Miriam and her friends.
>>>Tracking Down the Killer
Convinced that the local deputy isn't up to the task of finding a killer on the loose, Miriam and her gang of Grand Old Lady Detectives set out to discover the truth about a body on Fitzgerald's Bluff.
Can they solve the mystery without becoming the killer's next victim?
Click here to get this book for FREE
° ° ° ° ° ° ° ° ° ° ° ° ° °