I have decided to adopt baby Yoda. I am not sure if anyone had declared this yet, but I am going to go ahead and just claim him as mine. Maybe I should call dibbs on him…DIBBS!!! If you haven't seen the new show The Mandalorian on Disney+, just know that I already called dibbs. I have already moved my baby bassets into one room, and have removed all of the dark side toys out of the house (and into the garage. Legos are expensive, and I wont just toss them). This is the way. I have spoken. My baby bassets were about to argue, but when they found out that Baby Yoda was moving in, they were on board. After the sleigh thing, hubby has learned not to argue with me when I get something stuck in my head. So here is were I need your help guys. I need a ride to the planet Sorgan. I am hoping to catch them before they leave. Anyone?? I will bring snacks and Capri Sun!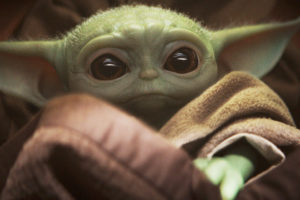 TWO SUDDEN: A Two-Volume C.I.A. Action Thriller Omnibus
by Lawrence De Maria


(11 Reviews)
Genre: Thrillers
FREE for a limited time
Two highly imaginative thrillers from Pulitzer nominee Lawrence De Maria.
1. SUDDEN KILL (Formerly "Hurricane Fats")
The ultra-secret unit forms an unholy alliance with vengeful mob bosses. In return for loads of cash, the C.I.A.'s best assassins bump off underworld turncoats. A win-win situation, right. The C.I.A. gets information about terrorists – and a slush fund it can hide from Congress. What could go wrong? Well, plenty, when the agency's apex assassin kills the wrong man.
2. THE HADRON ESCAPE
A trail that begins in 1945 with a perverted Nazi doctor autopsying a victim in a concentration camp leads to the Hadron Collider in modern-day Switzerland. Two of the C.I.A.'s best – and most lethal – agents are sent to investigate. With orders to kill, if necessary. Why? Because in Hadron's world of nuclear physics, quantum mechanics, particle accelerators and space-time continuum, something is terribly wrong. And the fate of the world may be at stake!
Click here to get this book for FREE
° ° ° ° ° ° ° ° ° ° ° ° ° °
Love in Hiding (Love Beyond Danger Book 1)
by Diane Holiday


(30 Reviews)
Genre: Literary Fiction | Literature & Fiction | Romance
FREE for a limited time
With her life at risk, Sarah Cooper must hang up her ballet shoes…
… And assume a new identity on a horse ranch in rural Maryland.
Mucking stalls is a far cry from center stage, and the ranch's so-called "horse whisperer" is the complete opposite of the men she's used to. He's stubborn, sullen, and sexy.
Unfortunately, he's also suspicious… Of her.
Bruce Murphy trusts his horses, and since the new ranch hand showed up, they've been skittish. Sarah's trouble, and Bruce wants her gone before he loses anyone else he cares about.
She challenges him until he can't decide if he should kiss or shake her.
But the more time they spend together, the more he sees the truth: Sarah isn't trouble, she's in trouble.
Bruce protects his heart as tightly as Sarah guards her secrets, but they each have something the other needs — will they learn to trust before time runs out?
Click here to get this book for FREE
° ° ° ° ° ° ° ° ° ° ° ° ° °
Devils Dump
by Sheri Kirkendall


(8 Reviews)
Genre: Religion & Spirituality | Suspense
FREE for a limited time
What happens when the devil decides to drop in on Blessed, Tx.? Good people go bad, beaches become polluted and objects fall from the heavens. Oh and Blessed, becomes the Devils Dump. A small band of Christians join together to defeat the devil and his plan to devastate their town. Seven women in town give birth at the same time to twins and it is foretold by the angels that a 'child will lead them.' Nowhere however are they promised a victory over evil.
Click here to get this book for FREE
° ° ° ° ° ° ° ° ° ° ° ° ° °
Tides of Desire: A Christmas Romance (Garrett Brothers Book 3)
by Tracy Sumner, Kate Brauning


(30 Reviews)
Genre: Romance | Literature & Fiction | Historical Fiction
FREE for a limited time
An undeniable love that started with a Christmas kiss. TIDES OF DESIRE, the steamy sequel to the award-winning TIDES OF PASSION!
The feisty beauty who imagined a solitary life…
Spirited physician Macy Dallas is fervently committed to medicine, but a troubled past has kept her from committing to love. She's never experienced ardent yearning for a man until she kisses Caleb Garrett… and her awakening passion is impossible to resist.
The jaded man who vowed to protect his heart…
A gifted boatbuilder who is dedicated only to the sea, Caleb doesn't believe in the power of love. A wretched childhood has governed his life until he doesn't believe he has anything to offer. A beguiling puzzle, Macy challenges his fears, and he considers giving in to their explosive passion. Even though he knows he's not the man she deserves.
An irresistible affair that started with a kiss…
As they match wits in a tempestuous dance, their fortifications begin to crumble, revealing not only a fiery attraction but a deepening love. Soon, what should have been a simple seduction becomes deliciously complicated… as they must open their hearts or lose the one person they are desperate to possess.
Click here to get this book for FREE
° ° ° ° ° ° ° ° ° ° ° ° ° °
Sinns
by Nikole Rose


(6 Reviews)
Genre: Horror | Urban
FREE for a limited time
In the woods of Central Florida, the Garret's appear to be the all-American family. The branches of the trees shade more than the sunny skies but a secret the family wants to keep hidden. With a hidden secret, darkness has followed lingering into the secluded dwellings. Is this the consequences of their choices or a curse bestowed on the family long ago? Can the protection of an arch angel over a little girl save the family, or will they forever be doomed? The worlds of darkness and light are destined to collide. Between the powerful, and the honorable, will divine love set them free?
Click here to get this book for FREE
° ° ° ° ° ° ° ° ° ° ° ° ° °
Nobody Ever Dies When I'm Around: a lifetime of feeling left out.
by Jane Baker


(20 Reviews)
Genre: Humor & Entertainment | Biographies & Memoirs | Foreign Languages
FREE for a limited time
In 2002 my mother passed away. I realized then how little I knew about her life before we seven children came along. I had been focused on remembering the highs and lows of my life, but my mother shared very little. Not wanting to leave my children lacking for backstory on their mom, I decided to write about my childhood as a record for them. As often happens, life got busy and my writing fell to the side for a bit. In 2006 my eldest son, Sam, was diagnosed with stage 3b Hodgkin's lymphoma. I had read that one of my favorite authors, Roald Dahl, wrote James and the Giant Peach while he attended to his son after a terrible car accident. It was then that I returned to writing about my youth, more this time to keep my sanity through Sam's treatment and to keep Sam laughing. No one who has heard about my childhood has had an easy time believing me. I think the saying is "True dysfunction is stranger than fictitious dysfunction." Something like that.
Spoiler Alert: my son is fine, healthy, and happy, and what came from my writing is what you have before you. I always felt that at the heart our family was very much like the Walton's, if the Walton's had a lot of dysfunction and humor was their only coping mechanism. I think you will feel the same!
It's in the memories and the writing about them that I see how many different roles I have played in my life. Sometimes I've been the hero, sometimes the asswipe, usually somewhere in between. These roles have been in tragedies, comedies, farces, and mysteries, and the roles have been varied. Daughter, Sister, Cousin, Aunt, Friend, Girlfriend, Mom, Director, Teacher, Cancer Mom, Employee. If my life were my acting resume, I'd be pretty accomplished. The result of all my memorizing and analyzing and dwelling is what is written here. These are my memories and my thoughts, as disturbing as they may be. Enjoy.
Click here to get this book for FREE
° ° ° ° ° ° ° ° ° ° ° ° ° °