I am just going to say it…I HAVE THE BEST KIDS IN THE WHOLE WORLD!! Of course this makes me an awesome mom. SCORE! Yesterday was my oldest baby basset's 13th birthday. His family birthday party was canceled because people are evacuating Sonoma County, not coming in. Instead my sweet boys came with me to the kitchen to volunteer their time. For five hours those two worked their tushies off. This kind of stuff makes me so proud and happy. My tiny Grinch heart grew 1 size up. OUCH!! SO MANY GOOD FEELINGS! OUCH OUCH!! Hahahah
If you would like to donate to Sonoma Family Meal click here. We are working hard to support our local farmers and ranchers as well as evacuees and first responders. Currently is says we raised $22,701… that was for the 2017 fires, NOT this fire. We have just started fundraising for this fire and need help. You can also see pictures from the last two days on our Facebook page by clicking here. We have also have a go fund me page you can donate by clicking here. Thank you guys.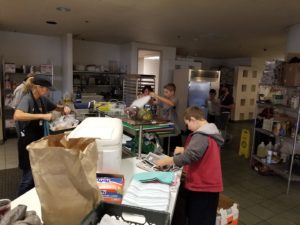 When You Make It Home
by Claire Ashby

(619 Reviews)
Genre: Romance
FREE for a limited time
Meg Michaels, a bookstore owner, has already walked away from two cheating exes. She's learned her lesson and has her mind set on success – until she gets knocked up. Embarrassed and unwilling to discuss her situation with friends and family, she wears layers to hide the pregnancy.
When Meg gets sick at a party, she's mortified. Even worse, Theo Taylor, the guest of honor, discovers her secret. Theo, an Army medic wounded in the war, agrees not to reveal her condition, and the two forge a bond of friendship that blossoms into love.
Theo is soon filling all of Meg's late-night cravings – and not just the pregnancy-induced ones. But can their love overcome all the obstacles that stand between them and creating a happy family?
Click here to get this book for FREE
° ° ° ° ° ° ° ° ° ° ° ° ° °
Rex Chase: A Novel (Rex Chase Novels Book 1)
by Tim Wheat


(33 Reviews)
Genre: Action & Adventure | Literature & Fiction
FREE for a limited time
Introducing a major new action writer and his undeniably charismatic college student turned hero, Rex Chase.
It's the spring of 1937. Rex Chase pursues two doctoral degrees at Harvard University, is a standout baseball star, and has fallen in love. His lazy school days come to a quick end, though, when sinister powers bent on diabolical goals transform his life forever.
Learning massive amounts of information in a short time has always been simple for Rex Chase, but his thresholds are pushed to extremes in the following days. A raucous quest for answers exposes a global empire poised to unleash its untold wealth and unlimited power. Not only must he save his own life, and the lives of those he loves, but Chase's adventures culminate in a powerful realization.
Only one man stands between pure evil and the abject subjugation of mankind.
That man is Rex Chase.
Click here to get this book for FREE
° ° ° ° ° ° ° ° ° ° ° ° ° °
Witch Way to Mintwood (Witch of Mintwood Book 1)
by Addison Creek


(110 Reviews)
Genre: Mystery
FREE for a limited time
House falling down? Check. Pet sitting job with annoying clients? Check. Ability to speak to ghosts, which has the unfortunate side effect of having to listen to what they say back? Double check! Hot high school crush still in town being all successful and stuff while you protest his building projects? All kinds of checks! Did anyone say Witch of Mintwood? Yup! Just add murder and this will be a week to remember!
Click here to get this book for FREE
° ° ° ° ° ° ° ° ° ° ° ° ° °
Dr. Horatio vs. the Six-Toed Cat (Tales from the Goose Creek B&B)
by Virginia Smith

(45 Reviews)
Genre: Religion & Spirituality | Humor & Satire | Religious & Inspirational Fiction
FREE for a limited time
This bonus e-only short story is the perfect introduction to bestselling author Virginia Smith's latest series, Tales from the Goose Creek B&B. Set in the years before the Richardsons launch their bed-and-breakfast scheme, the quirky residents of the small Kentucky town are all in a tizzy over the upcoming Fall Festival. Alison, Al and Millie's headstrong daughter, astounds everyone with the news that she's getting married — in three weeks — to a Colombian! As her parents frantically try to stop the nuptials, Dr. Horatio, Goose Creek's beloved veterinarian, is determined to solve the mystery of the six-toed kittens that have been popping up all over town.
This charming prequel will make you laugh out loud, fall in love with the delightful residents of Goose Creek, and remind you why you love reading.
Click here to get this book for FREE
° ° ° ° ° ° ° ° ° ° ° ° ° °
Polaris 10 Short Stories
by David Portlock


(24 Reviews)
Genre: Literature & Fiction | Action & Adventure | Short Stories | Science Fiction
FREE for a limited time
POLARIS – 10 Short Stories.
Interwoven tales of science fiction and horror.
DUST – An eight year old boy, living in Kansas during the Great Depression, has visions in the middle of a dust storm.
POLARIS – An inventor builds a troubled robot assistant.
THE DARLING CHAIR – A female scientist experiments with a flying force bubble.
KING JON AND THE SHEPHERD – A government agent captures a lost alien king.
GENEVIEVE – A 16 year old girl, kidnapped and turned into a ruthless killing machine, makes her way back home.
GLASS – A soldier volunteers for a suicide mission on a distant planet.
CAPTAIN ANDREWS CAME HOME – An astronaut, lost in space for 40 years, finally returns to Earth.
STILL – A woman and a soldier interact in the midst of an interdimensional alien invasion.
THERMAL – A man, starving and freezing in the Alaskan outback, stumbles upon an abandoned research lab.
BROTHER NIGHT – A drug addled psychiatrist is introduced to a strange young woman.
Click here to get this book for FREE
° ° ° ° ° ° ° ° ° ° ° ° ° °