I don't have a whole lot to say right now. I KNOW!! Crazy, right? I just want you all to enjoy a picture of my kitty, Sinny, using Junebug's tushy as a pillow.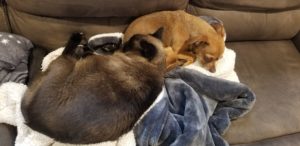 What You Don't See
by Livi Hallahan


(14 Reviews)
Genre: Literary Fiction | Literature & Fiction | Humor & Satire
FREE for a limited time
FINALIST: National Indie Excellence Awards 2019
Playful, compelling, and deeply layered, What You Don't See raises the stakes in friendship against the bittersweet backdrop of motherhood and the endlessly entertaining activities of well-heeled women's groups. The story follows Livi, a spirited, outspoken PR executive, pivoting at thirty to full-time wife and mom. That goes better than imagined, until she gets entangled in an unpredictible relationship with another mom.
What You Don't See — set in an affluent Southern California neighborhood and a local hangout bar on the Mississippi Gulf Coast — is anything but ordinary. There's a talking, know-it-all cat; a large, menacing cockroach; and a host of colorful characters, stirring it up as Livi wrestles with timeless questions of truth, intimacy, friendship, and free will.
Click here to get this book for FREE
° ° ° ° ° ° ° ° ° ° ° ° ° °
Bear Claw: A Tale of the Shoshone (The Lone Pine Western Series Book 6)
by Mark Stephen Taylor

(4 Reviews)
Genre: Literature & Fiction | Historical Fiction | Westerns
FREE for a limited time
Bear Claw is the renown Chief of 1870's Lone Pine California Shoshone in the author's 'Lone Pine Western Series', which stirring arrangement includes; "Three Days in Lone Pine", "Still Waters, Legend of the White Wolf", and, "Moon of the White Wolf". Readers of this most enlightening series have expressed a desire to know more about Bear Claw — his roots, his upbringing, and details of the man's life prior to his first appearance as the aged and all-wise Shoshone Chief in, "Three Days in Lone Pine", first published in 2010.
This particular edition of the series will attempt to satisfy that compelling desire, while at the same time bring to life an informative tale of Lone Pine's early days and the alluring characters that were a part of it. Lone Pine, just below the great Mt. Whitney, is indeed a unique place — even to this day. This historic California town of the old west is nestled among vast and colorful standing rock formations, where numerous pinnacles reach toward the sky in an awesome display.
The author's well-written and notably descriptive tales do indeed come to life amidst the breathtaking landscape of the Mt. Whitney region. This most picturesque area has been used quite frequently as a scenic backdrop by the motion picture industry for over eight decades. And now, from this awe-inspiring backdrop, the author brings forth to his readers one of the most captivating tales in the Lone Pine Western Series…
Click here to get this book for FREE
° ° ° ° ° ° ° ° ° ° ° ° ° °
To Cross a Wasteland (The Scavenger and Scout series Book 1)
by Phillip Granath


(43 Reviews)
Genre: Science Fiction & Fantasy | Action & Adventure | Science Fiction
FREE for a limited time
Fifteen years after a mysterious event destroys the modern world, humanity is left struggling just to survive. For one small town in the heart of America's Southwest, survival depends upon water, water that is now controlled by a violent crime lord. As the town slides deeper into despair, a professional Scavenger will risk everything on a dangerous plan to save his family. To pull it off he will need to enlist the aid of a murderous and quite possibly psychotic Bounty Hunter. Together the unlikely pair will have to survive the Raiders of the desert, an army of the crime lord's thugs, and then, if they can just keep from killing each other long enough, they may be able… To Cross a Wasteland.
Click here to get this book for FREE
° ° ° ° ° ° ° ° ° ° ° ° ° °
Baking Up Murder (An Olivia Quinn Mystery)
by Rachel White

(4 Reviews)
Genre: Mystery
FREE for a limited time
When Olivia Quinn fled Boston after a public culinary disaster, she came to Lenox, Massachusetts set on living a quiet simple life making cheese on a dairy farm, not to defend the obnoxious but handsome baker Pierre when he is accused of murdering his business partner.
Now it's up to Olivia to seek the truth and nothing, not the silver-tongued deputy, not the bitter barista, not the fed up ski resort manager, nor disagreeable cows, is going to stop her!
Click here to get this book for FREE
° ° ° ° ° ° ° ° ° ° ° ° ° °
Seven Monsters: A Collection of Short Stories
by Patrick Marsh


(3 Reviews)
Genre: Horror
FREE for a limited time
A mutilated dragon with a rare curse scouring a lost airship land, encounters a pirate with the same bestial nature. A lonely little boy on a summer afternoon explores a whispering drain pipe outside his empty house. A family of vampire hunters gets lost in a palace with a host who's still attached to the sunlight. A grandmother and grandson explore the woods outside their home and get pulled into an ancient and hungry garden. An old man and sea monster share a strange, blood-soaked ritual. An egocentric young man gets lost in the city and stumbles across a tortured and living paradise. A murdering scarecrow takes a break on Halloween to enjoy a little kindness. BONUS – The first chapter of This Living Cage, the sequel to Beware the Ills.
Click here to get this book for FREE
° ° ° ° ° ° ° ° ° ° ° ° ° °