I think it is time for my sweet baby bassets to start watching scarier TV shows and movies. My oldest is starting Junior High this fall, and my youngest gets suckered into stuff because he is usually standing right there next to his brother. So I started them off watching the show Stranger Things. It is the perfect amount of scare and action. The monsters are just amazing. I love the Demogorgon. I'm thinking the boys and I should be Demogorgons for Halloween. I mean look at the guy. You know I am going to love a monster that looks like a flower. There are a lot of great examples of easy to make Demogorgan costumes online for everyone from your pets, to babies, to adult. It's a monster for everyone.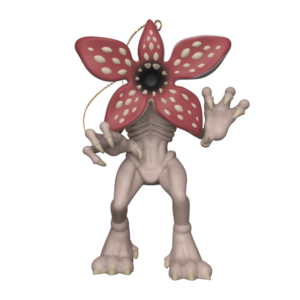 One Clean Shot: A Pulse-Pounding Serial Killer Thriller (Rookie Club Book 2)
by Danielle Girard


(121 Reviews)
Genre: Literature & Fiction | Thrillers | Mystery | Women's Fiction
FREE for a limited time
Can Homicide Inspector Hailey Wyatt solve a murder that might lead back to her very own family?
Even if it means revealing a secret that she vowed she'd die to keep?
"Addictive. A thrilling ride you won't be able to put down until the very last page."
Two of San Francisco's most powerful residents are murdered. Is their killer making a political statement? Or is it more personal?
Homicide Inspector Hailey Wyatt is only just pulling her life back together after being recently widowed, when the case falls in her lap. The case has the media in a frenzy and the brass in a panic. The entire city is on high alert.
The evidence makes it impossible to deny that Hailey's family is at the center of the case.
Rumors in the department are that the assignment has nothing to do with her investigative ability and everything to do with her senator father-in-law.
>>>The police chief's message is clear. Solve the case. Quickly. Or else.
The deeper they dig, the more questions arise, and the more troubling the case becomes. As the evidence points closer to home, Hailey's partner questions her dedication to the pursuit of justice.
Because Hailey has secrets of her own. Secrets she's vowed to protect. Secrets she's willing to die for.
Click here to get this book for FREE
° ° ° ° ° ° ° ° ° ° ° ° ° °
Lovestruck: A Romantic Comedy
by Lila Monroe


(159 Reviews)
Genre: Literature & Fiction | Contemporary Fiction | Romance | Women's Fiction
FREE for a limited time
Escape to the beach with the sizzling romantic comedy from USA Today bestselling author, Lila Monroe!
Will Cassidy is hot, infuriating, and the guy behind the biggest heart-stomping humiliation of my life. He's also hosting my BFF's destination wedding at his super-luxe tropical resort, so short of a hurricane or outbreak of the plague (here's hoping), I'm stuck within arm's reach of him for the next seven days.
But I'm not a naive college girl anymore, and there's no way I'm falling for his (many) charms again. I just have to ignore the romantic wedding shenanigans, his miraculous abs, all those intimate beach sunsets… And did I mention those abs?
Maybe a wild vacation fling is exactly what I need to even the score… But between the scorching chemistry and all-inclusive margaritas, I'm getting drunk on love. Which definitely isn't part of the plan.
Can I keep my heart zipped – even if my bikini bottoms are lost somewhere on that nude beach? And how do you let go of the past when you're holding on tight to the past's (very ripped) torso?
Find out in the sexy, hilarious new romantic comedy from Lila Monroe!
Click here to get this book for FREE
° ° ° ° ° ° ° ° ° ° ° ° ° °
Arizona Pay-Off
by Alan David


(49 Reviews)
Genre: Westerns | Thrillers
FREE for a limited time
When Cal Carver returns to Arizona looking for his uncle, he's a very different man…
He's no longer the boy who'd left town in shame after losing a fight with Buster Forbes.
When Cal sets eyes on Buster Forbes, the two of them immediately pick up where they left off, trying to knock the tar out of each other.
Some things never change.
But when Cal's uncle is found murdered, Cal will have to combine his new skills as a grown man with his old life in Arizona.
He'll need to rely on his old friends, but he has no way of knowing which old friends really want to help him and which ones think Cal himself might be the murderer.
At first Cal is happy to work with the Sheriff and his hot-headed deputy, but he's getting nowhere.
Maybe it's time for Cal Carver to take the law into his own hands?
But with his own life in the balance, will the gamble pay-off?
Alan David reveals his plot layer by layer, taking the reader on a journey of intrigue and mystery in the Old West.
Click here to get this book for FREE
° ° ° ° ° ° ° ° ° ° ° ° ° °
Invisible
by Bruce Bracken


(15 Reviews)
Genre: Literature & Fiction | Coming of Age | Psychological
FREE for a limited time
A depressed Campbell Hayden nurses a few ales in a Sackets Harbor pub ten miles out of Watertown, New York. After last call, the twenty-nine-year-old leaves the bar and disappears into a whiteout blowing off Lake Ontario. Ending up in Albuquerque, New Mexico, Campbell starts a new life in a multi-hued barrio where a person can live comfortably unnoticed. Campbell settles in quickly, having spent an entire life as an invisible – "It's not that people can't see me," Campbell reveals, "mostly they just don't… While it is human nature to want to shine, or to prostrate or prostitute oneself in order to achieve notice, or even to garner a glimmer of envy in the eyes of family or friends, I've accepted that such self-illuminating strivings, at least for me, are folly. I am invisible."
Campbell's otherwise ascetic life in the barrio is dramatically transformed by several incidents. In response to these affronts, Campbell devises a plan to become visible, and accepts that substantial physical, emotional, and interpersonal life-style changes will be necessary in order to be seen. Along with these personal sacrifices, Campbell bravely disregards the dangers of standing out in full view. As a stunning, larger-than-life visible, Campbell forges true love, but also creates mortal enemies. Campbell's newfound visibility, love, and enemies cannot coexist – the question is who will survive?
Click here to get this book for FREE
° ° ° ° ° ° ° ° ° ° ° ° ° °
The Nomad's Premonition: A thrilling fusion of mystery and intrigues set in an exotic location.
by Georges Benay


(15 Reviews)
Genre: Mystery, Thriller & Suspense | Suspense | Thrillers | Literature & Fiction
FREE for a limited time
Eric Martin is desperate to forget his past, one that almost cost him his future.
Working in Paris as deputy head of a bank's internal security department, Eric notices a high-speed trader's uncanny ability to predict extremely profitable trades. Even though there's nothing illegal about the activity, he knows the trader's success is more than just luck.
But, no one believes him. Armed only with a handful of data and a powerful instinct, Eric searches for the mysterious trader on his own. He suspects that a predictive algorithm has fallen into the wrong hands.
Eric sets off for Istanbul to find answers promised to him by an informant. He finds an unlikely ally in Interpol agent Stephanie Brule. With Interpol wanting him back in Paris and out of the way, Eric's quest is also hampered by the sudden appearance of his ex-lover, a boss he's not sure he can trust, and a terrorist who always seems one step ahead.
Will Eric put an end, once and for all, to the nightmare that began when he accepted a job that was too good to be true? Or will his need for revenge and justice lead him deeper into a treacherous world he has no way of escaping?
Click here to get this book for FREE
° ° ° ° ° ° ° ° ° ° ° ° ° °