I was given a rare and wonderful little plant called a Pilea. Apparently it is pretty easy to grow, and is quick and easy to propagate, yet it's rare and hard to find (so I am told). He looks like something Dr. Seuss would imagine. This should be a fun little plant to play with. No, not play like a game of catch. More like a game of "Let's Try Not To kill It Today", sort of game. When I got him he already looked like he was having a rough day. He had spent a good portion of the morning rolling around under the driver's seat of an SUV. He lived, so he gets points for that. I will also give him points for already having a few little sprouts that I can propagate. I will leave him be for now and let him get acclimated to his new surroundings before I harass him too much. I put him next to a Stag-horn fern, that for some miracle I have not killed yet either.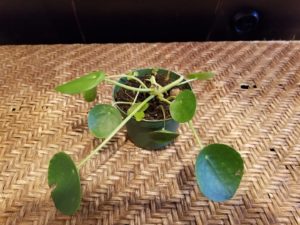 Quinn Gets His Kicks: A private detective novel (Liam Quinn Mysteries Book 2)
by LH Thomson

(209 Reviews)
Genre: Mystery
FREE for a limited time
A forgotten warrior, permanently down for the count. A sports prodigy. A private eye demanding justice…
When a former golden gloves fighter is discovered dead from an apparent overdose, his grieving wife doesn't buy it.
Soon, old friend Liam Quinn is in the picture. He's tracking the clues back to a local soccer team, where a kid with silky skills is turning heads.
His old friend worked there part time; did he really fall prey to the demon heroin… or did he discover something so shocking, it proved fatal?
An agent wants the kid's signature on a pro deal; a smuggler wants Quinn to disappear; and a mob hitman is chasing him all over Philadelphia. Then there's the question of Quinn's first love, Nora; not to mention his efforts to make peace with his family. If he manages to handle all of that, Philly's most famous mafioso wants a word… A hard boiled tale in the mystery, thriller and suspense genre, Quinn Gets His Kicks is the second of twelve books featuring the wisecracking ex-con detective.
Click here to get this book for FREE
° ° ° ° ° ° ° ° ° ° ° ° ° °
DownShift (Skid Row Kings Book 1)
by Winter Travers


(169 Reviews)
Genre: Literature & Fiction | Men's Adventure | Action & Adventure | Romance
FREE for a limited time
The street racer meets the shy librarian.
Luke grew up on the wrong side of the tracks, but that never stopped him from making his dreams a reality.
When Violet stumbles into his shop, Luke knows he's met his match. But Violet isn't like most girls. She's sheltered and quiet, content to live in the world provided by the books she loves so much.
Both ruled by the lessons of their pasts, will their relationship ever get a chance at a future?
Click here to get this book for FREE
° ° ° ° ° ° ° ° ° ° ° ° ° °
Liberty (Citizens of Logan Pond Book 2)
by Rebecca Belliston


(51 Reviews)
Genre: Science Fiction & Fantasy | Teen & Young Adult | Science Fiction | Action & Adventure
FREE for a limited time
Live free or die…
Chicago is burning, a rebellion rises, but that's the least of Carrie's concerns. Patrolman Simmons is assigned new partners who threaten the security and secrecy of Carrie's clan. Tensions are high, lines are drawn, and Carrie feels a wedge growing between her and Greg.
Haunted by past mistakes and impending tragedies, Greg knows he should distance himself from Carrie. He knows he should let her love the patrolman who can save her and her siblings, especially with money and resources dwindling. But knowing and doing are different matters. He's busy hatching a plan to salvage things when his citizenship backfires, and he's asked to do the unthinkable. In this stunning follow-up to Life, loved ones are lost, allegiances are tested, and old enemies plot revenge. At every turn, the citizens of Logan Pond must ask:
What price would you pay for the liberty of those you love?
Click here to get this book for FREE
° ° ° ° ° ° ° ° ° ° ° ° ° °
The Salty Taste of Murder (A Foodie Files Mystery Book 1)
by Christine Zane Thomas


(44 Reviews)
Genre: Mystery | Mystery, Thriller & Suspense
FREE for a limited time
A page-turning whodunit that keeps you guessing to the very end.
Thirty-year-old Allie Treadwell is a singleton. She's a foodie and a runner, a restaurant reviewer by day, and a Netflix aficionado by night. She lives to eat and eats to live.
But Allie's latest review is plaguing her with guilt. How was she to know that the restaurant's owner, her one-time high school nemesis, would die the same day Allie's salty review hit the newsstand?
The charming Southern town of Lanai, Georgia is rocked by this murder. And they aren't too happy with Allie's review, either. Some people even suspect she might've had something to do with the murder.
Handsome detective Javier Portillo steps into Allie's life just in time. The problem? He's got it all wrong. Allie is convinced he's put an innocent man away for the murder — her old friend, Miller.
As Allie works to clear his name, and hers, she learns that dodging bad press might be the hardest thing of all. And one false step could put the real killer onto her.
Can Allie solve this case without winding up with the next obituary? Find out today!
***
Foodie Files Mysteries are quick reads of around 30k words.
This book contains no swearing, no gore, a little bit of romance, and no cliffhangers.
Click here to get this book for FREE
° ° ° ° ° ° ° ° ° ° ° ° ° °
Mexican Recipes: 30 Quick & Easy Mexican Recipes
by Peggy Annear


(16 Reviews)
Genre: Cookbooks, Food & Wine
FREE for a limited time
This Mexican cookbook is packed with delicious easy to make Mexican meal ideas. Each recipe is accompanied by a picture so you can see what the finished recipe will look like. Measurements are in both imperial and metric so the book is user friendly, no matter where you live in the world!
When many people think of Mexican food, they think of fast food and nachos smothered in cheese for example. However, true Mexican food is quite different. We will get a harmonious balance between quick and easy Mexican recipes while still maintaining tasty, health conscious ingredients.
Foods like burritos, nachos, salsa and chimichangas, have opened our minds and hearts to experience authentic Mexican cuisine. There is a mixture of colors and flavors from the quick and easy to the more complex dishes. This book will explore traditional Mexican recipes, but at the same time offer recipe ideas that are easy for people to achieve in their own home without a pantry full of specific Mexican ingredients.
Whether it's a crockpot meal like Slow Cooker Chili Beef, quick to prepare Mexican Tostadas for lunch, or the interesting chocolate twist in a Chicken Mole, there is something for everyone's palette. Salsas are very popular and also very flexible what ingredients you put in them… great as a classic Mexican snack, or as a side meal accompaniment.
Click here to get this book for FREE
° ° ° ° ° ° ° ° ° ° ° ° ° °