This morning is was delightful walking through the backyard and admiring all the hard work that hubby and I had done over the last month or two. The garden was finally complete, and we could get on with just the fun stuff of adding flowers and tending to the veggies. Then I walked back in the house and it looked like it hadn't been cleaned in about two months or so. Oh geez. When was the last time I vacuumed? Back outside to admire the garden.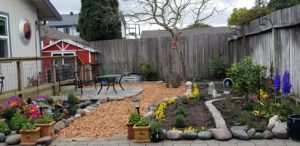 Transport
by Phillip P. Peterson, Jenny Piening


(317 Reviews)
Genre: Science Fiction | Thrillers
FREE for a limited time
"Transport? Transport to where, Sir?" – "Possibly straight to hell!"
An extraterrestrial object is discovered off the coast of California; a sphere that transports humans to other solar systems. Death-row inmate Russell Harris and nine other convicts are given the chance to save their lives by agreeing to travel as test subjects on the transporter. But when the first volunteer dies a gruesome death, it becomes clear to Russell and his comrades that the venture is little more than a merciless death mission on which they will all perish. Their only chance of survival is to uncover the secret of the mysterious object, but that too seems hopeless – because no trace of the transporter's constructors can be found
Stargate meets The Fly meets The Dirty Dozen – a suspense-packed science-fiction thriller from Storyteller Award winning author Phillip P. Peterson
Click here to get this book for FREE
° ° ° ° ° ° ° ° ° ° ° ° ° °
The Man With Two Names: A Novel of Ancient Rome (The Sertorius Scrolls Series Book 1)
by Vincent B. Davis II


(204 Reviews)
Genre: Historical Fiction | History
FREE for a limited time
To preserve his village, a man of peace must survive the cutthroat city of Rome.
Rome, 107 BC. Quintus Sertorius just lost his father and he may lose his home. When his rural village is stripped of its political status, he must leave his family to secure their food and protection from inside Rome's bloodthirsty government. As he transitions from countryman to politician, he's thrust into the middle of a bitter political war…
As Quintus struggles to gain the aid his village so desperately needs, he approaches Gaius Marius, the uncle of Julius Caesar himself. But with each passing day in the unforgiving landscape of the Eternal City, he puts his family and his own life in even greater danger.
In a ruthless battle of conscience, will Quintus lose both himself and the ones he loves?
The Man with Two Names is the first book in the gritty Sertorius Scrolls historical fiction series. If you like heroic ambitions, well-researched historical settings, and Roman corruption, then you'll love Vincent B. Davis II's powerful tale.
Click here to get this book for FREE
° ° ° ° ° ° ° ° ° ° ° ° ° °
The Honeymooner (A Paradise Bay Romantic Comedy Book 1)
by Melanie Summers, MJ Summers


(53 Reviews)
Genre: Literature & Fiction | Contemporary Fiction | Humor & Satire | Women's Fiction
FREE for a limited time
From bestselling author Melanie Summers comes the wickedly funny, ridiculously romantic spinoff of her highly-acclaimed Crown Jewels Series…
Twenty-nine-year-old workaholic Libby Dewitt lives by the motto 'if you fail to plan, you plan to fail.' She's finally about to start her dream life with her steady-as-a-rock fiancé, Richard Tomy. Together, they're the perfect power couple — right down to the fact that he's agreed to use their honeymoon to help further her career in mergers and acquisitions. But ten minutes before the wedding, her dreams dissolve via text message.
Devastated and humiliated, Libby escapes to Paradise Bay alone. She's got two goals for her trip: to devise a plan to get Richard back and to convince resort owner Harrison Banks to sell his property to her company. Unfortunately, when she arrives, she discovers that tall, dark, and built, Harrison is not about to make anything easy for her.
Instead, he derails her plans while at the same time, bringing out a side of Libby she's kept carefully tucked away — a carefree, adrenaline junkie. After a few days together, Harrison's got her wondering if the life she always wanted was meant for some other girl. Suddenly, Libby must decide which version of herself she wants to be.
Will she go back to her comfortable, safe life, or risk everything to be with the only man who's ever made her feel truly alive?
Click here to get this book for FREE
° ° ° ° ° ° ° ° ° ° ° ° ° °
Draken: The Southern Fire Fantasy Series
by S. B. Nova


(107 Reviews)
Genre: Teen & Young Adult
FREE for a limited time
A life to save.
A quest to begin.
A war to win.
When the east wind stirs, the south will catch fire.
As a nurse for her mother in the peaceful, but dull English countryside, nineteen-year-old Skyla's life is one of seclusion and sadness.
That is until she learns the truth about her birthplace: a realm where magic rules, and mythical creatures roam. A land that is now the key to saving her mother.
Skyla crosses worlds only to be caught up in a dangerous web of warring kingdoms. Events soon spiral out of control as a strange man starts to stalk her dreams, and the secrets of the past reveal a terrifying truth about the present.
War is coming–led by a tyrant with a personal grudge against her whole family. Faced with capture and death, or worse the loss of her loved ones, Skyla's only hope lies is in the power buried within. A power to change her–and the fate of her world.
Click here to get this book for FREE
° ° ° ° ° ° ° ° ° ° ° ° ° °
New Weight Watchers Instant Pot Freestyle Cookbook 2019: Selected & Delicious WW Smart Points Recipes For Everyday Meals
by Jillian Wyatt


(106 Reviews)
Genre: Medical eBooks | Self-Help
FREE for a limited time
New Weight Watchers Instant Pot Freestyle Cookbook 2019 will give you all the tools you need to start enjoying pressure cooking for your friends and family.
Change your life today
This book is for you
• If you have an Instant Pot
• If you want to live happier and healthier
• If you are busy want to save time
• If you want to quick and delicious recipes
The book provides you with simple and delicious tasting recipes that are easy to prepare.
What This Book is all About:
100 WW Instant Pot Recipes
Points Values of all Recipes
Nutritional Info of all Recipes
Easy to Find Ingredients
Simple instruction
Servings & Cooking info
New Weight Watchers Instant Pot Freestyle Cookbook 2019, a great new book that will show you how to the best from your Instant Pot and start creating mouth-watering recipes.
Click here to get this book for FREE
° ° ° ° ° ° ° ° ° ° ° ° ° °